2023 U18 World Hockey Championships
EP Rinkside's 3 Stars from 2023 U18 World Hockey Championship semifinals
USA advances to the Gold Medal Game with 7-1 win over Slovakia
BASEL, Switzerland – There's no margin for error when you're playing against this buzzsaw of an American team. They're too structured, too skilled, and too potent to get away with that.
It's the reason that even their close games in this tournament have looked like blowouts from afar. You can play them to a draw for an entire period on the balance, but one big mistake and you're fishing the puck out from the back of your net.
You make three big ones in the first period? Well, there's no coming back from that.
"The first period didn't go as we planned. We gave up three goals in the first period," Slovak centre Roman Kukumberg said after the game. "That's never a good start."
A bad read in space, and there's Will Smith exploding up the ice for a clean breakaway, and you know he's not missing one of those if you've been following the U18s up to this point. A poor line on Cole Hutson, and there he is, charging for the net before chipping the puck over Samuel Urban's shoulder. A little too much time and space, and there's Smith sniping his second of the game.
The Slovaks mounted a push in the second period, sending furious volleys of shot attempts and scoring chances at the American goal. Eventually, captain Dalibor Dvorský broke through, hopping on a rebound and sending it past the outstretched Trey Augustine.
The largely Slovak crowd? They loved it. You'd think that they'd just scored the overtime winner the way they shook St. Jakob's Arena.
"It just shows how incredible our fans are, I think," Slovak captain Max Štrbák said of the support. "We have the best fans in the world. When they see that we don't give up even though things aren't going well, they still cheer for us. That's a huge thing for us. It keeps us going."
Still, everyone knew the score, and at that point, it read 5-1 for the Americans. The two teams played to a draw for a solid 20 minutes afterward, but then Danny Nelson and Cole Eiserman scored a pair of goals late to put the exclamation point on the win.
"You know as you go into a tournament like this that it's just going to keep getting harder and harder," American head coach Dan Muse said. "Slovakia's got a really good team there. Obviously, they've played tight games with everyone they've played. We knew it would be tough. I thought our guys came ready to play.
"The crowd was obviously into it. The guys, they just went out there to start the game, and I thought we played the way we wanted to. It was great to get an early lead against a team like that."
As for what's next?
"We'll do our best jobs as coaches to make sure the guys are prepared, and our guys will be excited to go tomorrow."
Sweden punches their ticket to gold medal game with 7-2 win over Canada
The 2005-born Swedes had never won a game against Canada or the USA coming into this tournament. Now they have consecutive wins against the former of those teams, both in dominant fashion, as evidenced by their 15-2 goal differential.
Today's game wasn't quite as lopsided as the 8-0 game that started this tournament, but make no mistake – Sweden was in total control of this hockey game, pretty much from the start of the second period on.
It was 2-2 at that point, but Sweden pulled away with five consecutive goals en route to stamping their ticket to the gold medal game.
"The first period was quite even with a lot of back and forth," Otto Stenberg said after the game. "We had a good start in the second period and then we took over the game. They never really came back into it so it feels good."
Canada, who had a decent start to the game, got nothing in the end. The Swedes were just too heavy and dominated the physical game.
"Probably a lot of things that broke down with our coverages, not scoring on the powerplay and defending well enough," Canadian head coach Jeff Truitt said of where things went wrong.
The turning point? Well, it may have been when Canada lost their starting goaltender Carson Bjarnason, who Swedish forward Noel Nordh ran over with about two minutes left in the first period. He finished the opening frame but didn't even make it to the ice for the second.
"I thought it was a five-minute major, for sure. It was a tough collision that way and unfortunately it knocked him out of the game," Truitt said after the game.
Truitt eventually added that Bjarnason is presumed to have suffered a head injury. Don't expect to see him in the bronze medal game.
Sweden killed off Nordh's five-minute major, and then went straight back to work. Canada had another chance to even things up when Tom Willander was ejecting for slashing, but again they failed to get one past Swedish goaltender Noah Erliden.
"We didn't score enough on our five-minute majors. So kind of a big swing area that way," Truitt said.
"Sweden had a lot of backdoor play, they're very skilled and used the width of the game and had the speed to go to the net. Deflections, screens and whatnot. They got shots through, one turned into two and the snowballs with a couple of goals for them."
For Sweden, they now have a chance at repeating as champions, once again against the Americans in the gold medal game.
"Of course, it's going to be really fun. It's great to play a final against the USA. It doesn't get much better than this," Stenberg said.
1. David Edstrom, C, Sweden (2023 NHL Draft)
There were some amazing performances in today's semifinals, but I don't think any of them were quite as impressive as Swedish centre David Edstrom's. There's a reason he got Best Player of the Game honours.
Edstrom was a beast all over the ice. Offensively dominant, defensively suffocating – it was a perfect performance. When it was all said and done, Edstrom amassed two goals and two assists centring Sweden's first line in their second run at blowing out Canada in this tournament.
"These games are the fun ones. When it's something at stake you should be at your best. I think I played well," Edstrom said after the game.
Just about everyone in St. Jakob's Arena was having fun when Edstrom scored his highlight-reel goal, spinning away from Canadian pressure before sniping the puck top corner.
David Edstrom shakes off a defender and extends Sweden's lead to 4-2! #2023NHLDraft

🔗: https://t.co/GDgZBU56VN

pic.twitter.com/m5Yg28sojp

— Elite Prospects (@eliteprospects) April 29, 2023
"It was nice. It's fun that you get to score those kinds of goals as well," Edstrom said. You gotta take the chance when you get 'em. It was fun, it has come from the morning practices in Frölunda."
Today's game gives Edstrom eight points in six games over the course of the tournament, and he's impressed anyone fortunate enough to see him rack them up since showing up to Switzerland over a week ago.
"I am a hardworking two-way centre who is good in the defensive zone but also has strong offensive qualities. I am good at finding open spaces in front of the goal," he says about the way he plays.
"I would say [I play] a bit like Gabriel Landeskog and Jonathan Toews, a strong two-way centre."
The only thing that now stands in the way of a gold medal is Team USA – the prohibitive favourites to win the whole thing.
"It will be a tough game. We haven't beaten them before but tomorrow it's time. We know they have a great first line and it will be key for us to stay out of the penalty box."
2. Otto Stenberg, LW, Sweden (2023)
Otto Stenberg's two-goal, three-assist performance didn't just spearhead the Swedish victory over Canada. It's also placed him on the cusp of history. One more point and Stenberg will top William Nylander's record for points by a Swedish skater at the U18s.
"No, I actually don't know that. I didn't know, but it's fun," Stenberg said when asked about the record. "The most important thing is that we win tomorrow. That's the history I want to be a part of."
For now, Stenberg gets to reflect on the fun that he and Edstrom had cooking up offence from puck drop to the final horn in the Canadian zone. It was like they were playing with their food at times, just dominating at will against ostensibly one of the tournament's top teams.
"It was bouncing right today for me, but it's fun," Stenberg said.
Sweden's first line combined for 13 points today and was just too much to handle for the Canadians.
Together with Edstrom and Felix Unger Sörum, Stenberg has really been hitting it on all cylinders and is playing the best hockey of his career.
"It has worked really well. We have clear roles for what each person should do in the line, and it has worked well, of course."
3. Cole Hutson, D, USA (2024 NHL Draft)
The highest-scoring defenceman in the tournament? That would be 2024 NHL Draft prospect, Cole Hutson. He jumped in front of Swedish blueliner Axel Sandin Pellikka with his first period goal, a great display of skill and intelligence, exploding past the Slovak defender before chipping the puck over the goalie's shoulder.
Cole Hutson powers his way to the net and finishes in tight to give USA a 2-0 lead! #2024NHLDraft

🔗: https://t.co/QSjUWIoV3U

pic.twitter.com/O4GgSApV3X

— Elite Prospects (@eliteprospects) April 29, 2023
"I beat the guy wide, acted like I was going to drive the back post, and then chipped it over his glove," Hutson said after the game.
And you know what? He made it look easy like he has this whole tournament. Far easier than it should for a player that's giving up at about a year and a lot of physical development against most of his opponents.
Just don't go asking Hutson to boast about all he's done at these U18s. He was characteristically evasive when asked why he's been so successful at this tournament, distributing the praise to his linemates as he has a great many passes these last nine days in Basel.
"I think the guys that I play with help me out a lot," Hutson said. "They're there for me. I can feed them the puck; they can feed me the puck. We can work really well off of each other."
"It's tough to keep these games going, play at a certain level, but I think we've got the team to do it. If we play our game well, we'll do well."
Now the focus shifts to the gold medal game. Hutson told EP Rinkside that he doesn't care who he's playing and that he wouldn't even bother to watch the other semifinals game. It's all about sticking to the process; everything else will fall in place.
"I think obviously it's going to be a good game, whoever it is, but we're ready for them," Hutson said. "Just gotta go get some dinner, hang in the sauna or steam room, get a good night's rest, and be ready for tomorrow."

You may also be interested in: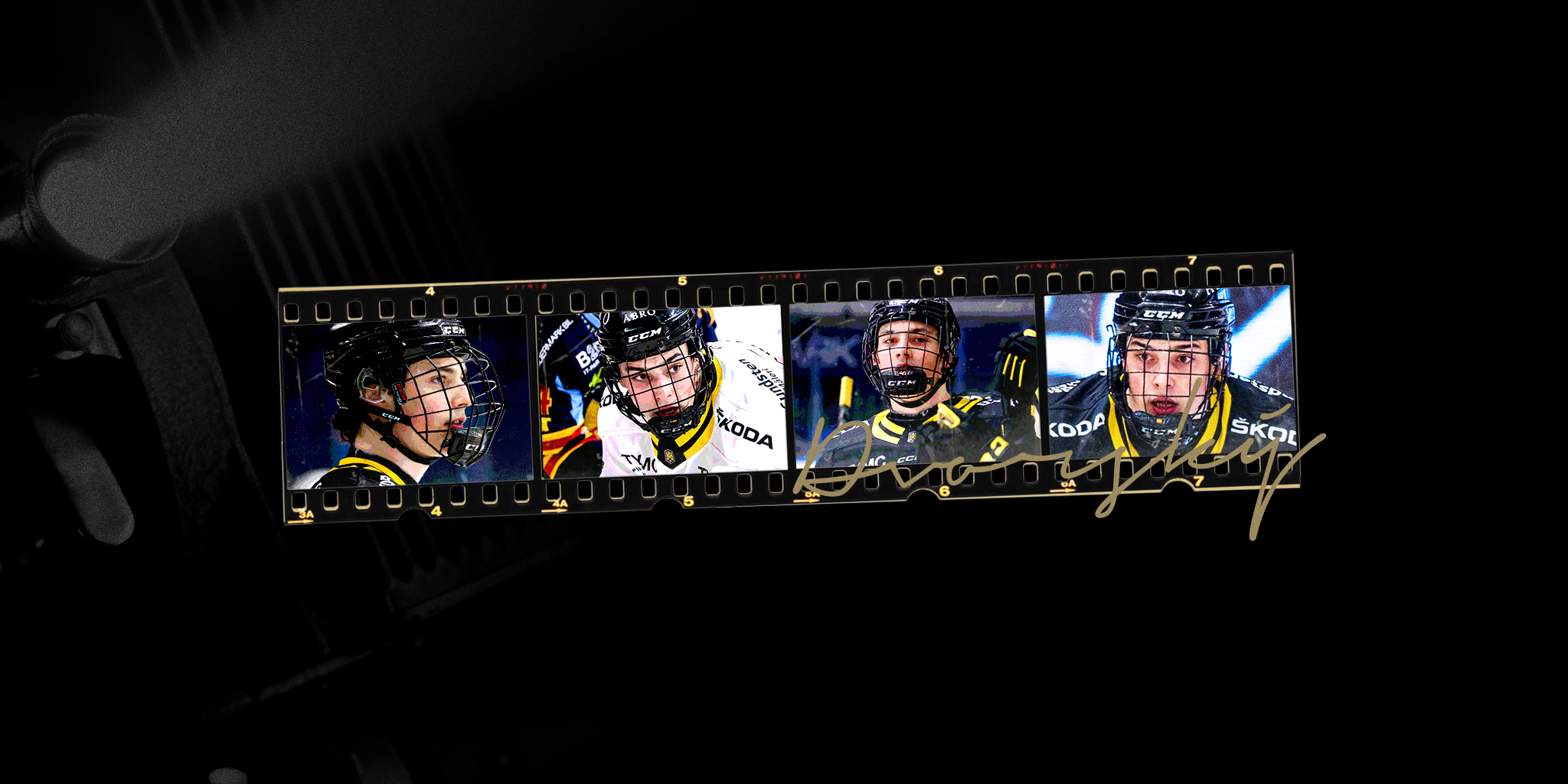 Film Room: Exploring 2023 NHL Draft Prospect Dalibor Dvorský's Potential
This article is about: