2023 U18 World Hockey Championships
Who helped or hurt their stock at the 2023 U18 World Hockey Championships?
For years the scouting community has debated the value of a single tournament.
Can a player really improve their draft stock over a 10-day span while under the microscope of the international stage? Can they really hurt it?
Well, there's a reason that you see so many NHL General Managers, Assistant GMs, and Directors of Amateur Scouting at these events. While these tournaments may not provide a complete picture of a player, the intel that can be assembled is valuable. How do you handle the pressure of playing for your country? Can you adjust to new systems, new teammates, and a new environment? Do you wilt as the games become tighter or does your game elevate?
Personally, I've long believed that a player can improve their stock by a significant margin with a signature performance. Conversely, a player who fails to reach expectations or struggles, shouldn't be punished too severely. There are a myriad of factors that could lead to a tough stretch, which only furthers the impressiveness of those who do stand out.
As such, the "helped" column will be much larger than the "hurt".
With all that in mind, let's see who helped or hurt their stock the most at the 2023 U18 World Hockey Championships.
Helped Their Stock
Gabe Perreault, RW - USA
Gabe Perreault may not have led the tournament in scoring (although he came damn close), but it's difficult to argue that any other player elevated their draft stock as much as the American winger. Production has not been an issue for the 17-year-old this season. With 18 points in just seven games, he's now the US National Team Development's all-time single-season point leader with an insane 132 points, passing Auston Matthews on the way.
All-time single-season point leaders among USNTDP skaters:

• Gabe Perreault 132
• Will Smith 126
• Auston Matthews 117
• Jack Hughes 116

— /Cam Robinson/ (@Hockey_Robinson) May 1, 2023
Regardless of that all-world Perreault's been hovering around a late-first-round level for much of the season and the reason is simple -- his lateral agility and skating mechanics and posture while crossing over, cutting back, or driving inside need serious repurposing. And none of those concerns were alleviated at this tournament. However, what was proven beyond a shadow of a doubt was just how intelligent he was on the ice. And how he uses that intelligence to overcome his skating limitations.
The 5-foot-11, 165-pound right-winger uses every weapon at his disposal to disrupt defensive schemes and make his teammates better. That includes pace-changing to create additional space, crafty area passing, using his hands to set up his route patterns, and timing his ascension to quiet areas in high-danger regions of the ice.
Despite the gaudy point totals this season, there was a definite chance that Perreault would have had to wait until Day Two of the draft to hear his name called. After this showing, he may very well go in the teens.
Will Smith, C - USA
It's not an easy thing to improve your draft stock when you're Will Smith. He entered the U18s as the third-ranked North American skater for NHL's Central Scouting. He's been a familiar face among the top 10 prospects on many public lists. And yet, his performance at this event only further elevated the belief in this player.
Centring the most dynamic line at the event, Smith's nine goals and 20 points earned him tournament MVP. That total was also good enough to tie Jack Hughes' American record and was one shy of Nikita Kucherov's all-time mark. If it weren't for Perreault, he'd own the most points ever for a USNTDP skater. Instead, he'll have to settle for second place.
Most points ever at the U18 Worlds:

• Nikita Kucherov 21
• Will Smith 20
• Jack Hughes 20
• Toni Rajala 19

Well done, Will Smith.

— /Cam Robinson/ (@Hockey_Robinson) April 30, 2023
At this point, the Boston College commit seems like the obvious choice at No. 4 and represents a highly palatable consolation prize for the lottery team that slips out of the "Big Three's" range.
Axel Sandin-Pellikka, D - Sweden
Axel Sandin Pellikka has long been regarded as the top offensive defender in this class. The right-shot Swede owns shifty footwork, can run a power play, and makes creative and skillful plays with the puck. However, his stature (5-foot-11) and still developing defensive habits have left many scouts wondering how his game will transition if he's not a truly special offensive player.
Well, the showing at this event will go a long way in remedying those concerns.
Sandin-Pellikka was calm, cool, and confident with and without the puck and led his team and the backend to a silver medal. It was highly encouraging to see him utilize those great feet to mirror rushing attackers and angle them off to low-danger areas. He was quick to pucks on retrievals and was shaking pressure and making heady outlets.
This one play where he oh-so-casually boots the cross-ice feed on an angle to the tape of his winger was so subtle yet so stupendous that it needed highlighting.
In the end, he produced 11 points in seven games. He averaged 4.25 shots per game, he saw 23:39 per outing - the fourth most among all skaters. A showing like this, in a class void of clear top-end defenders, could see Sandin Pellikka's stock race up into the top half of the first round - perhaps on the early side.
Otto Stenberg, C/W - Sweden
Otto Stenberg wasn't just the captain of the Swedish team, he was the beating heart. The 17-year-old scored nearly every big goal for the team on route to a heartbreaking overtime loss in the gold medal game.
Otto Stenberg with his 5th point of the game and 16th of the tournament.

This kid thrives with the national team sweater on. pic.twitter.com/XkZLNRb55I

— /Cam Robinson/ (@Hockey_Robinson) April 29, 2023
Stenberg has made a habit of ramping up his play and production while wearing the Tre Kronor sweater and this was no different. His seven goals and 16 points sat fourth in the tournament - trailing only the dominant USA first-liners.
This showing has very likely pushed Stenberg from a tweener first-round prospect to a locked-in one.
Dalibor Dvorsky, C - Slovakia
We can't talk about stock raisers without talking about Dalibor Dvorský.
The team's most skilled player was relied on heavily throughout this event and he did not disappoint. While averaging a forward-high 22:39 per outing, the 17-year-old scored big goal after big goal. He was involved in 59.1 percent of the team's production as he rattled off eight goals and 13 points during his seven contests.
Dvorsky was dynamic with the puck, taking pucks through creative routes that invariably ended by attacking the middle of the ice, drawing coverage with his gravitational pull before either moving it to now-open mates or firing pucks on net with his heavy dangerous release.
We've come to expect gaudy showings from Dvorsky at international events, but this one stood out among the rest. Once upon a time, he would have older, more established stars like Juraj Slafkovský, Filip Mesar, and Simon Nemec to rely on. This time around, he was head and shoulders above the rest of his team in terms of skill and upside.
He delivered. Even if he and his mates came home emptyhanded.
David Edstrom, C - Sweden
David Edstrom came into the event as a player viewed by most to be a fine prospect, but not one teams will reach for. The big centre did a ton to help his draft stock by facilitating a ton of offense with his dirty work down low and at the net front, his matchup and shutdown tendencies, and scoring some clutch goals.
A big, rangy pivot with two-way upside? Teams are certainly taking notice.
Tom Willander, D - Sweden
While Tom Willander doesn't have the shifty, elusive set of skating habits that his partner, Sandin-Pellikka boasts, the 6-1 right-shot defender played extremely well on route to a silver medal. Willander ended the event with eight points in seven games while seeing just under 22 minutes a night. He was formidable at even-strength, called upon shorthanded, and moved the puck well on the man advantage.
With his terrific skating ability and toolsy set of skills, there's a world where he shakes out as a first-rounder and ends up as the best Swedish back in the class.
Juraj Pekarcik, LW/C Slovakia
Skating on the top line for Slovakia, Juraj Pekarcik stood out alongside Dvorsky. He was decisive with the puck – making all sorts of plays with pace, putting snap on his passes, and then immediately getting himself into a position to get the puck back, cause havoc and/or simply drive the net front. That ability to work into the middle of the ice and get to the paint was chaos-causing for defenders. His release had sneaky power and quickness to it as well. He's definitely made a case to land in the middle rounds after this effort.
Matthew Wood, C - Canada
There's really no other way to say it, Matthew Wood was excellent. His seven goals and 13 points in seven games were second on the team and he made big plays in big moments - including tying things up late in the bronze medal game and making a terrific slip pass in traffic to Macklin Celebrini for the overtime winner.
Macklin Celebrini wins it for Canada.

What a game! What a tournament for the 16-year-old.

Hockey! pic.twitter.com/C65qIN0KSV

— /Cam Robinson/ (@Hockey_Robinson) April 30, 2023
Wood improved his stock through a standout freshman NCAA season, but his showing at the U18s may be just enough to push him into the top 10 conversation.
Kasper Halttunen, RW - Finland
Kasper Halttunen has long been considered the top Finn in the 2023 class. The 6-3 power forward is a handful even while playing at the professional level back home. At this event against U18 skaters, he was downright abusive.
The right-winger ended the event with a tidy six goals and 10 points in five games. His efforts weren't enough to get the Finnish squad out of the quarter-finals, but his improved play throughout the event showcased that he's got a lot of upside to go with his raw physical tools.
Danny Nelson, C - USA
Tasked with anchoring the fourth line for the Americans, Danny Nelson's game doesn't jump off of the page, but if you're looking for the right things, well, he was doing them. He played staunch defensive minutes, shutting off the middle of the ice, was physical, and kept pucks down low in the offensive end. And he succeeded with full marks. He was integral to the Americans stymying offensive chances against and provided physicality along the wall and deep in the zones.

Players Who Hurt Their Stock
Eduard Sale, RW - Czechia
This one may surprise a few people. Eduard Sale led Czechia with four goals and six points through five games. He scored a couple of pretty goals early on - including a shootout and penalty-shot goal that nearly made me pull my groin just watching them.
Check out the shootout tally from Eduard Šalé

Hands: Filthy pic.twitter.com/gdew7LXyrd

— /Cam Robinson/ (@Hockey_Robinson) April 20, 2023
However, the same concerns that have plagued the 6-1 winger all season long, reared their ugly heads again. The engagement level continues to be a major issue. If Sale doesn't have the puck or expects to get the puck, you can nearly see the care draining from his eyes. Of course, this is hyperbolic. You don't become the best player on your U18 national team and a first-round level prospect without engaging away from the puck, but too many times we saw him take a positive route on the forecheck only to hold off and not make contact. Or have an opportunity to take a puck wide and drive the net front, only to curl back or continue to swing outside into nothingness.
His inability to engage or be engaged with is a real concern for how he'll be able to leverage his immense offensive skills at the next level. Those concerns were only further solidified at this event.
Andrew Cristall, LW - Canada
Andrew Cristall has long been a divisive prospect in this class. He quite clearly owns sublime offensive skills - especially those hands and playmaking ability. He rode those traits to a massive point total in the WHL. However, even on the bigger ice where it was expected he would have the additional room needed to facilitate all sorts of magic, Cristall appeared to wilt under pressure.
Film Room: The Divisive Case of Andrew Cristall @EPRinkside

• In-depth analysis of his game, his projection, and everything in between
• With industry quotes and plenty of video breakdownshttps://t.co/lxmvPE7AO2 pic.twitter.com/93cWm2EkE9

— /Cam Robinson/ (@Hockey_Robinson) February 27, 2023
When faced with tighter defense and the threat of physicality, Cristall was often hesitant. He pulled away from entries, he lacked engagement in the defensive end, and in the offensive end, he wasn't strong enough to see top-six minutes - even falling out of regular rotation until an injury allowed him to creep back up.
Once considered a top 10 prospect by many public agencies, this performance surely put a further damper on those aspirations.
Cameron Allen, D - Canada
Once upon a time, Cameron Allen was viewed as a potential lottery pick in this 2023 class. Very likely the first defender off of the board. Those days are long gone after a tumultuous OHL draft-eligible season. However, his play at this event further cemented the belief that this young man has a long way to go before becoming a quality pro.

The physical tools are clearly there. He has had moments where a top-four future appears attainable. None of those moments happened at this even though. Allen made fistfuls of poor decisions with the puck, losing coverage in the defensive end, chasing, and simply not being aware enough.
To be fair, the entire Canadian back end struggled, and we could have highlighted each individual or the group as a whole. But in the end, Allen was the king of the struggle party so he receives the attention.
You may also be interested in: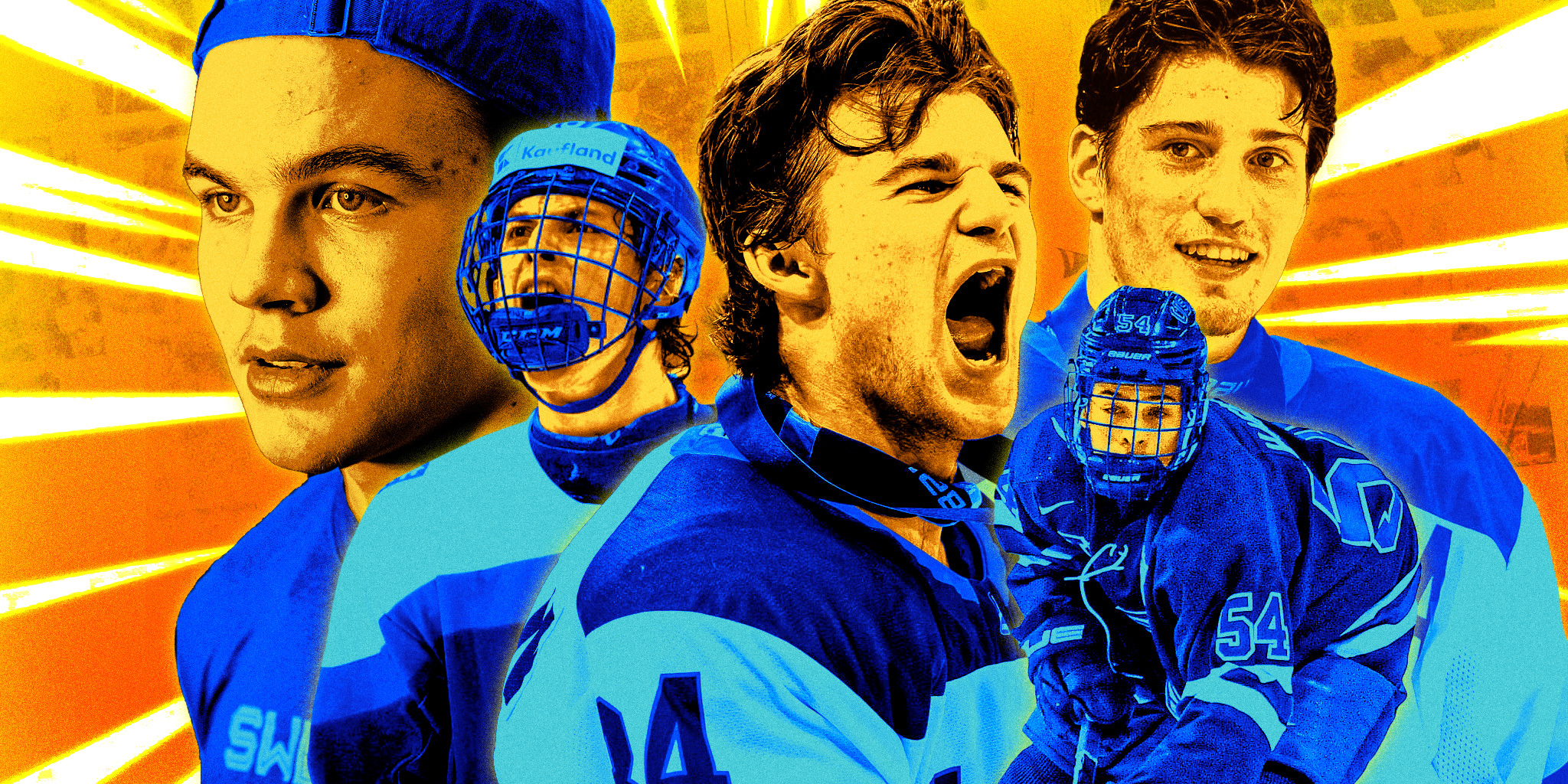 What we learned at the men's 2023 U18 World Hockey Championship
This article is about: