2023 NHL Entry Draft
Film Room: Bradly Nadeau is the perfect high-upside late first-round pick in 2023 NHL Draft
All the usual suspects showed up when we asked our scouts to identify the top shooters in this year's draft for the Elite Prospects 2023 NHL Draft Guide, but there was one somewhat lesser-known prospect who made his way into that group, too.
That player was Penticton Vees forward Bradly Nadeau.
He finished fourth in that part of the Scout's Poll, in a group that featured Connor Bedard, Adam Fantilli, Matvei Michkov, and Colby Barlow. Good company to keep, especially for a projected second-round pick.
Nadeau's put that shot to good use, too. He's scored at every level of hockey he's played to this point in his young career. He put up a goal-a-game in Bantam AAA, poted 20 in his 16-year-old BCHL rookie season, and this year he led the league in goals during the regular season, with 45 in 54 games, and again in the playoffs, with 17 in 17.
His shot almost looks automatic sometimes – overwhelming. That's how Elite Prospects crossover scout Daniel Gee described it in his game reports.
"Nadeau was wiring one-timers off the left-hand circles in this game," he wrote in December. "He gets his feet set and powers through passes with proper timing, dropping his body into his shots. He can catch and release the puck and almost every one of his actions is in motion. While he didn't convert his one-time chances, the rebounds created easy opportunities for his teammates to crash the net."
When it's all laid out, Nadeau's arsenal compares more than favourably to the top prospects in this draft.
Below, you will find a collection of shots that we clipped during the season. There's a bit of everything in there: outside-leg and inside-leg wristers, in-motion one-timers, catch-and-releases, short draws, long draws, and even pucks shot off mid-air off a bounce.
It's clear that Nadeau worked on his shooting craft over the years. Not only can he fire in a variety of ways, but there's a high level of technical ability behind most of his releases.
His drag shot, for example, fooled more than a few goalies this season. The angle change on it is massive, as one can see from the images below (taken from a clip in the video above). The puck moves from well outside his feet, where it's hidden from the goalie by a screening teammate, to almost the mid-line of his body.
Nadeau stacks his full weight over the puck, firing in a stride formation, and his shot hits the back of the net before the goalie can react.
The winger can also be deceptive in other ways, like by shooting in stride as he rushes to the zone. In those cases, his normal weight shift from leg to leg as he strides acts as the trigger for his release. As soon as he skates past the top of the circle, he picks his spot and fires.
The biggest tell that a shot is coming from a goalie is the load motion, the puck being brought back behind the skates. Nadeau cuts this part in his in-stride shot. The puck always stays well in front of his feet, which makes for a quicker and more deceptive release.
What makes him such a projectable scorer, however, is his ability to shoot off the pass.
Few skaters in the top league can score by running down the wing and firing like this. Goalies are too good. Teams have to make them move to open up the net, and shooters, like Nadeau, have to be able to fire instantly upon reception.
Thankfully, Nadeau has developed a talent for popping into the high slot at just the right time to give a pass option to a teammate driving down the zone. And you can't really give him a bad feed. No matter where it arrives, front-foot, back-foot, he finds a way to blast the pass toward the net.
"His shot is one of the most terrifying things I've seen live," added Gee in our march meeting. "When it misses, it rattles through the whole arena."
A quick look at InStat's heatmap for Nadeau confirms his marksmanship. He scored on 21 percent of his shots across the 2022-23 regular season and playoffs – a high mark even for a junior player. And he's not just an opportunistic net-front scorer; he beat goalies from a variety of spots during the season, from outside the slot and below the face-off dots.
Nadeau's shot also serves as a playmaking tool, sometimes. When his shooting lane closes in front of him, he uses the threat of his release to freeze defenders, and at the last second, slide the puck across to an open teammate, by pushing his top hand away from his body.
At his best, Nadeau's shot, playmaking, and off-puck instincts blend together and transform him into one of the most threatening offensive zone forwards in this draft, as one can see from the two clips below.
Let the film roll and you'll see him survey the play, anticipate what's coming next, and pop open for passes in the slot at just the right time to shoot, catch-and-release style, before defenders collapse on him. You'll also see him fake that shot to create even better looks for teammates.
Considering Nadeau's high skill and sense grade, if we ranked by pure upside, he would likely ascend to the top-15, but his projection is, unfortunately, more complex than that.
There's a lot of uncertainty around Nadeau's future.
"You look at the kids drafted pretty high out of the BCHL recently and I think it's safe to say that none of them have really lived up to expectations," an Eastern Conference scout told us in May. "That's not to say that Nadeau isn't a good prospect though. His shot is one of the best in the class, and he does a bit of everything well."
While some top prospects battled to earn ice time in professional leagues, Nadeau played his draft year through and through on easy mode, against a weaker BCHL competition, on a stacked team next to his brother, Josh, with whom he has long-standing chemistry.
His scoring total ballooned up, inflated by the Vees' offensive prowess. The team scored 5.6 goals per game on average during the regular season.
But it's not just Nadeau's draft-year environment that complicates his projection, but also his choice of team next season. He will be teaming up with his brother at Maine in college, an unusual path for a top NHL prospect. The NCAA's Hockey East conference, in which the Black Bears play, remains a significant step up in competition. This new environment should allow him to test and hone his skills, but Maine isn't known as an NHL player factory.
Their last NHL products were Chase Pearson, who only played three games so far in the show, and Brady Keeper, who played two.
Over the next few years, the winger will need the support of a strong development team to help him understand his flaws and iron them out. Those flaws weren't exposed in the BCHL; the competition wasn't good enough, but they will be against faster and larger defenders.
As he's 5-foot-11, the winger will need to hone his skating mechanics. Although his pure output can impress sometimes, especially when he gets into crossovers, he skates like a much taller forward, too upright or hunched over, depending on if he's gliding or striding at maximum effort. Adding more fluidity to his stride would help him evade quicker defenders in tight spaces.
At this stage, Nadeau lacks board skills. He mostly tries to stickhandle his way out of pressure. He needs to develop his strength and much better contact absorption and puck protection mechanics.
That said, even if Nadeau's path to the NHL might be more arduous than most, we remain firm believers in his skills and top-six upside. If all works well for him in Maine, he could become one of those consistent 30-plus-goalscorers in the NHL.
Nadeau is the perfect target for a team who possesses multiple first-rounders or one that wants to swing for the fences at the start of the second day of the draft.
You may also be interested in: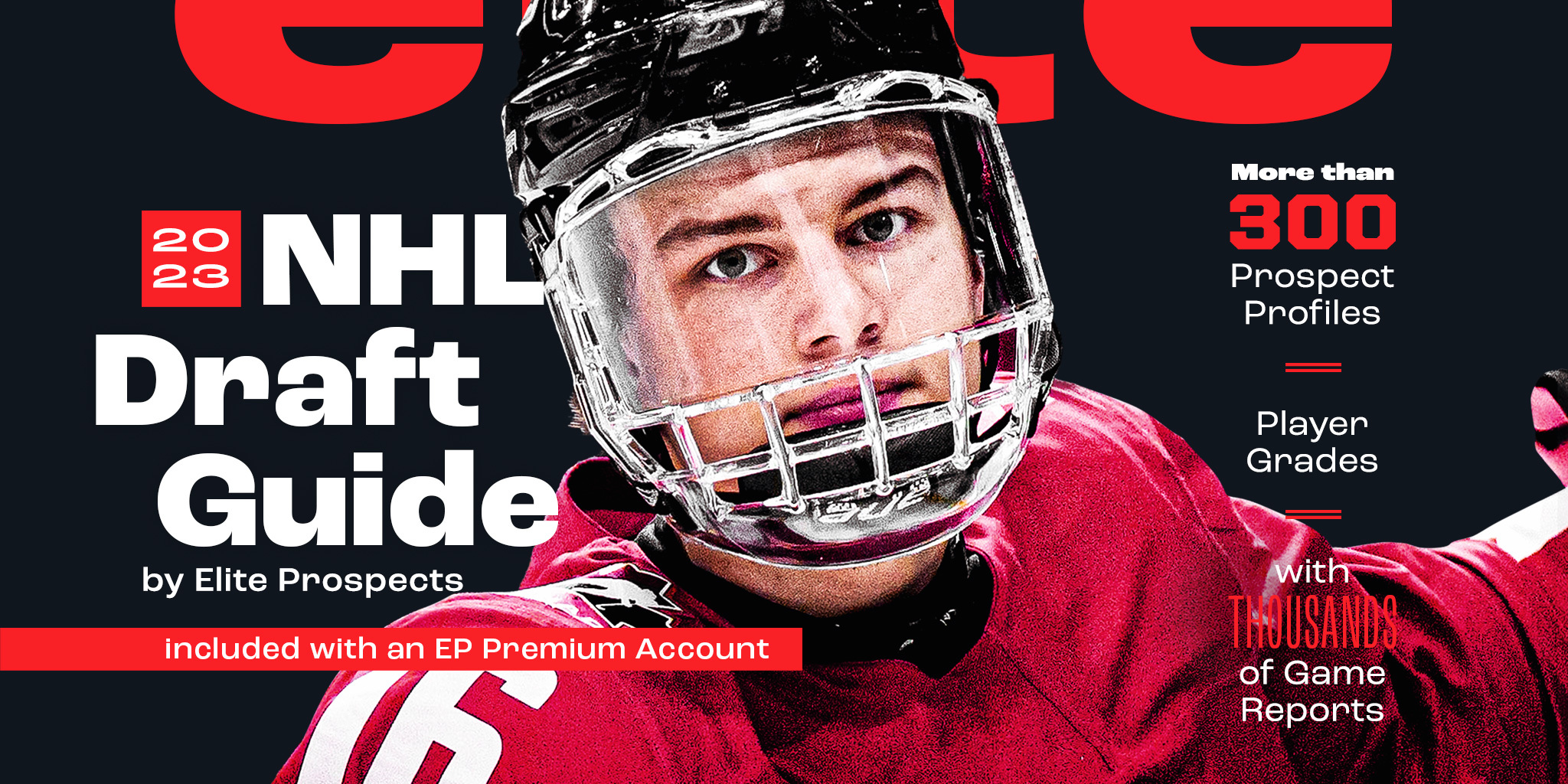 The Elite Prospects 2023 NHL Draft Guide is now available
This article is about: