NHL
EP Rinkside 3 Stars: Gone fishin'
I really like that teams have hit the ground running this offseason. There were trades and signings even before the Stanley Cup Final ended, but things seem to have already kicked into overdrive on that front since the Vegas Golden Knights lifted the Cup.
And players are eligible for buyouts starting today, as well.
Maybe it was the fact that after, like, Game 2, the whole thing felt like a fait accompli, so general managers decided, "Might as well get to work." But whatever it is, I hope everyone keeps up this level of activity for another couple of weeks ahead of the draft. Hell, maybe a trade breaks during the NHL Awards. Now that would finally be something interesting that happened during the show.
Keep it up!
Let's go:
3. Getting the deal
A nice little bit of housekeeping for the New Jersey Devils ahead of what's likely to be a busy offseason.
Jesper Bratt is signed for eight years, and he costs just under $8 million against the cap. That's probably a few hundred grand below market value, and perhaps more importantly, helps keep the "no forwards make more than Jack Hughes" precedent alive. Now, will that be the case once Timo Meier's new deal comes in? Ehh, I'd guess probably not, because while his arbitration case could end with the player only making $8.5 million on a short-term deal, if the club is going to sign him beyond his restricted free-agent status, one imagines you have to at least get into the "Dougie Hamilton money" area, which is a $9-million AAV.
Obviously having a guy like Hughes to point to — "This guy could be a future MVP and he only makes $8 million!" — in these negotiations is a great cudgel, but Bratt is very clearly not better than Hughes, right? If you had to choose, you'd probably pick Hughes ahead of Meier, but it's a closer discussion. Still, if Meier signs for the same max term as Bratt, you'd expect him to get something like $8.5 million, at a minimum, and if you're using the gravitational pull of the Hughes deal, maybe it's a shade below that. But that Hughes contract is an anchor, in a good way, because you can always point to what a great deal it is, much like the Nathan MacKinnon contract was for Colorado for so long.
To have Bratt locked in two weeks before the draft is a boon for the Devils because it allows them to hone in on the many other contracts they have to sign — they have seven pending RFAs alone. And since this seemed like it would be the hardest negotiation, the Bratt deal being done and a decent value is a double win. Not a bad start to what could be a momentous summer.
2. The injury list
Usually, when you get all the way through a Stanley Cup Final, you're never really surprised by the laundry list of scrapes, bruises, tears, sprains, and breaks the losing coach ends up reading off while saying that he's not giving you any excuses.
"Oh yeah," you always say, "tough to play through that."
But this postseason in particular, the Panthers sound like they rolled through a warzone. Matthew Tkachuk famously suffered a fractured sternum, an injury so bad his brother had to help him out of bed and his teammates had to help him put on all his gear ahead of Game 4. Panthers head coach Paul Maurice told reporters after the game that they were hopeful they would have been able to get him back for Game 7, which sounds absurd, but so too does "playing an NHL game with huge stakes while being unable to get out of bed or put on clothes." So y'know, not the best discretion being shown all around.
Then there's the host of bang-ups for Aaron Ekblad, who broke his foot and played with a dislocated shoulder, among other injuries. He's getting surgery to fix the shoulder, and will be unable to start training camp on time, if at all. And he played 24 minutes a night in the postseason? How's that possible?
Everyone's hurt at this time of year, sure. But few have the kinds of injuries you sustain in a car accident and play big, meaningful minutes for months without serious treatment. Sometimes that "hockey players are the toughest athletes" thing really rings true.
This is one time where I truly cannot begrudge the team saying how banged up they were. Wow.
1. Winning the damn thing
When you're like me and you don't especially care who wins or loses a hockey game or series, you go looking for reasons to root for just about everyone.
Wasn't too hard to find reasons why it's nice that Vegas won. Jack Eichel comes back from calling his own shot with recovery from his serious neck injury, and stars for the club in his first-ever playoff run. Golden Knights head coach Bruce Cassidy gets canned in Boston, somewhat unfairly if you're only looking at the results, and immediately wins a Stanley Cup that eluded him in 2019. Adin Hill was a castoff from a San Jose Sharks team that wasn't exactly rife with goaltending talent, and he looks phenomenal doing it. Alex Pietrangelo's daughter had a scary health incident earlier this season and she was happy and healthy on the ice postgame. Mark Stone is one of the easiest guys to root for in the league. Jonathan Marchessault going from unwanted to a Conn Smythe winner. Chandler Stephenson fulfilling his promise as a critical center to win his second Stanley Cup. The list goes on.
Really fun team, really good result. Panthers fans won't like it and who can blame 'em, and there are probably a lot of other teams' fans who are like, "Why should they get to win so soon, and so easily?" But these guys absolutely ripped through these playoffs and with so many extremely fun and deserving players, I'm afraid you do have to hand it to them.
You may also be interested in: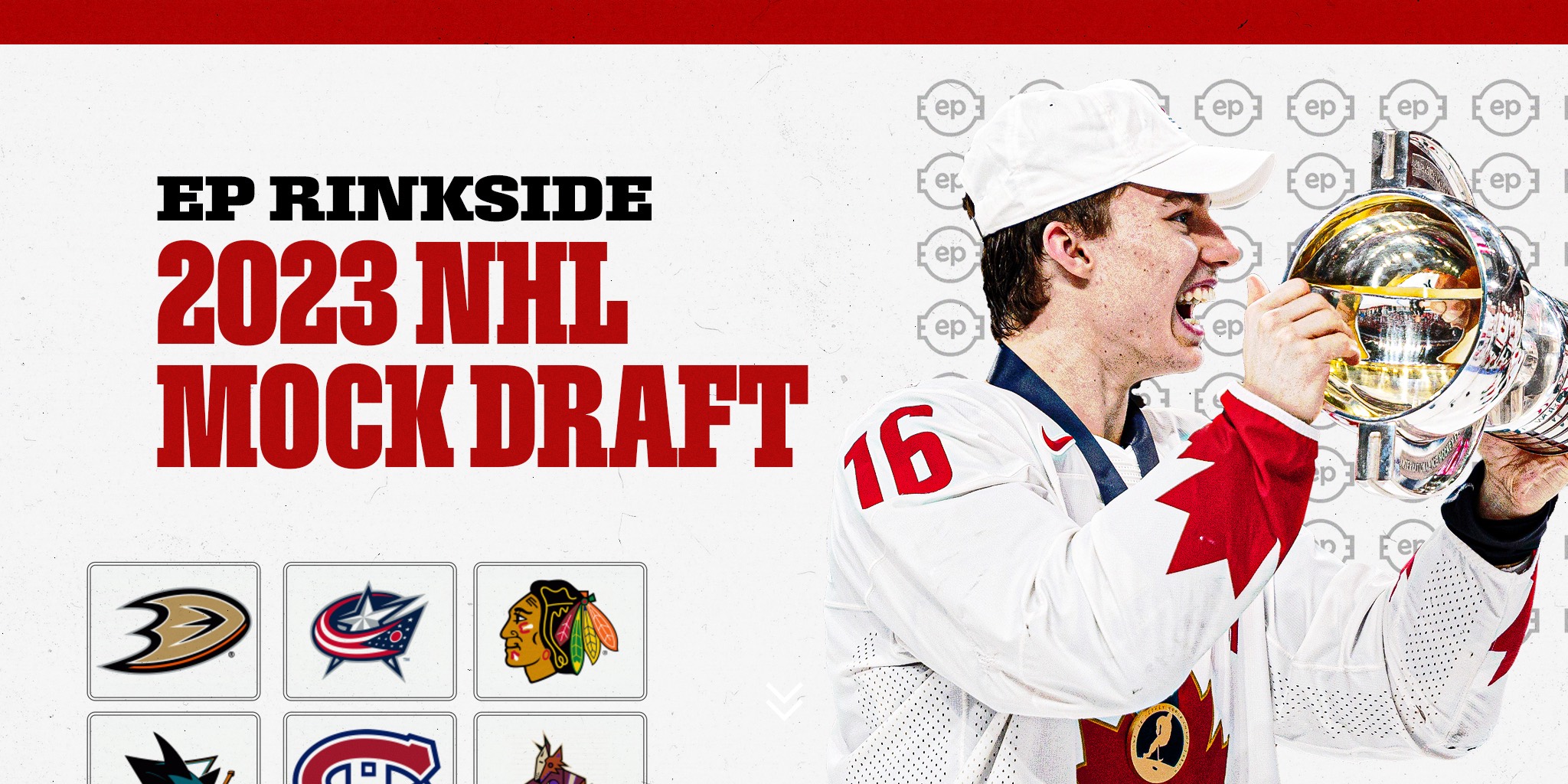 The EP Rinkside Post-U18 2023 NHL first-round mock draft
This article is about: