NHL
Scout's Roundtable: Greatest hits and misses covering the NHL Draft
The thing about the NHL Entry Draft is that there isn't a more difficult part of the sport to cover. It's part of the reason why it's so fun. The stakes are obvious, and there's a lot of subjectivity at work here.
Everyone is looking at the same pool of hundreds of players, crunching game tape, running the numbers, and trying to determine what an 18-year-old is going to look like three-to-five years from now when (or more aptly, if) they make it to the NHL. And they're often arriving at wildly different conclusions.
So yeah, it feels great when you stick your neck out for a player and they make you look like a genius by outperforming their draft position or the public consensus. Honestly, it doesn't get much better than that.
The catch is that you're going to take your fair share of proverbial Ls along the way, too. Don't I know a thing or two about that – Ottawa Senators fans refuse to let me live down the fact that I wasn't a fan of the Ridly Greig pick. I may have to delete Twitter from my phone when he makes it to the NHL in a full-time capacity. Whoops.
Anyway, it's all part of the process. Comes with the territory, really. You just have to take the hits in stride, celebrate the wins when you get 'em, and try to learn a little something from every evaluation you made along the way.
So with that, I've summoned another Scout's Roundtable, this time to go through our greatest hits and misses covering the NHL Draft. We're going to start with our misses so we can end on a high note. And with that, let's get this conversation going.
DAVID ST-LOUIS: I had Trevor Zegras at 10 in 2019, but truthfully, I moved him up a bit because of what others saw in him, not what I believed. I like his creativity, but Zegras went overboard constantly in his draft year, especially with behind-the-back passes, and I didn't like his decision-making. The biggest lesson is that top prospects, especially when placed in an environment like the USNTDP, love to experiment. That's how they push and build skills. In many cases, poor decision-making in a draft year doesn't mean poor hockey sense. It just means that a prospect is figuring out his creative game.
On the opposite side of the spectrum, I was very high on Ryan Merkley relative to the consensus because of his creativity. It's not the only reason, but I completely changed how I view and project defencemen in the last few years. I like defencemen who project as stronger defensive players, who possess NHL tools, play aggressively, and can also move the puck. Among other things, missing on Merkley helped me understand what defencemen need to succeed in the NHL.
RUSS COHEN: A big failure for me was Logan Brown. Ranked him 10th. A big centre causes matchup problems. Fast release on his shot. The problem was as the game got faster, he didn't. Now he's a fringe player. Ivan Lodnia was a failure. I had him ranked 25th. Good offensive package, not great speed, 5-foot-10. His speed never got better, and he never developed a two-way game. I learned if a player doesn't have an average two-way game unless their offence is off the charts great, they're not going to make it in the NHL.
CAM ROBINSON: Over the years, I've certainly had my fair share of misses, but one stands out in my mind. In 2018, I ranked Brady Tkachuk as the ninth-best prospect in the class, behind Adam Boqvist, Jesperi Kotkaniemi, Oliver Wahlstrom, and Filip Zadina. I struggled to make sense of his dominant down-low presence with his less-than-inspiring statistical profile. This was a player who finished his draft-eligible campaign having never scored more than 25 goals in a single season at any level.
While he was consistently strong and a force to be reckoned with near the net and along the boards, I had doubts about whether he could accumulate enough points in the NHL to justify a top-five selection. I preferred Wahlstrom and I was wrong. Tkachuk has quickly developed into a unicorn – a shot-generating machine. A physical menace. And a point producer. It's forced me to reevaluate how I assess big-bodied players. I don't plan on making the same mistake twice.
LAUREN KELLY: I'm fully expecting there to be a ton of misses after we see how the pandemic affected the developments of players in the 2020, 2021 and 2022 drafts – especially in the OHL. I'm still kicking myself for having Chase Stillman ranked ahead of Wyatt Johnston in 2021, but I also only had seven U18 games that season to evaluate Johnston, so… ah well.
Going further beyond that though, my biggest draft misses still have to be Dylan Strome and Jonathan Drouin. Both ended up third overall picks, which is where I had them ranked at the time, but I was really inexperienced as an evaluator (the 2013 draft was my first foray into this whole realm) and blinded by junior production and gaudy point totals. They're both serviceable NHL players now, but it took a long time for them both to get there and even in Drouin's case I'm still not sure he's got it totally figured out — and their playstyles required some overhauling in order to become effective players at the next level. My trend in recent drafts of defaulting to players with less-than-impressive junior production might be the result of overcompensating and attempting to prove that I've done a 180 in that capacity, but I've definitely learned the hard way that numbers only tell a small fraction of the story with prospects and there's no guarantee that junior production is sustainable at the next level.
JIMMY HAMRIN: I've had more than my fair share of misses and learned how hard this craft is along the way. I've often been too impressed by tools at the junior level (Dominik Bokk, Simon Holmström, Isak Rosén, etc.) thinking these players will eventually sort the rest out. I've become more discerning over the last two years, with Jonathan Lekkerimäki being the best example of that – I'd have had him ranked much higher if he was in the 2019 draft.
Another mistake I've made is listening too much to other people's opinions at times without knowing how much work they've actually done, often straying from my own evaluation of the player in the process. I've cured that by putting in even more work on my end.
A big miss I often come back to is having Jesper Bratt very low. Sure, he went late in the draft, but I still didn't have him inside the top-10 of the New Jersey Devils prospect pool a full year later. Two months later he played in the NHL and put up 35 points as a 19-year-old rookie in the NHL. That one haunts me. I undervalued the importance of his inside-driven skill to complement his speed. I saw a small one-trick pony in his HockeyAllsvenskan season the year before.
LASSI ALANEN: I'm still relatively new to the craft and only have personal rankings going back to 2019 (and even then, I wasn't putting in nearly as many hours as I've been doing for the past few years), so the jury is still out on most the evaluations I've made.
But the two most obvious misses must be Matias Maccelli and Juuso Pärssinen. I watched quite a lot of Maccelli in his draft year and while I appreciated the talent and skill level, I thought his skating and pace of operations would be issues at the next level. Turns out, he improved both while the skill level proved to be even higher than I had thought initially. I had players like Leevi Aaltonen ranked ahead of him among the Finns, which looks… pretty bad in hindsight.
With Pärssinen, it was a mix of not getting enough viewings and underestimating the upside. He's also an example of development lagging behind due to an extended history of injuries. Although given he was one of the last players to get drafted in 2019, I wasn't the only one skeptical about his future outlook at the time.
MITCHELL BROWN: Where to start…
A lot of great names in here that I also happened to miss on. Here's a big one from 2020: Tim Stützle. We ranked him too low. Simple. The criticism – poor play selection, lack of deception, etc. – wasn't necessarily wrong, but it wasn't weighed properly. Ultimately, those were minor. His pace, motor, and incredible skill level were easily enough to become a star in the NHL and allowed him to easily clean up the mistakes, even against better competition. Stützle, along with others, led to some significant changes in how I evaluate prospects, such as more emphasis on tools and pace.
Jake Neighbours and Ridly Greig, two players I was way too low in 2020, have already outplayed where they ended up on our final board that year. In both cases, it was undervaluing the hard skills – puck protection, attacking the inside, winning body positioning, etc. While both still have some work to do to become top-nine forwards, simply making the NHL full-time will prove my ranking wrong.
And there are players that I liked but still didn't push too high up the board for various reasons. Matthew Knies is one. I believed in his game, but wasn't sold because of the lack of high-danger creation, which was reflected in his tracking data profile wasn't great either. Ultimately, I settled on a late-second ranking, was annoyed with myself all summer, and eventually started tracking stuff where players like Knies would post better results, like getting pucks off the boards.
DANIEL GEE: I have made a mountain of mistakes with crossover scouting and handling low-leverage leagues like the high school hockey circuit. Part of that is a lack of knowledge about what is actually translatable and what isn't as players graduate to higher levels. There are just so many variables; is the player just outworking others? Will that action fly with better defensive coverages? Will that skill matter if another tool is deficient? What does the structure of the team allow? The list is almost endless. Even evaluating players' individual tools was a hard practice when trying to project with an NHL viewpoint.
The other part is gauging how adaptable these players are in what is a lesser environment. This led to some unfortunate misses on our draft board; Luke Levandowski comes to mind immediately. NHL quality pace, but not enough surrounding tools to take him much farther. Learning internal biases remains a huge factor as well. Recognizing them remains the hardest part and still requires a lot of self-reflection. For instance, I know that I tend to overrate players who possess a high amount of pace and skating tools and severely underrate players who are poor skaters. Liking Fabian Lysell over Mason McTavish for a time is an easy example and a good lesson.
J.D. BURKE: Some really great answers in here. The first that one stands out to me is David's miss on Zegras, particularly because I shared many of those concerns myself in his draft year. If you can believe it, I actually had him ranked 14th on my final board. Whoops!
I'm also feeling a little bit bad for Mitch here. It kind of feels like he's falling on his sword for some group misses with his answer. Certainly, I think the Stützle ranking was more of a group effort, and we really missed the mark on that one. I'll tell you one thing right now though: He's going to make for a great Draft Retrospective article. I'm looking forward to that one.
One player that I really missed the mark on was Shakir Mukhamadullin. There was so much hype early in his draft year, and I just couldn't see it. Then I saw him string together one of the worst World Junior A Challenge performances I've ever witnessed, and I'd made up my mind. Case closed. He was a no-draft for me, and there wasn't any turning back.
If I'd kept an open mind about the player and tried to dig into the reasons that other amateur scouts liked his game, I might've arrived at a like conclusion and thought of him as a first-round or borderline first-round talent. Instead, I dug my heels in, mostly because of his performance in one international tournament, and made a fool of myself when they took him with their third first-round pick.
The lesson about placing too much weight into international viewings is obvious, but I'm also slowly starting to realize that sometimes you have to have a little imagination with these players. It's not about what they are as 18-year-olds, but what sort of player they'll one day become maybe three or four years down the road. Now, if only I'd learned that in the fall of 2019.
BURKE: Moving on from our misses, why don't we shift the conversation to some of our scouting hits? I want to know who are the players you stuck your neck out for, strayed from consensus to rank higher than most and were rewarded for in the long run.
HAMRIN: I have had some hits too of course. I pushed for Elias Pettersson as the best forward prospect in 2017. I had seen him a lot and saw skating and physical habits that would translate better than most public outlets seemed to think at the time. He also provided a lot of value even when he didn't score big numbers in tournaments.
He is the smartest player I have scouted from Sweden. He was a dual threat from various distances with manipulating skills from the first time I saw him play.
I can say much of the same for Lucas Raymond who I thought was a top-two forward in 2020 at the time. He was an incredible play-driver in all of my early viewings. A "hit" example the other way around is that I before the draft recognized that Lias Andersson shouldn't be a high pick in 2017. I saw a third-line player at best and wasn't impressed by any of his assets other than his compete level.
COHEN: Two of my biggest draft hits were Sam Girard (29th overall) and Alex DeBrincat (20th overall). Both had similar issues in stature and that was a big worry and I would get dragged about both. My feeling about Girard was his puck retrieval. I knew his offense was terrific but I pointed out how he could survive otherwise. Speed and puck retrieval was my answer because he always had the puck. With Alex, I pointed out he had averaged 2.22 points per game in high school and he excelled at every level. I interviewed him and saw the chip on his shoulder.
KELLY: I think the most obvious one is Owen Beck... although, in spite of being the resident Owen Beck Hype Account on Twitter during his draft year, I couldn't have predicted that he'd be the fifth player in the entire 2022 draft class to make his NHL debut the following year – let alone mid-season as an emergency recall.
Some absolutely wild stars had to align for that to happen. But he was my third-ranked OHL player all year (behind Shane Wright and Pavel Mintyukov), and a lot of outlets had him ranked later than we had him at 21. I remember having to justify a lot online why I had him ranked ahead of Luca Del Bel Belluz (see scouting misses for why and how I've learned to not place much weight on junior production), who outproduced Beck all season. But I was drawn to Beck's remarkable defensive detail, his impressive motor, and his intelligence – on and off the ice. There's still a long way to go before we truly know whether or not he's a hit, but recent returns seem to be promising.
The other player is Braden Schneider, who I had been a believer in since 2018 when I first watched him play at the Hlinka Gretzky Cup. I was impressed by his poise, his shutdown abilities and his mobility. Specifically with the defencemen of the 2020 draft class, Jamie Drysdale, Jake Sanderson, and Kaiden Guhle made up the first tier, but at the time, I believed at the time that Schneider deserved to be up there with them – maybe not to the level of the first two, but at least on par with Guhle (and for much of the season, I was of the opinion that he was better than Guhle, but the jury's still out on that one). Obviously, there was the age difference to take into account, with Schneider being a late-2001 birthday, but I was pretty confident in his ability to translate to the NHL and so far, he's held his own with the New York Rangers.
DYLAN GRIFFING: I've only been digging deep into the draft for a few years now, so most of the players I really pushed for are yet to make an actual NHL impact. That said, I'll give myself a pat on the back for Marat Khusnutdinov.
He's still under contract in Russia for another season, but the dude has become a real talent in the KHL. There was a lot holding him back in his draft year (small, average production, and a pretty weak shot) that saw him be seen as more of an early-second option by most of the public, but the high-speed, high-motor, and playmaking really stood out to me and he was difficult to not love. It's still way too early to call myself a genius mastermind, but I will anyway.
ST-LOUIS: In 2018, I ranked Quinn Hughes third overall and K'Andre Miller 12th. I'm proud of those rankings, but there was also a lot of Mitch Brown influence there. I had some strong takes of my own on other prospects that seem to be aging well, however. Rasmus Sandin at 18th could look good in two years if he manages to round out his game and I believed more in Kirill Marchenko (22nd) than Vitali Kravtsov (24th). I ranked Jonatan Berggren a little high (14th), but his skills have started to translate to the AHL/NHL.
In the end, it's not just about the ranking of a prospect, but also the reason behind the ranking. When making a draft list, it's very possible to be right for the wrong reasons and wrong for the wrong reasons. For example, I thought Kravtsov's skating would be a bigger problem than it really was. I didn't nail the projection, either. The skating is not (only) what's stopping him from playing in the NHL. That's why it matters to not only put down lists but also detail what you think will happen to learn from it later on.
GEE: I feel like I have had some wins when scouting these lower-leverage leagues. The first that comes to mind is Wyatt Kaiser, a defender that I was able to recognize early on in the draft year as someone who had real NHL potential mid-because of his suffocating defending and mobility with Andover High. Being first on that was rewarding.
Jackson Blake is another player that I feel added some credibility to our rankings. Just so slippery, elusive, and skilled with Eden Prairie – those spin moves off the rush all season long were incredible – although we ranked him the highest in the public sphere, he probably should have been even higher on our list. There's obviously such a low yield of real prospects coming out of these leagues, so having some wins in this area seems valuable at some level.
ROBINSON: Ahh the self-back-patting of our wins. I love it! I, too, ranked Hughes third overall in 2018 and was high on Miller. Looks like we're all super smart.
One of my earliest successes was rating Jake Guentzel as a first-round talent. He was a dynamic offensive producer in the USHL but he was very undersized and could be pushed around even at that level. His attention to detail away from the puck needed a ton of work. But the flashes and the upside were clear as day to me.
When he fell to the third round, I wasn't shocked, but I was young enough to question my own assessment. Did I get it wrong? Are the team side people that much smarter? In the end, Guentzel's evolution buoyed my belief in myself and pushed away the draw to appeal to authority that so often rears up in this industry. Sometimes I'll be right, and sometimes I'll be wrong, but over time I've learned to trust myself over anyone else. Because at the end of the day, that's whose opinion you're sharing – your own.
COHEN: I've stuck my neck out for Hughes. I wrote an article and called him a "generational talent". His offensive stats are helping me out. People worried about the size, not much muscle, and forgot he was one of the smartest hockey players I've ever encountered on the ice. His hockey I.Q. is off the charts. I also stuck my neck out for Jason Robertson. I heard too slow, yadda, yadda. I ranked him 22 that season. Just ahead of Nick Suzuki. I talked about his release and being able to score goals down low. Then add the speed and you have a great player.
BURKE: I'm loving all the Hughes answers. Just going to join in that chorus, because I also had him ranked at No. 3 overall in the 2018 draft. I was also pretty fond of Miller's game in that same year, and I had him a lot closer to 15th than where the New York Rangers got him at 22nd. And who says drafting defencemen in the first round is difficult? We seem to have it down pat.
My actual answer here is Brock Faber, though. Every non-Bob McKenzie outlet in the Elite Prospects Draft Center had him ranked in the hundreds. Hell, most in the industry (at least in the public sphere) viewed him as the fourth-best offering from that USNTDP blue line, after Jacob Truscott and Tyler Kleven. Meanwhile, I had him early in the second round, right around where we ranked him collectively at 37th overall.
I'm not going to sit here and pretend that my confidence in Faber's game didn't wax and wane over the span of his three-year college career, but everything I saw in his draft year made him an instant hit with the Minnesota Wild in two regular season contests and their first-round series against the Dallas Stars. His defensive intelligence, mobility, and flashes of offensive instincts with the occasional weak side activation should allow him to hold down a second pair and generate some value on the penalty kill. He's got a bright future ahead of him, and my only regret is that I wasn't even higher on him in his draft year.
You may also be interested in: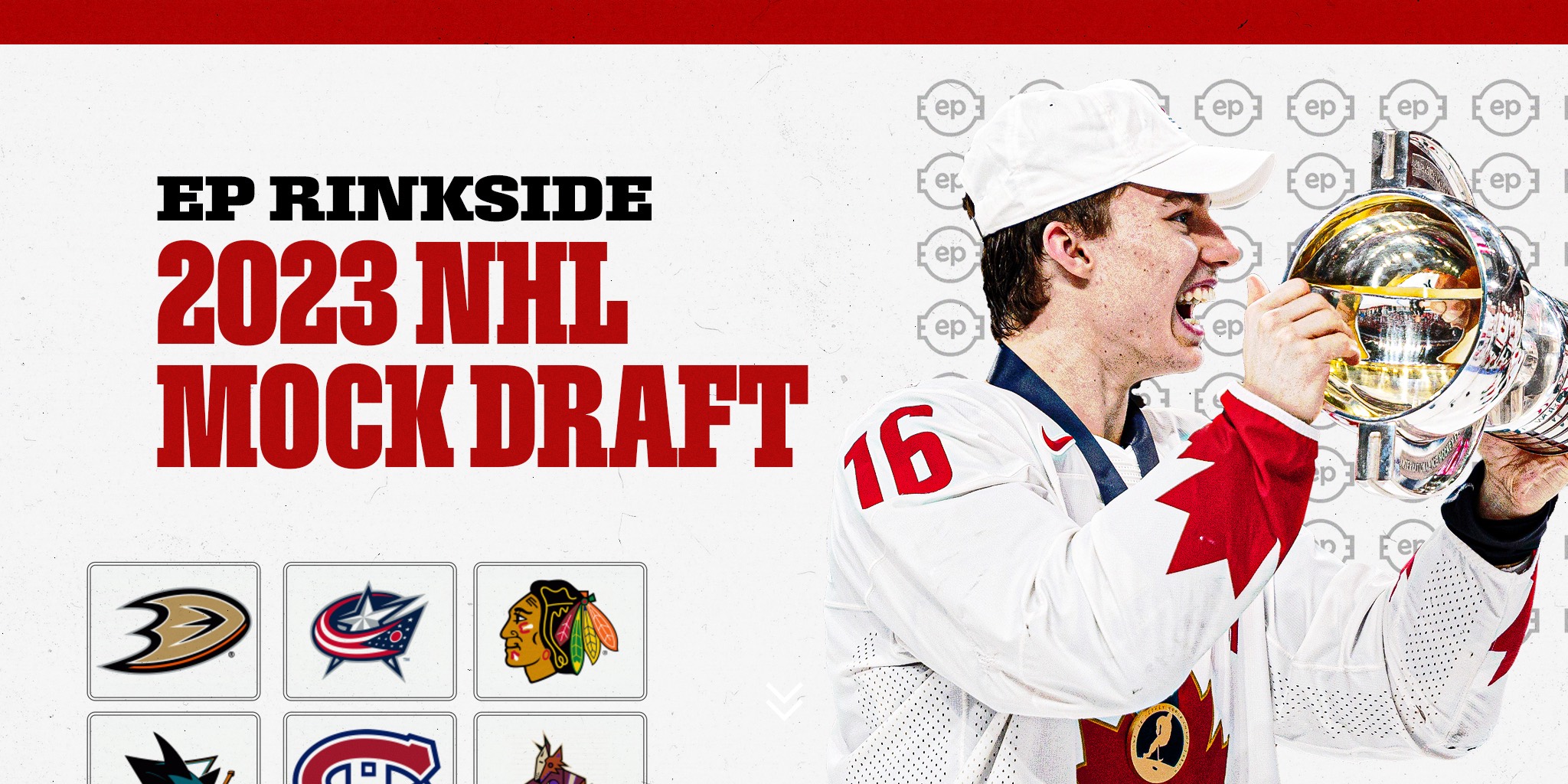 The EP Rinkside Post-U18 2023 NHL first-round mock draft
This article is about: