NHL Prospect Report
USHL Stock Watch: Max Plante's playmaking has his draft stock soaring
The USHL season is well on its way, and this year's crop of first-time draft-eligible skaters offers more than its fair share of intrigue.
Between the USNTDP and the rest of the USHL, three players were awarded 'A' Ratings on NHL Central Scouting's preliminary watch list. Beyond this group, there's plenty of great players who merit consideration in the later rounds of the draft, too.
It's still early, but let's take a look at some players who have been impressing and a couple who still have work to do.
Stock Rising 📈
Max Plante, C, USNTDP U18s (2024 NHL Draft)
NCAA commitment: Minnesota-Duluth
One of the U18s best playmakers, Max Plante has come out of the gates hot this season, with 21 points in 15 games with the program as of this writing. The name of the game with this forward is facilitation. He's a deft passer, making a move or two to manipulate opponents' feet before slipping the puck through defensive layers, allowing his teammates to take over from there.
There's some diversity to his rush game, too. Plante doesn't always attack in straight lines, and often does well to cut back and utilize space created inside the blue line where appropriate. Plante has demonstrated some real craftiness this season, with a few pretty spin-o-rama and behind the back passes. He pre-scans before getting possession and has some dexterity in his distribution; he's just as dangerous on his backhand as his forehand.
The foot speed and strength will have to improve at higher levels for him to continue having success, but it's not hard to see a scenario where Plante cements himself as a late-first or early-second round pick by the end of the season.
Trevor Connelly, LW, Tri-City Storm (2024)
NCAA commitment: Providence
Probably the most highly anticipated non-program USHLer this season, there's a lot to like about Trevor Connelly's game. The California kid took the league by storm in his rookie season, posting 47 points in 57 games. This year, he's got 15 in his first 12.
Connelly is your prototypical burner. He collects the puck with speed and gets into his linear crossovers right away, often turning the corner on defencemen off the rush. There's not a ton there in the way of playmaking, though; he often throws passes through lanes with multiple sticks, sometimes with success but oftentimes not.
The skating is good enough to see a path to a more sophisticated delay game, but it's not there yet. On the power play, he's a one-man unit. Connelly circles high above the circle on the left wing, receives a pass into space and fires away at high volume. There's some flashes of one-on-one creativity and handling ability, he just needs to weave it into his playmaking. The tools certainly look high level, but Connelly's projection is mostly upside right now, it will be interesting to see whether the way he generates offense is sustainable at the collegiate level.
Sacha Boisvert, C, Muskegon Lumberjacks (2024)
NCAA commitment: North Dakota
Sacha Boisvert has been turning heads early with 13 points through his first 12 games.
He's a cerebral player who understands his limitations and leverages his strengths. A deft playmaker, Boisvert is exceptional at making passes through defensive layers off the rush. He's got some deception with the puck, separating his upper and lower body to manipulate sticks and feet to open up ice.
Boisvert is smart defensively too; he's got a high workrate in his own end and uses his long reach to clog up passing lanes and create transition offense. The biggest question for his projection is his skating. Boisvert's height contributes to a high stance and a shallow stride. He's clunky on turns and quick cuts, creating little to no separation for himself. That said, Boisvert doesn't try to be something he's not. He distributes under duress and finds open ice for himself to operate off the rush when it's there. He'll be an interesting player to keep an eye for the remainder of the season.
Stock Steady ↔️
Cole Eiserman, LW, USNTDP U18s (2024)
NCAA commitment: Boston University
Cole Eiserman has been exactly as advertised: A pure sniper. He's up to nine goals in six USHL contests so far, first among the U18s and tied for second among all USHL players in significantly fewer games.
There's so much to admire about his shot; Eiserman is exceptional at changing his release point to fool shot-blockers and goaltenders. He's dynamic, firing from either foot, in-stride or with his feet set. Eiserman has already given us some highlight-reel goals from impossible angles and looks like a bonafide top-three pick.
The issue is he's kind of one-dimensional. Whenever the puck is on Eiserman's stick, his primary objective is to drive the net and create the best shot opportunity for himself. There are limited instances of high-level playmaking and stretches where he can be a passenger in his own end. Still, the one dimension he does have is already pro-caliber and far and away the best in his draft class.
Stock Falling 📉
Michael Hage, C, Chicago Steel (2024)
NCAA commitment: Michigan
It's hard to say a player with eight points in his first 10 games is falling down the draft ladder, so take this one with a grain of salt. Michael Hage is uber-talented; he's deceptive and has an arsenal of ways to make opposing teams pay especially when he builds up speed.
Hage is a sophisticated player who uses his skating to work between the dots for high quality chances, where he doesn't see an opportunity to create immediately off the rush, he cuts back and finds support.
The issue is that Have needs time and space for these instincts to kick in. In tight spots with fast pressure, he struggles to problem-solve and is too slow on his reads. This shouldn't be cause for too much concern; Hage will need time to find his game as he was injured for a majority of last season, I have faith he'll figure it out.
You may also be interested in: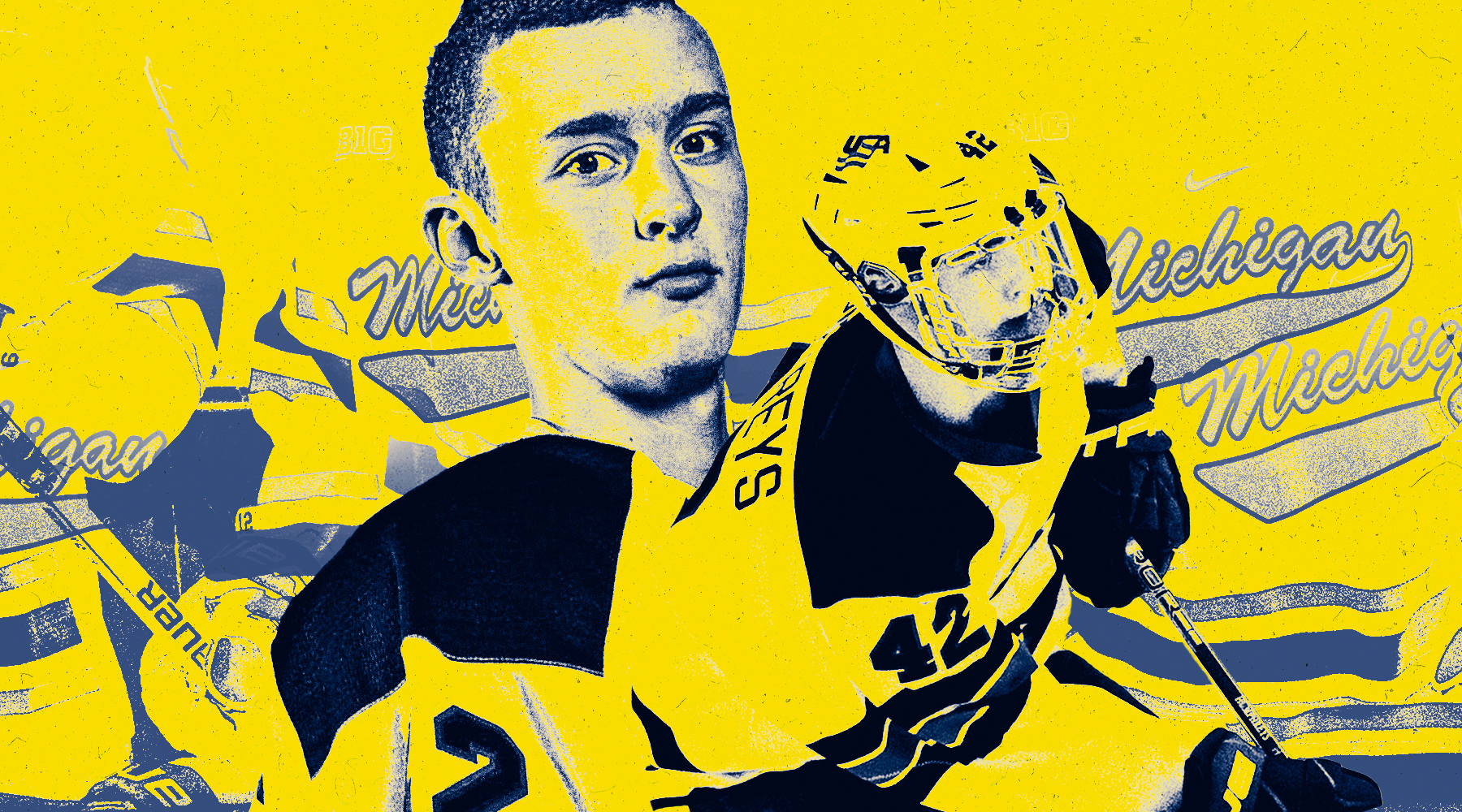 Why 2024 NHL Draft prospect Christian Humphreys flipped his commitment to Michigan
This article is about: