NHL Prospect Report
QMJHL Stock Watch: Maveric Lamoureux is putting up a dominant offensive season
The start of the QMJHL has gone about as expected for most of the league's teams. In the East, the Baie-Comeau Drakkar surged up the standings, winning 13 of their first 17 games, and the Rouyn-Noranda Huskies lead the West, followed closely by the Victoriaville Tigers.
But the most interesting teams to watch over the last few weeks were not these top formations, but the ones on an upswing after a recent rebuild: The Drummondville Voltigeurs, Chicoutimi Saguenéens, and Rimouski Océanic. Some of their players are blossoming after a couple of years of unfulfilled promises.
In this edition of Stock Watch, we will also focus on a 16-year-old, recent fifth-overall pick in the QMJHL Draft, who is making an early mark on the league.
Stock Rising 📈
Maveric Lamoureux, RD, Drummondville Voltigeurs (Arizona Coyotes)
One of the Voltigeurs' few bright spots to start the season, Maveric Lamoureux looks healthy and dominant. The occasional awkwardness that characterized his play in his draft year barely shows up anymore. The puck stays on his stick as he manoeuvres around opponents, evading opposing sticks and gaining the offensive zone for his team. His reach, mobility, and stickhandling skills seem to now be working in much better harmony.
More than once, we've seen Lamoureux fake an opponent at the line, attack past him and shoot from close to the net. There's more freedom to his movements. They look more controlled and planned than before. He passes pucks quicker around the forecheck and still plays with the same physical edge.
There's still a long way to go for Lamoureux before he's a full-time NHL defenceman, but he is progressing faster than before. This season is shaping up to be a great stepping stone toward professional hockey next season.
Alexandre Blais, LW, Rimouski Oceanic (2024 NHL Draft)
Alexandre Blais showed some impressive flashes of hockey sense last year and some dynamic skills, but he rarely took over shifts. We were waiting for him to take that next step in his development. Well, it appears to be happening now. Blais is rapidly becoming a premier offensive talent in the QMJHL.
Blais' stride has some mechanical flaws, namely a lack of ankle flexion, but he added some explosiveness over the summer. His acceleration serves him well on the forecheck, where he turns pucks over, steals them, and creates instantaneous scoring chances. His high pace of play makes him hard to defend. He hits lanes before they close, beats defenders wide, and drives through them. He orchestrates passing exchanges off the rush and scoring chances off the wall in the offensive zone.
There is still a lot of hockey left to play in the season, but if Blais can improve his puck management and use his available space even better, he could become a top prospect in this draft.
Alex Huang, RD, Chicoutimi Saguenéens (2025 NHL Draft)
Despite being one of the youngest players in the 'Q, Alex Huang is already dominating some of his shifts. He pinches on opponents in the neutral zone, carries pucks through it to establish offensive zone possession, and shifts around defenders at his opponent's blue line. His high-end mobility opens up all sorts of offensive chances for him, chances that he will learn to seize as he matures and adds another layer of deception to his moves.
He already has 11 points in 15 games for the Chicoutimi Saguenéens, but that already high rate of production could increase further over the next two seasons, as he develops into a better power play quarterback.
Huang won't be eligible for the draft until next season. To transform himself everyday force in the NHL one day, he will have to become more efficient with the puck and hone his reads in all three zones.
Stock Steady ↔️
Ethan Gauthier, RW, Drummondville Voltigeurs (Tampa Bay Lightning)
Ethan Gauthier often played second-fiddle to the Sherbrooke Phœnix's top scorers last season. His passing, physical, and puck-retrieving skills permitted him to shine in a supporting role, but it always felt like he had more to bring to the table.
This season, the Voltigeurs are giving him a chance to show the extent of his play-driving ability. And while he has performed reasonably well, playing upward of 22 minutes in all situations, there's another level for him to yet reach.
At this stage, he looks more like the supportive player we saw last season than the dominant junior playmaker we thought he could become. He has some deceptive qualities. He can beat some defenders 1-on-1 and make plays through them, attract the opposition to create space for teammates, but he has to show these abilities more often, and do that without forfeiting his two-way identity.
There is still plenty of time for him to take off this season. The Voltigeurs have yet to fully get and develop chemistry. When that happens, Gauthier should soar.
Stock Falling 📉
Tyler Peddle, LW, Drummondville Voltigeurs (Columbus Blue Jackets)
Drummondville Voltigeurs winger Tyler Peddle seems to be in the middle of a rare cold streak for a third-year QMJHLer. After putting up 24 goals and 17 assists last season, he only has four points in 17 games to start the current campaign.
This was supposed to be a big year for him. He fell in the draft last year after scoring below expectations in his Sophomore season, but we continue to see the same trends in his game. His plays don't seem to be connecting at the rate they should for a top QMJHL player and his playmaking game hasn't improved as much as we anticipated.
Peddle is still contributing with his usual pressure on the forecheck and backcheck, but he wasn't drafted second overall in the QMJHL to be just a North-South, checking presence for the team.
Drummondville needs him to put up his share of goals. Peddle has one of the best releases off the pass in the league and he can even beat goalies cleanly coming down the wing with his marksman qualities and his speed. These qualities continue to make him an intriguing NHL prospect. As he's shooting about 6% per cent right now -- half his conversion rate of last year -- we do expect that, over the next few weeks, he will have a bounce back stretch of games, where goals will flow in.
You may also be interested in: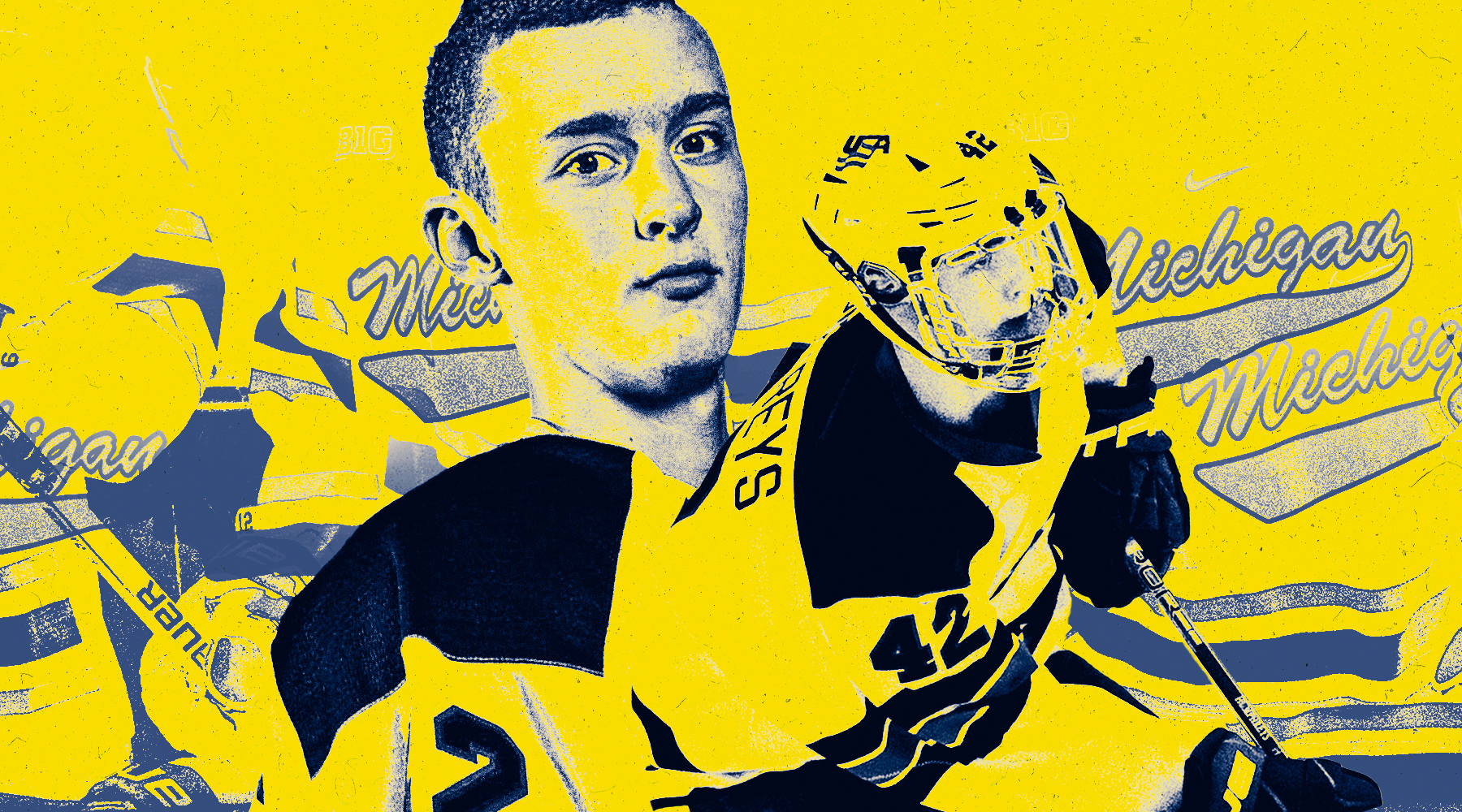 Why 2024 NHL Draft prospect Christian Humphreys flipped his commitment to Michigan
This article is about: