CHL
Saginaw Spirit continue loading up, add Ducks prospect Rodwin Dionicio and Alex Christopoulos
This morning, the Saginaw Spirit pulled off their fourth – and biggest – trade of the season.
In a swapping of overagers and import players, the Memorial Cup hosts added Ducks prospect Rodwin Dionicio and the OHL's top returning goalscorer in Alex Christopoulos from the league-worst Windsor Spitfires. Out went a pair of seconds, a fourth, overager blueliner Roberto Mancini, and import forward Valentin Zhugin.
Just minutes before, the Spirit moved former first-round pick Luke McNamara to the Kingston Frontenacs for picks. A few weeks prior, they added shutdown centre and Tampa Bay Lightning seventh-rounder Ethan Hay for six draft picks.
If one thing's clear, it's that CHL trade season is upon us.
So, let's break down what this trade means for Saginaw, Windsor, and the key prospects on each team.
Saginaw's perspective
Saginaw, the Memorial Cup hosts, needed to get better. This trade makes them better. Losing long-time staple Mancini and robust middle-six scorer Zhugin hurts, no doubt. But in return, they've gained a lot more offence.
There isn't another player in the CHL like Ducks' fifth-rounder Dionicio. He's an offensive powerhouse, deftly orchestrating the play in all three zones and setting up chances at the rate of a high-end top-line forward. With Windsor, he's looked faster and more stable as a skater, which has made his puck-carrying game even more dangerous while bolstering his rush defence.
There isn't another prospect like Rodwin Dionicio, the best playmaking blue liner in my many-year, ~1500-player data set.

Few manipulate opponents like him, forwards included. Fakes them out, instantly reads space, deceives the next layer, connects through tiny openings. pic.twitter.com/QPeTWtq3gA

— Mitchell Brown (@MitchLBrown) June 23, 2023
Dionicio's non-stop activation and endless creativity make him a perfect fit for Spirit hockey. They'll find even more ways for him to create. Look for Dionicio to really shine with Saginaw's motion-based offence and overwhelming passing plays.
The addition of Dionicio gives Saginaw more versatility, too. Zayne Parekh, a top 2024 Draft prospect, is holding down nearly 27 minutes per night, eighth in the OHL. Dioncio's near-25 minutes per night is 13th. Dionicio can easily eat into those minutes, giving the Spirit the option of trodding out at least one of the league's best offensive defencemen for 40-plus minutes a game.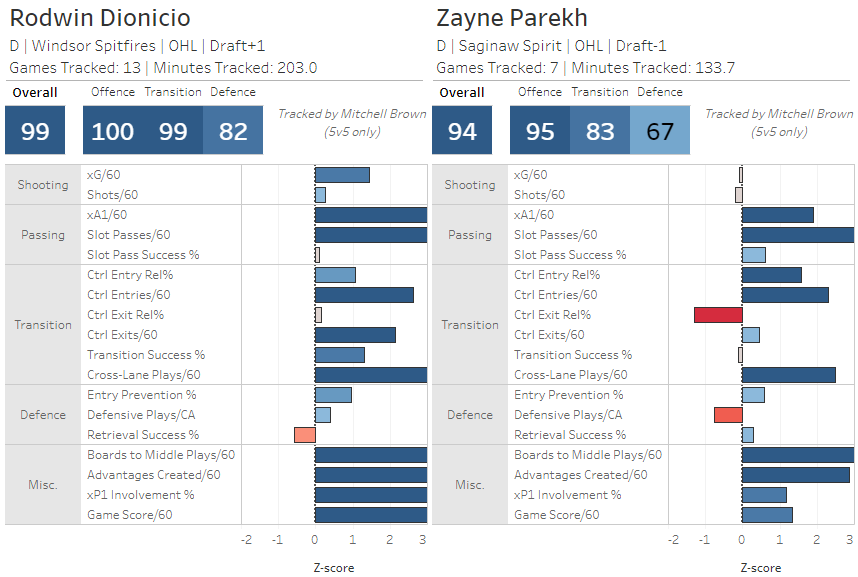 Maybe they'll even end up together. Parekh's played major minutes with three different partners this season. Dionicio's special playmaking should be a perfect match for Parekh's historic-level goal-scoring ability. The question will be how that pairing looks going back the other way.
Breaking up Saginaw's league-leading 32.7 percent powerplay will be tricky to justify, but the second unit could use a boost. If the first unit slows down, Dionicio could easily run the first unit while Parekh slides over to more of a shooting role.
Christopoulos is the league's top returning goal-scorer from last season, potting 49 in just 68 games. He provides something of a supercharged version of Zhugin's game, capable of slipping into space and firing off the pass, or forcing a defensive zone turnover and leading the rush the other way.
The breakneck Christopoulos seems like a perfect fit for the right side of the Hunter Haight and Michael Misa duo. While both have performed well this season, they haven't produced at the rates their skill level suggests. With a new look on the wing, perhaps the floodgates will burst open. Alternatively, he could aid Hay on Saginaw's shutdown line.
The emphasis on fall trades gives the team more time to gel, as well as management to make another move if necessary.
Windsor's perspective
Entering the season, Windsor's combination of impactful older players and skilled younger players made them seem like a real title threat. But they've won just four games in 18 tries, cratered by a sub-.850 team save percentage, poor shooting luck, and defensive breakdowns.
If this trade's a sign, Windsor's looking for a quick rebuild. They could try to bottom out, shipping off overage speedster Oliver Peer for a decent haul, as well as their top 2004-born players.
Mancini brings a combination of defensive prowess and offensive support that should help Windsor get more time in the right end of the rink, while Zhugin should immediately provide top-six, secondary scoring. Neither play will save Windsor's season, but they should be key in the development of their young talent.
Potential first-rounder Liam Greentree has found a ton of success without much help. His two most common linemates have combined for just 22 points – Greentree has 24. More help could mean more production, and it will definitely mean more success. He's a dual-threat creator, but one who plays heavily off his linemates. Maybe Zhugin will be a better fit for him.
[Read More: Scout's Notebook: Luke Misa's torrid pace and other draft-eligible standouts.]
Last season, Anthony Cristoforo formed a dynamic duo with Dionicio, putting him on the first-round radar.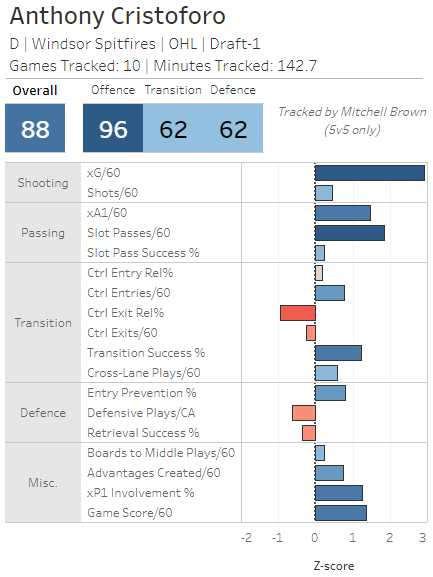 But this season has been tough for him so far. The offence has taken a major step back, not only scoring at a lower rate, but generating just a fraction of the scoring chances. With fellow 2024 draft-eligible Carson Woodall out, Cristoforo's playing massive minutes, and none of Windsor's depth blue-liners have earned the trust of the coaching staff to step up in Woodall's absence.
Mancini will, and that could help Cristoforo, and Windsor, get their seasons back on track.
You may also be interested in: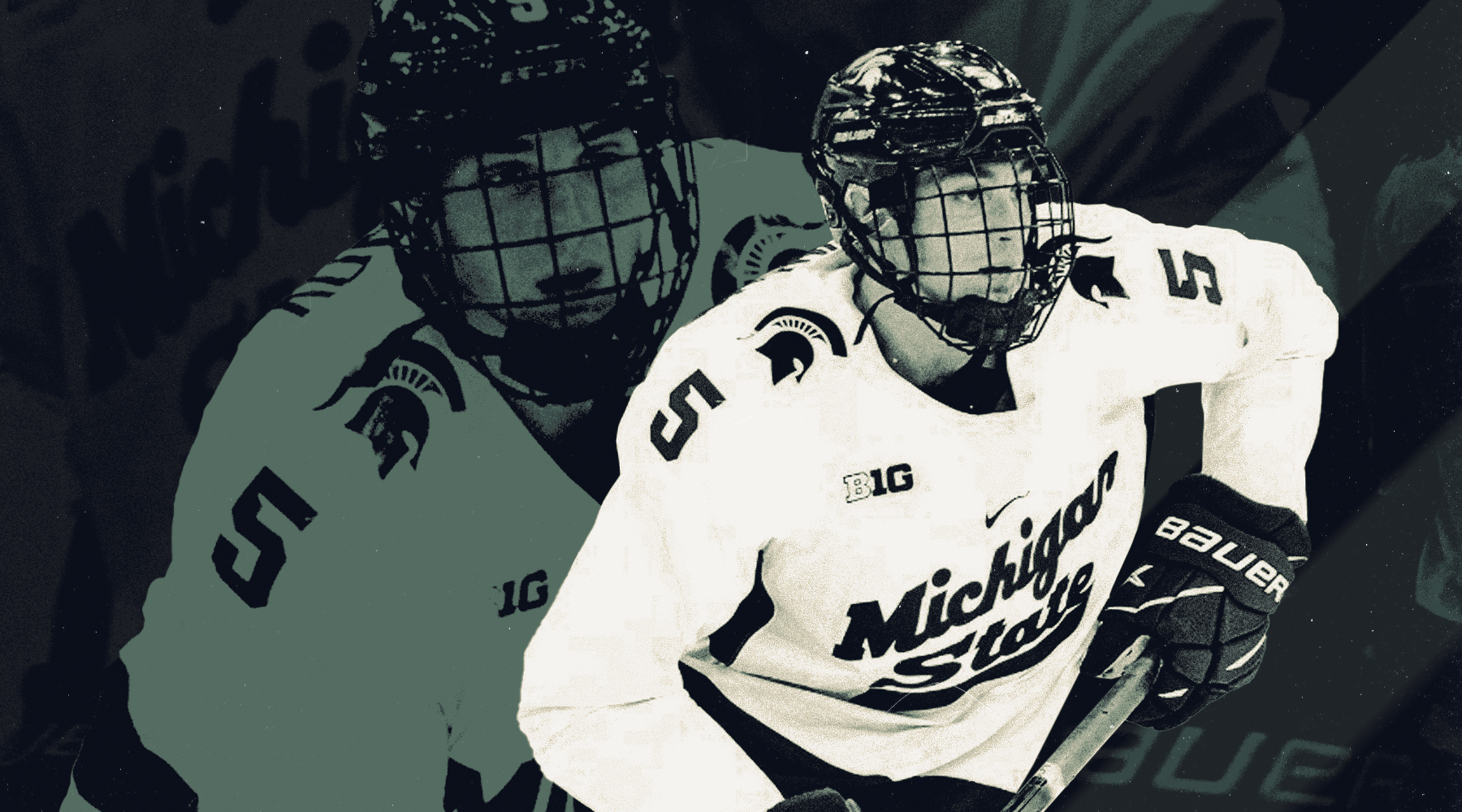 Michigan State's Artyom Levshunov thriving on unconventional path before 2024 NHL Draft
This article is about: