World Juniors 2019
The rise of Ian Scott
"No one else really wanted to go in net, so I kind of just stepped up and just started doing it full time."
That's how Prince Albert Raiders goaltender Ian Scott began his goaltending career. As a kid, nobody wanted to do it, so he stepped up.  Now, 15 years later and currently playing in his 4th season in the WHL, it sure looks like he made the right choice.  Scott is not only in the midst of the best season of his career, he's putting up some of the best goaltending numbers the WHL has seen in recent memory.  Here are his statistics as we near the halfway point of the season, along with his league rank in parentheses:
SV%: 0.942 (1st)
GAA: 1.62 (1st)
Shutouts: 4 (1st)
GSAA: 28.2 (1st)
If those hold up through the second half of the year, he would become just the second goaltender since 2003 to finish a season with a SV% above 0.940, joining last season's CHL Goaltender of the Year Carter Hart.  That's frankly an astonishing amount of improvement for a guy who came into the season with a career SV% under 0.900.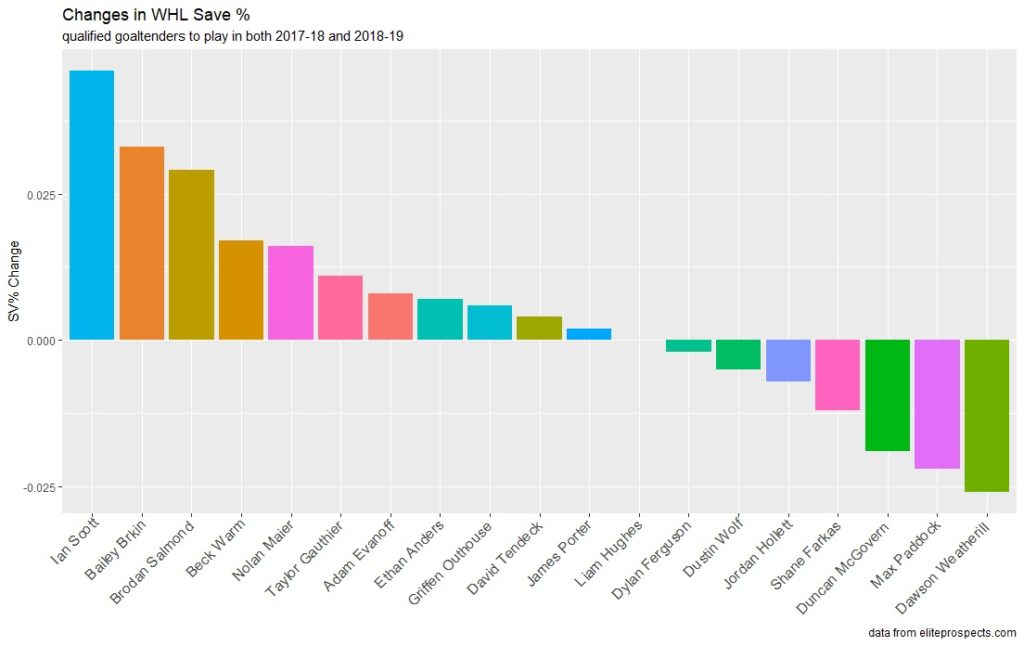 "A lot of it is, I think you can't put up numbers without the team in front of you," Scott says of the improved numbers.  "They've been helping me out a lot.  It's a bunch of returning guys from last year.  I think near the end of last year, we were a pretty good team.  We started to understand what we could do and how to accomplish what we wanted to do.  So this year I think just us being close as a team and everyone knowing and trusting each other and doing their jobs, it's worked out."
If anyone deserves a good team in front of him, it's Ian Scott.  In the 2016-2017 season, his draft season, Scott started 50 games for a Prince Albert Raiders team that gave up the second most shots per game in the WHL.  Jacob Stoller of Maple Leafs Nation described his year as "being hung-out to dry on 2 on 1's and 2 on 0's, game after game."  This was a big theme heading into the 2017 draft, and part of the reason he was ranked as the third best goaltender in the North American Central Scouting rankings despite his less-than-stellar 0.895 SV% and 3.69 GAA.  After being selected in the fourth round by the Toronto Maple Leafs, Darren Pang echoed the sentimentthat Scott was better than the numbers showed.
Now, two years later, the numbers are finally reflecting the potential that the Maple Leafs saw when they drafted him. Scott has shown the biggest improvement in SV% in the WHL this season by a large margin.  It's true, the team in front of him has definitely improved, but with a change this drastic in his SV%, you've got to give him a ton of credit.  It's also worth noting that the shots his team is allowing per game hasn't gone down significantly.  It's tough to judge the difference in how dangerous the scoring chances against him have been without shot tracking data, but his overall workload in terms of shots faced per game isn't significantly different from last season.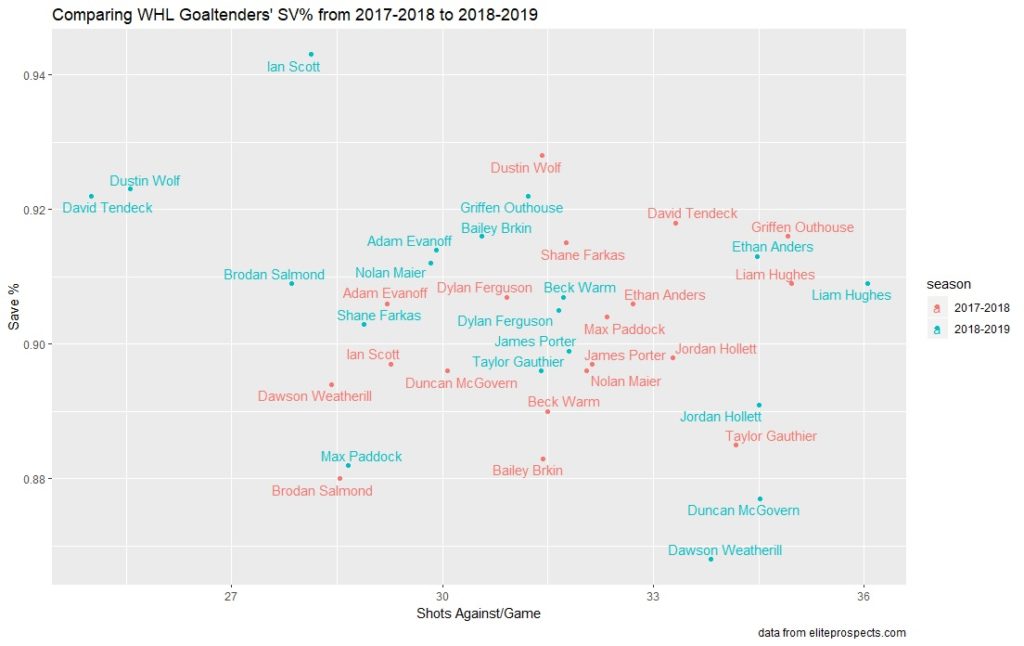 There's also something to be said here about the value of professional experience. Scott was signed to an AHL contract with the Toronto Marlies after the Raiders' season ended last year.  He played in one game at the close of the season, allowing 3 goals on 33 shots and getting his first professional win.  He also got to spend time working with two goaltenders with 121 combined games of NHL experience.
"I've had the opportunity to work in Toronto and I think that's definitely helped my game as well.  I had the opportunity to play for the Marlies when they were going through their run last year.  I learned a lot from [Garret] Sparks and [Calvin] Pickard while I was up there for a couple months."
One last statistic that illustrates how good Scott has been this season is in his GSAA (Goals Saved Above Average).  For those unfamiliar with GSAA, this is a cumulative measure that describes how many goals a league-average goaltender would give up if he were put in the same situation as the selected goalie.  The more shots a goaltender faces, the higher (or lower, if they have a below-average SV%) their GSAA.  Scott is currently riding a 28.2 GSAA, which breaks down to just over 1 goal saved per game. If he were replaced with a league-average goaltender, Prince Albert would give up an extra goal per game. How impressive is that?  Well, of the 528 goaltenders to start at least 25% of their teams games since 2003, there have been exactly two instances of a goaltender finishing the season with a GSAA/60 above 1 before this year.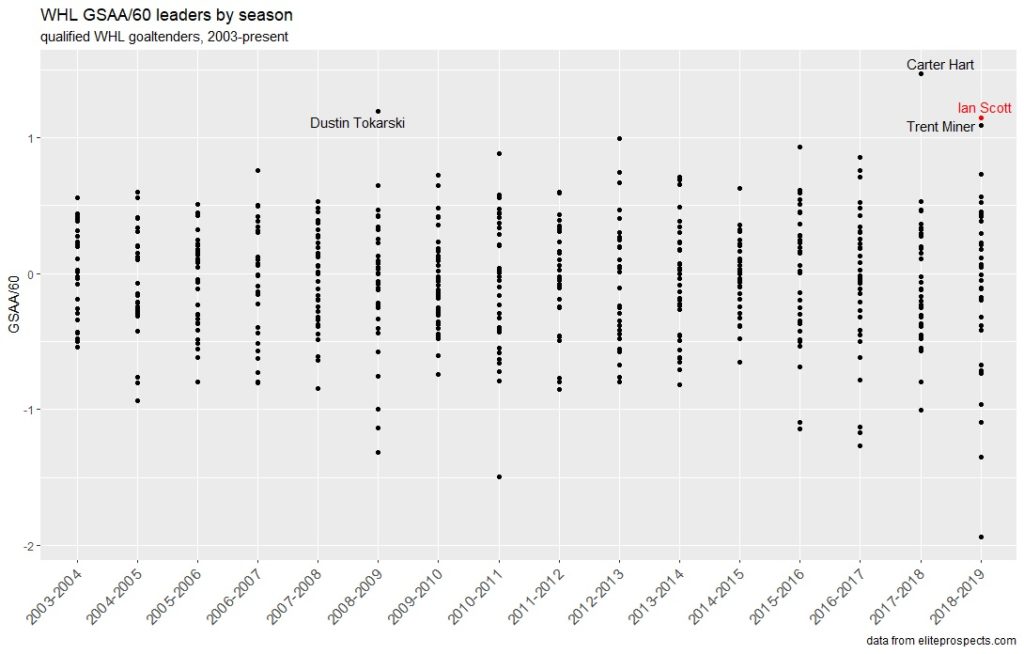 The Vancouver Giants' Trent Miner is also on pace to join this list, though his sample size this season is much smaller than Scott's as he has played in half as many games.
Scott has been doing all the right things for the Raiders this year, and it's a big part of their success.  The Raiders have lost just two games all season and have been sitting atop the CHL top-10 rankingsfor seven consecutive weeks.  Scott himself is the only 3-time winner of WHL Goaltender of the Week this season and has also won WHL Goaltender of the Monthfor both October and November.  On November 16, he proved there is nothing he can't do for his team when he became the first WHL goaltender to score a goal since Stuart Skinner did it in 2016.
This blew up all over the hockey world, because let's be honest, there aren't many things better than a goalie scoring a goal.  But what some people may not know is that this was the second straight game when he took a shot at the empty net.
"I tried before, I think it was the game before, I tried and put it off the scoreboard. I was just joking about it with my coaches the day after.  I said maybe it just has to kind of be a bullet through the center of the ice, and it worked the next game."
Scott's fantastic season has earned him an invite to the selection campfor Team Canada for the World Junior Championship this year in Vancouver, BC.  This will be his first time playing with the U20 team.  With the way he's been playing, he's all but a lock to get a roster spot and even the starting gig for the tournament.  We'll soon see how he stacks up against the best young players in the world, but as of now, it sure looks like the Toronto Maple Leafs got a steal in the 2017 draft.
You may also be interested in: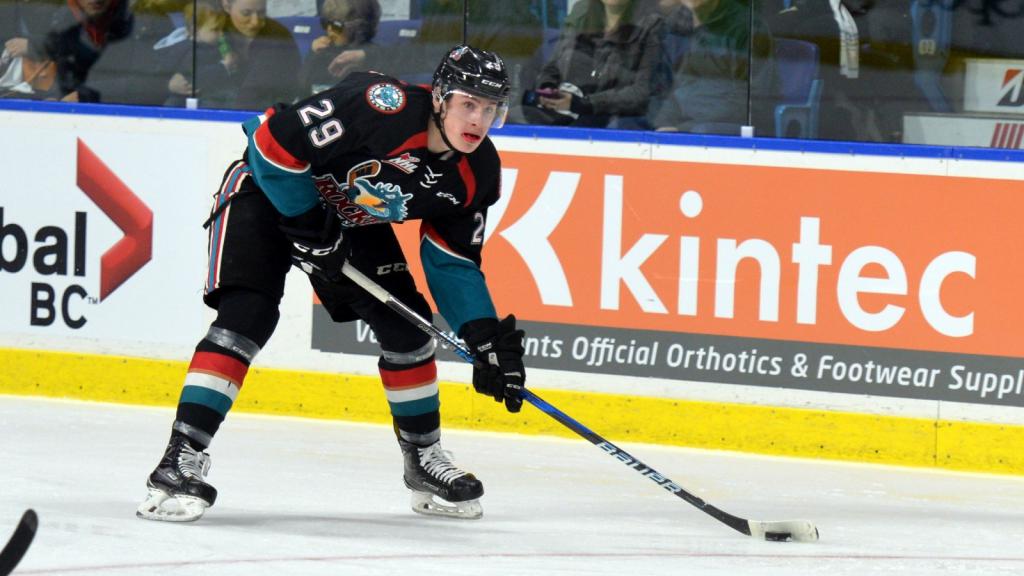 Nolan following the Footesteps of brother, father to the NHL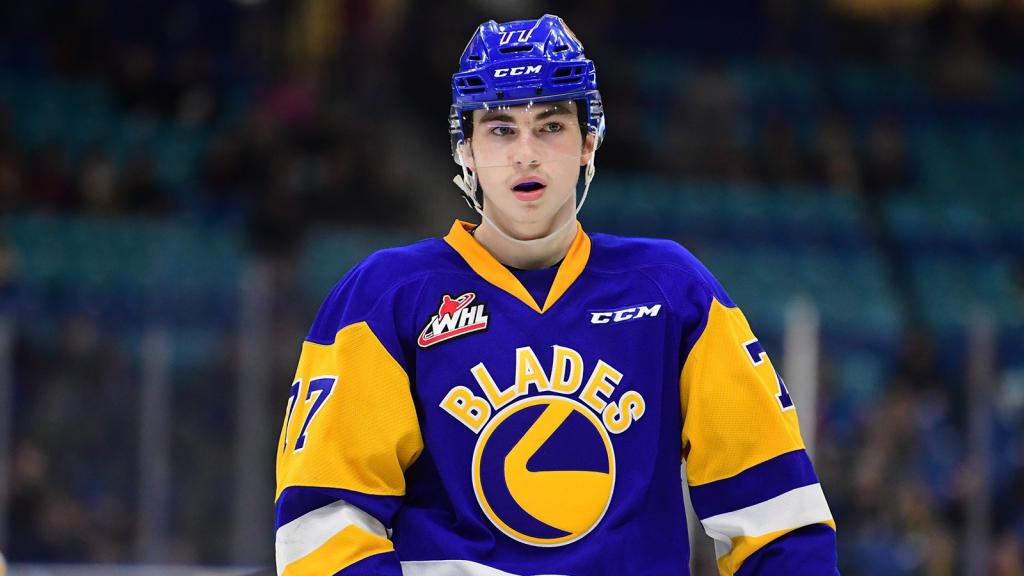 The Pipeline Show: December 7, 2018
This article is about: