Features
The Exchange Student – how Dave Hakstol ended up in Sweden
Last Tuesday, EP Rinkside reporter Uffe Bodin got to follow the Swedish coaching staff during their sessions with former Philadelphia Flyers coach Dave Hakstol, who came over to Sweden to take part in the preparations ahead of Beijer Hockey Games in Stockholm. This is his story from the exchange between head coach Rikard Grönborg, his staff and Hakstol.  
The small conference room feels like a sanctuary. Outside the windows, the Swedish winter is having an identity crisis. The hostile cold has suddenly left Stockholm to make room for mild weather that has left the streets full of mushy snow. Every squelching step is a reminder of how repulsive the unpredictable winter of the Swedish capital can be.
In that sense, Dave Hakstol has picked the worst possible time to visit a city that tourists and visitors usually find charming. But what is weather to an unemployed coach who thirsts for hockey?
The tables in the room are cluttered with computers, coffee mugs and notepads.  Focused eyes are peeled to a projector screen. Sweden's head coach Rikard Grönborg gesticulates while showing sequences from NHL games mixed up with clips from the latest World Championships and Olympics.
Right next to him sits the former Philadelphia Flyers coach, arms crossed with a serious, albeit concentrated, look on his face. Around the table, there's also Grönborg's assistant coaches Peter Popovic and Johan Garpenlöv, video coach Johan Andersson, goalie coach Stefan Ladhe and Emma Spennare, Coordinator of PR & Communications.
"CREATING YOUR OWN ROUTINE"
Hakstol, who was let go by the Philadelphia Flyers on December 17th, is in Sweden to find inspiration and "learn new things". Through contacts with the coaches' union NHL Coaches' Association, Hakstol came in contact with Rikard Grönborg. He was invited to spend close to a week in Stockholm during Beijer Hockey Games, a tournament that is a part of the Euro Hockey Tour that includes Sweden, Russia, the Czech Republic and Finland. In Stockholm, Hakstol gets to follow the Swedish coaching staff in all their meetings and on the ice during practices.
Since 1996 when he finished his own career as a player, Dave Hakstol has been coaching at various different levels. At first in the USHL, then followed by 15 seasons in the NCAA at Univerisity of North Dakota, where he was in charge of players like Zach Parise, T.J. Oshie and Jonathan Toews. For the past three-plus years, he was the bench boss of the Flyers.
Now he's without a job for the first time ever.
"It's all about creating your own routine and your own habits", Dave Hakstol says when I meet up with him outside of the Swedish dressing room ahead of their practices.
"When you work with a team every day, you have a very clear focus, almost like tunnel vision. During a season, it's the next practice, the next game. You can't really think too far ahead. So when you get thrown out of that loop, you need to find your own routine.
"For the past months, I have studies the sport from above to get more of an outside perspective, tried to get a grip of new trends and new tactics, learn new things and become a better coach going forward."
He stops, smiles and says:
"Hopefully, all of this will make me wiser as a coach, but I can't promise I will do anything different."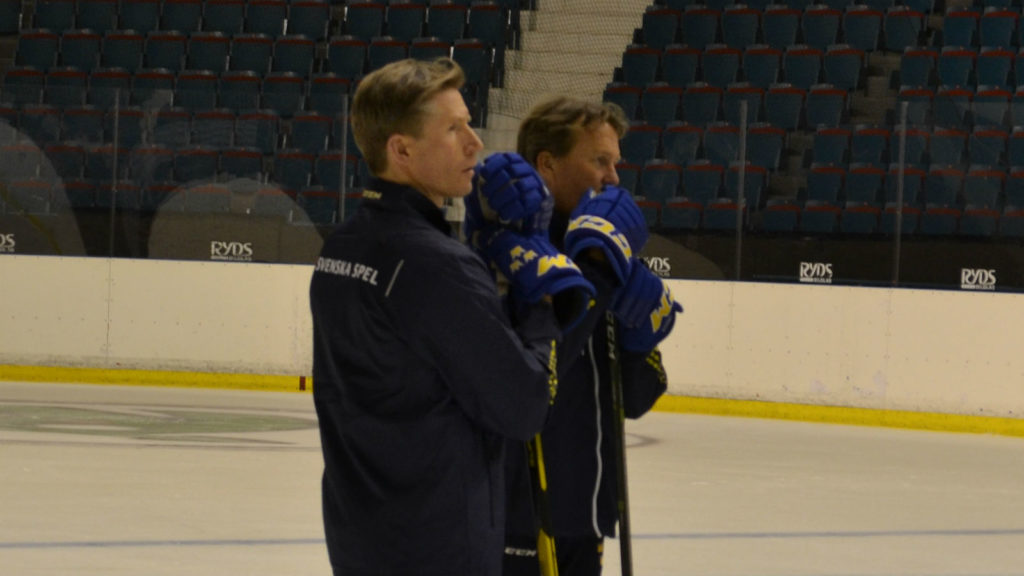 Photo: Uffe Bodin
"AS COACHES, WE COACH"
Dave Hakstol could afford himself to sit on a sunny beach, sip on a drink and spend time in a much more comfortable place than Stockholm in February. But he's not the type of person that is looking for a break from hockey. On the contrary.
"As coaches, we coach", he says and shrugs his shoulders.
"When I had to leave the Flyers, a lot of people told me to disconnect myself from the sport for a while, but I never felt the need to do that. I haven't felt worn out or anything like that."
That his passion and curiosity for the sport is still intact becomes evident during the video session with Grönborg and his colleagues. There's a constant exchange of information. Everything from how to use certain set plays, the use of analytics to how you work individually with player development.
It's obviously a big difference between how you work with a national team, that only has a few tournaments every season, and a club team, with daily interactions with your players. But in these differences, there are things that each side can learn from.
"WHAT I CALL THE TOMBOLA"
That's the case when the discussion of how you structure your lines comes up. Dave Hakstol explains that he usually starts with a combination of two players and tries to find the perfect complementary piece to those two. If the line doesn't work during a game, he usually removes that third player and puts someone who is hot on that particular day. The next day, he'll go back to the original line to try to make it work again.
During his time as head coach for the different national teams, on the junior and senior level, in Sweden, Rikard Grönborg has become famous for sticking to his lines. That's something that he has received criticism for at times.
"Media always tells you to act, change things and be active behind the bench", he says to Hakstol.  "When it comes to changing up the lines, that's what I call the tombola, just randomly throwing different players together. I don't really see the point in changing things for the sake of changing things. In my experience, it usually makes things worse."
Hakstol might have a different philosophy, but agrees with the notion that it's important to stand up for your decisions.
"It's the coaching staff that knows the players and the team better than anyone else", he says. "That means you have to rely on your gut feeling."
Grönborg agrees
"Exactly. And what is a gut feeling? It's information and experience you have collected. Not guesses."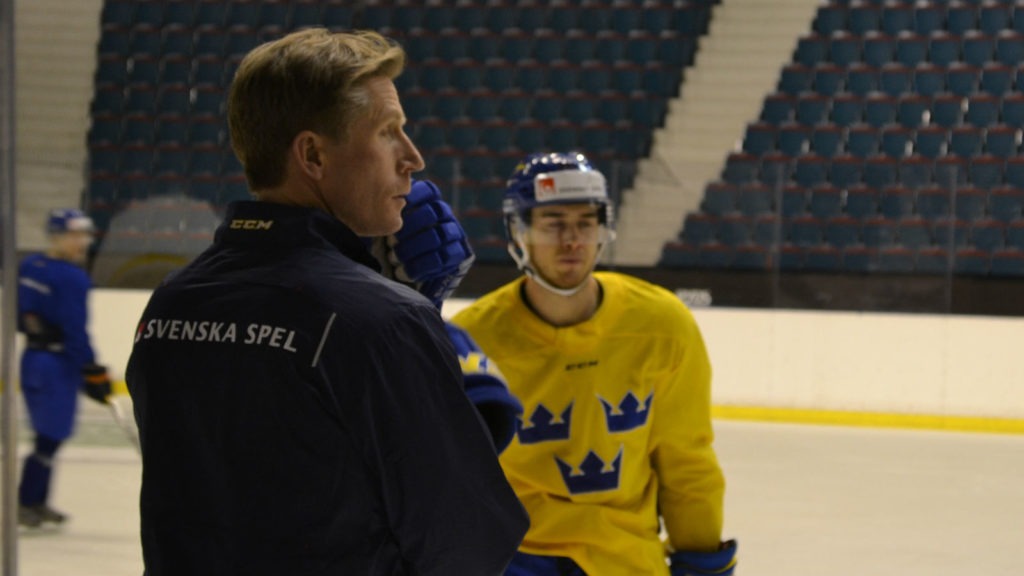 Photo: Uffe Bodin
THE USE OF ANALYTICS
Analytics, or "advanced stats" as some choose to call it, is also a hot topic during the coaches' session together. It's a concept that has created a divide in the hockey business. For a long time, there were two sides, for and against, but these days most teams – both in the NHL and Sweden – use numbers to help them understand their performance better.
There are still disagreements about how much stock you should put into the numbers.
"The analytics can be misleading", Dave Hakstol says. "You really need to test the numbers against what your eyes tell you. If you have a set of numbers, I want you to show me the clips to back them up.
"If someone tells me we are getting too many three-on-twos against us, then I want to see 40 different clips of that, see where they originate from and who's involved and who we are playing. Depending on the circumstances, I may be good with those."
Rikard Grönborg agrees.
"You also have to take into accountant where the information and the numbers come from", he says. "There can be people who never played the game that tracked them.
"We have our own guy that we trust", Grönborg adds and nods toward video coach Johan Andersson.
Dave Hakstol:
"A lot of the stats are bullshit, absolute bullshit."
He says he had an "excellent" group of stats people in Philadelphia.
"It's valuable information", he clarifies. "But it's all about understanding how you realistically can apply it to the game.  You can't blindly trust the stats, it doesn't work that way."
Rikard Grönborg goes back to his computer. A few seconds later a document full of stats shows up on the big screen. The numbers show how different lines performed during a game in the last tournament they played. Dave Hakstol gets excited by what he sees, picks up his phone and starts taking pictures of the screen.
"This is perfect! Clarity and simplicity. Often it gets way too complicated", he says.
Rikard Grönborg:
"Usually, we're careful not to share too much information or stats with the players, because we don't want them going around the ice thinking about that. But this is good because it creates competition between the different lines, and that's always a positive."
The conversation goes on and includes everything from what makes a team good at blocking shots to whether or not NHL teams use a playbook to help players learn the system. It turns out Team Sweden does, and that Hakstol does not. There's also an interesting discussion about leadership and how players these days demand constant feedback, unlike generations before them.
"It's the new age of coaching", Dave Hakstol chuckles.
Grönborg's assistant coach Peter Popovic agrees.
"It's all about finding the positives, even if it's bad", he says.
"Show them what to do, not what they shouldn't do", Grönborg adds.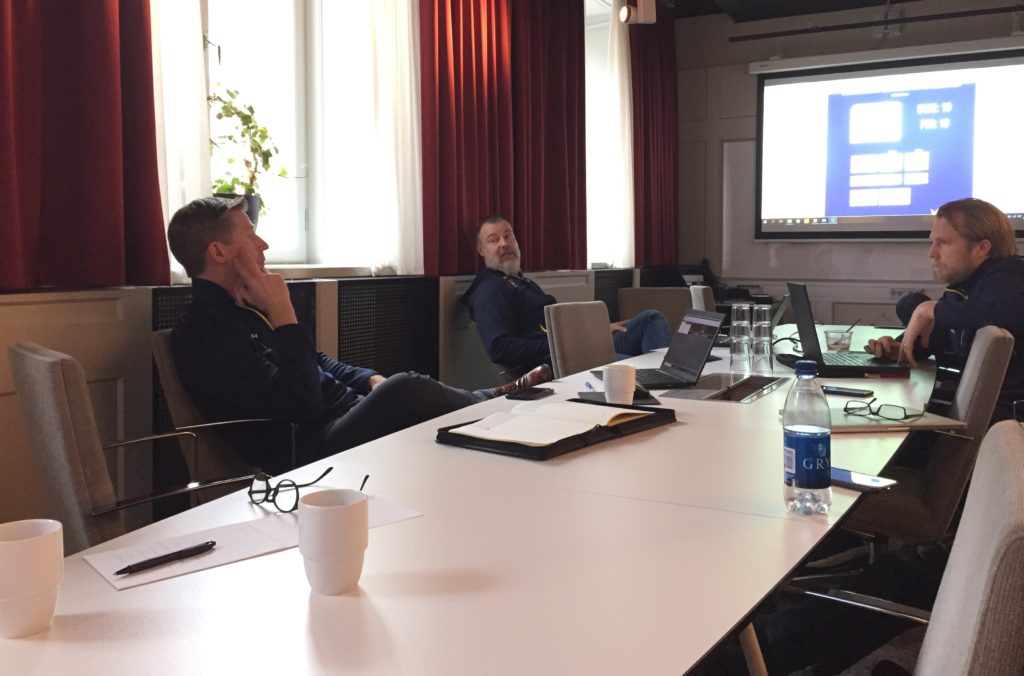 Hakstol, Grönborg and Andersson in conversation. Photo: Uffe Bodin
"SEE ME AS A RESOURCE"
Time flies and it's lunchtime. During the afternoon, Dave Hakstol and the Swedish coaching staff re-assembles at the arena to go over the drills with the players ahead of the following practice.
Once on the ice, Dave Hakstol keeps a low profile. He skates around, studies the drills and helps the Swedish coaches gather pucks. It's pretty evident he is there to observe, not to be involved.
"I told the players that they could see me s a resource, someone they could turn to if they have questions regarding how it works in the NHL. But I'm not in a position to come in here and tell anyone what to do", he points out.
Early on in our conversations, Dave Hakstol clarifies that he doesn't wish to talk about his time with the Flyers. And especially not about how it all ended two months ago. He does say that he doesn't have any problems watching his old team play games. He claims that he's not bothered by seeing his old players on TV.
"Not at all. It is what it is", he says.  "I watch as many NHL games as I possibly can to stay in the game. If it's the Flyers or any other team doesn't matter. The closest I got to the sport before I came over here was to coach my kids' team where we live in New Jersey."
"WHAT'S NOT TO LIKE?"
Practice is over and Dave Hakstol leaves the ice to meet curious Swedish journalists, that wants to know why he's there. It's evident he's happy with feeling the pulse of a hockey team again.
"What's no to like?" he says with a big smile. "It's great just to have someone to talk hockey to over a coffee every morning. It's something I really missed. As a coach, that's what you want. The camaraderie and the feeling that you have a common goal that you strive toward. I can't thank Rikard and his staff enough for giving me this opportunity."
At the time of writing, Dave Hakstol has already returned to the States. He says that he and his wife have a short vacation planned later this month. After that, a time of uncertainty awaits, a wait for the next opportunity to show he can be a winner as a coach in the NHL.
"This is still what I want, another shot at coaching in the NHL. That's the goal", Hakstol says. "Coaches are competitive people too, and if you have been in the NHL once, you want to go back there to compete against the best in the business again."
It's definitely not out of the question that Dave Hakstol and Rikard Grönborg will cross paths once again. Maybe at the World Championships in Slovakia in May. Canada used Hakstol as an assistant coach to Jon Cooper at the tournament in Cologne and Paris two years ago – a tournament where they lost the gold-medal game to Grönborg and the Swedes.
Or maybe their paths will cross in the NHL as Grönborg tries to fulfill his goal to become the first Swedish head coach in the league.
Time will tell.
You may also be interested in: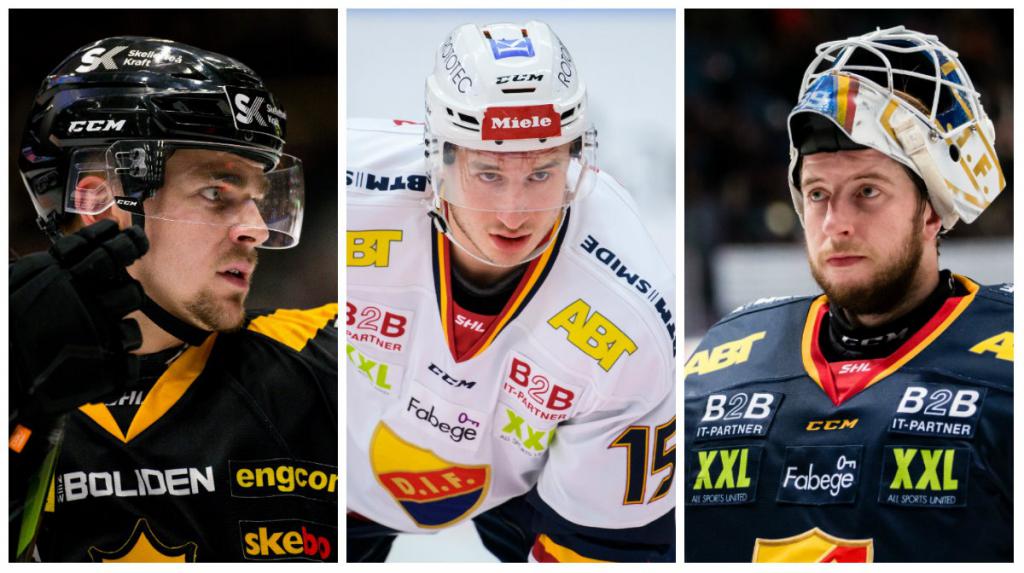 BODIN: Ten SHL free agents of interest to NHL teams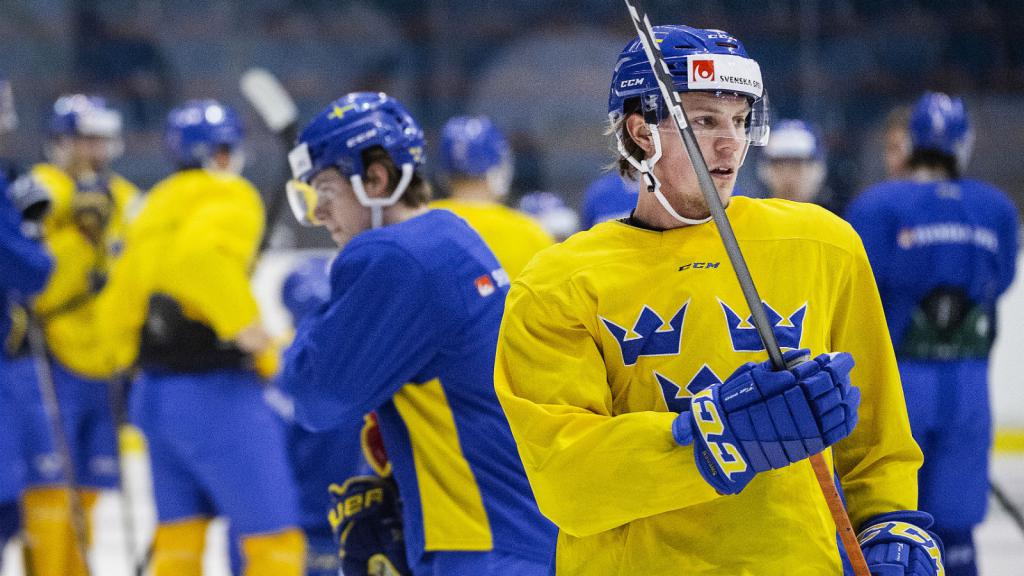 Oilers prospect benefitting from another year in Sweden
This article is about: