U18 World Juniors
Sparks flying in U18 WJCs – Hughes, USA open against Sweden featuring Holtz, Raymond
ÖRNSKÖLDSVIK, SWEDEN — A stroll through beautiful, sunny Örnsköldsvik quickly reveals something is afoot in the city. The city that fostered NHL stars Peter Forsberg, Markus Näslund, Victor Hedman and Henrik and Daniel Sedin is usually, if not always, about hockey – but the promotional posters and billboards featured at various locations throughout the city currently feature players dressed in blue and yellow, not the traditional red, green and black of local team MODO Hockey.
A walk towards MODO home arena Fjällräven Arena, nestled just outside the city center at a sort of pier next to the Gulf of Bothnia, provides further clues. The five flags of Sweden, USA, Russia, Slovakia and Latvia are flying high in the afternoon breeze, providing visitors with the five nations participating in Group B of the 2019 U18 World Championships of hockey.
"It's a beautiful city, with it being so close to the water and everything", says Team Sweden forward Simon Holmström as EP Rinkside catches up with him after thursdays morning skate.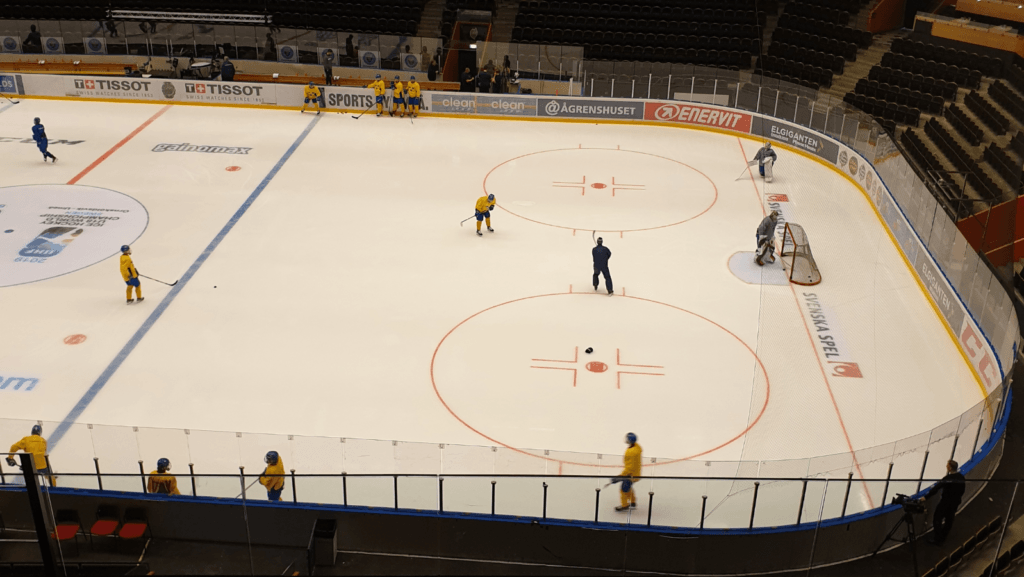 Team Sweden receiving instructions from coach Magnus Hävelid.
The final practice before Sweden faces off with one of the tournament favourites, Team USA, features good pace and energy, with players skating hard but also taking the time to poke fun at each other.
"We've had solid preparations for a while here, plenty of days of practice and lots of instruction and discussion on how we want to play and how our team works best."
The 17-year old Holmström, while not a top offensive performer on the Swedish roster, is expected to chip in a point here and there – having done so for HV71 both at the U20-level and in one game with the Men's team this season.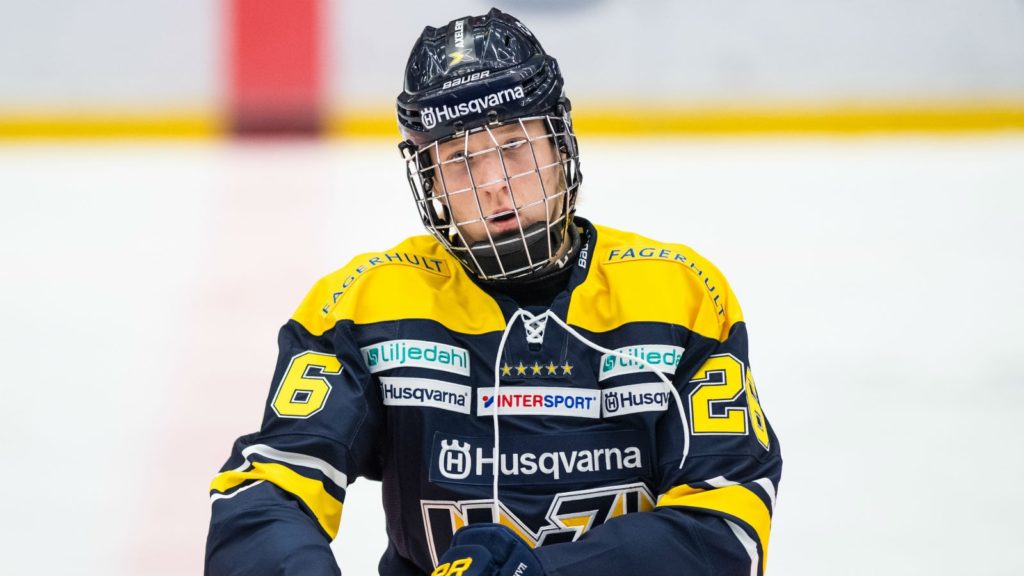 Simon Holmström skating with HV71. Photo: Bildbyrån/Mathias Bergeld
Sweden would do well to stick to their own game – it's a good one – but is there something to be said about making specific preparations when facing off against perhaps the tournaments most prolific player in Jack Hughes?
As it turns out, it is quite the opposite.
"I'll try and not think about it at all when I am out there, says 18-year old defender Ludvig Hedström. If you start thinking too much, you're usually done for right away. He is an incredibly skilled player so all you can do really is make sure you stay close to him and make him work for every inch of ice out there."
"He is a strong skater as well as a good puck handler so I'll try and not let him pick up too much speed so he can use those assets to his advantage."
Coach Magnus Hävelid echoed Hedströms sentiments, playing it close to the vest in terms of how Sweden would line up against Jack Hughes and the American squad.
"I dont like to talk too much about any one player, says Hävelid. We look at USA as a team and, yeah, they are a skilled squad but so are we. We want to play to our strengths, tonight and in the tournament. To make sure we dare to take risks and play our game regardless of who is on the other side."
"But if I had to name one thing, its spacing. If you stay too far away from a guy like that and give him space he'll make you pay."
On the opposite end of the spectrum, Sweden will need offensive stars Alexander Holtz and Lucas Raymond firing on all cylinders to be successful, both in the game against USA and in the tournament as a whole.
"Tonight, we'll be focused on making them [USA] pay with counter-attacks and using our special teams, our powerplay, to our advantage. Those guys [Holtz, Raymond] are a big part of that."
As he was leaving for the dressing room to wrap up practice properly, Hävelid was asked what makes the two 2020-eligible forward stars so successful at the national team level.
"They just really like to play together", he shrugged and left.
Jack Hughes or the duo of Alexander Holtz and Lucas Raymond.
Who will get their team off to the best start? Or will it perhaps someone like Holmström or Hedström who leads their team to victory?
Gear up, prospect fans. The 2019 U18 World Championships of hockey promises to be a doozy and Sweden-USA is one mighty matchup to help get things kicked off properly on the first official day of competition.
You may also be interested in: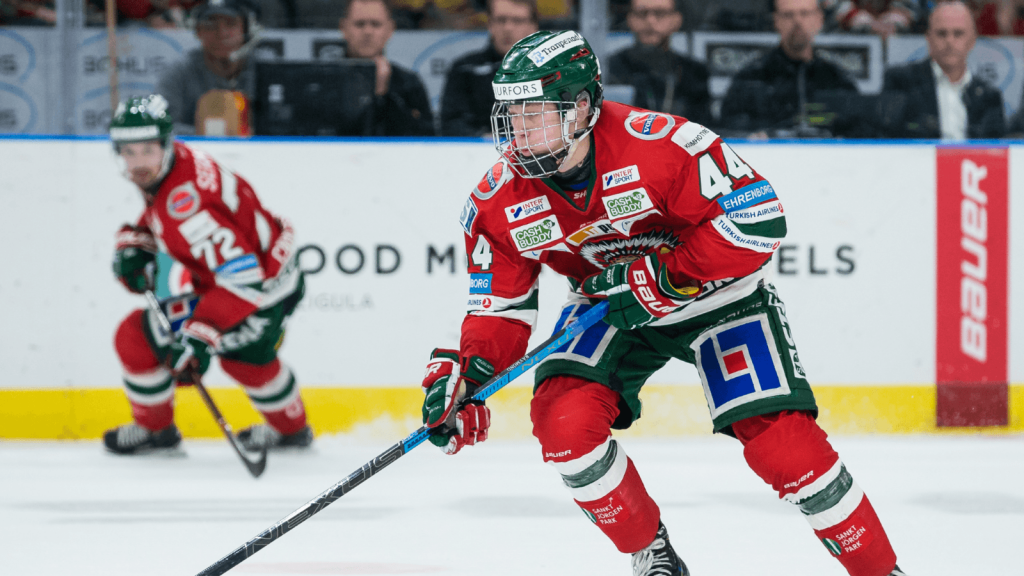 BLOG: Raymond vs. Holtz – Scouting the first U20 matchup and the road so far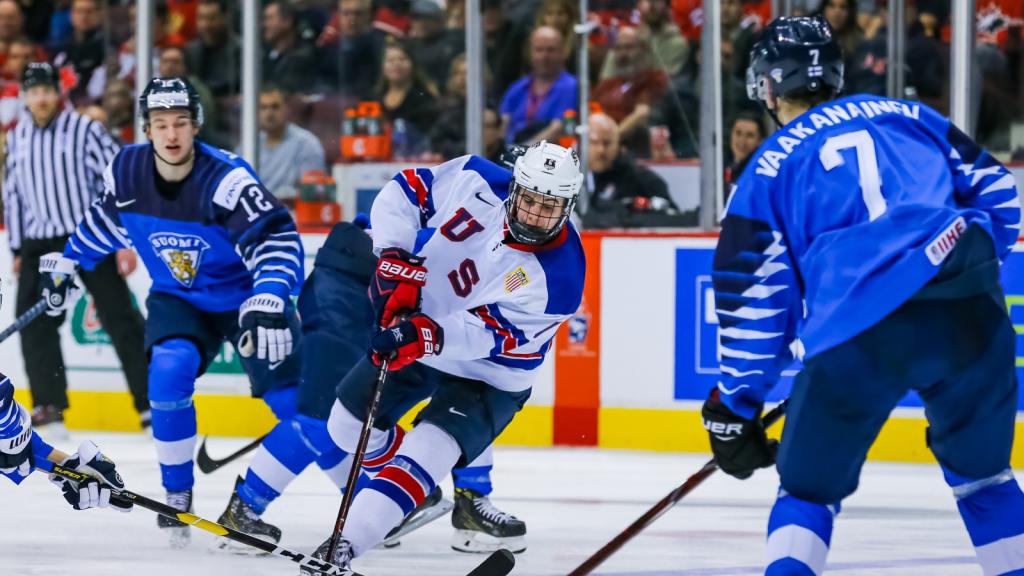 COHEN: Hughes will go first, and here's why
This article is about: