NHL
Rookie Watch: Wednesday, January 13, 2021
We're debuting a new, regular feature on EliteProspects Rinkside, one in which we set the stage for the NHL's prospects as they achieve their lifelong dream of playing in the big leagues.
Because of the scouting expertise in our staff, we're going to centre their analysis on these players. In doing so, we'll present fans with the clearest picture of what to expect as their favourite team's prospects blossom into full-time NHLers.
---
Cal Foote breaks into veteran-heavy defence in Tampa Bay
It was EP Rinkside's Editor-in-Chief, J.D. Burke, who drew the Tampa Bay Lightning as his assignment when our team of scouts ranked all 31 of the NHL's prospect pools throughout December. Here's what he had to say of Cal Foote's game.
"Foote always seemed destined for NHL minutes, right from the moment the Tampa Bay Lightning jumped the line to draft him 14th-overall in the 2017 NHL Draft. He's a 6-foot-4, right-shot defender, and never shy about leverage either of those assets to great effect, whether it's a cannon of a shot from the point or a thunderous hit in the defensive zone.

"He's not especially mobile, and perhaps a bit rudimentary as a puck-mover, often settling for short-range passes that don't really stretch the sheet, but there should be a depth role awaiting Foote in the NHL at the very least."

"Finding out that I'd be playing the first game has been very exciting. It's something I've dreamed of my whole life." #BoltsCamp

Cal Foote: https://t.co/QS7WKdbhtl pic.twitter.com/P0M09lbRXq

— Tampa Bay Lightning (@TBLightning) January 12, 2021
Ian Mitchell to debut for Chicago against defending Stanley Cup Champs
Here's what our Dir. of North American Scouting, Mitch Brown, had to say of Ian Mitchell's game.
"Mitchell's only above-average quality is skating; it's really efficient with NHL quickness and pivots. He's a capable in-zone defender, scanning for threats, cutting down the cycle, and closing space quickly, but he's pretty passive through the neutral zone which hurts his defensive value.

"Despite his ability to fake out forecheckers and activate off the point, he's turnover and dump out-prone. He doesn't really try to make plays with the puck, and when he does, he's pretty frantic.

"Maybe it's a product of playing huge minutes, but if he's going to be anything more a No. 6, he'll need to clean up his transition decision-making and start activating into the rush."
[Read more: The EliteProspects Rinkside 2020-21 Off-Season Prospect Pool Rankings: the No. 28-ranked Chicago Blackhawks]
"Just more excited than nervous. I think I've prepared for this moment for a long time now it seems. I am ready for it."

Defenseman Ian Mitchell (@IanMitch15) is ready for @NHL Game No. 1! #Blackhawks #NHLFaceoff pic.twitter.com/aRWYDbNAsz

— Chicago Blackhawks (@NHLBlackhawks) January 13, 2021
Montréal excited about Alexander Romanov
David St-Louis, who scouts the QMJHL along with crossover film work, is exceedingly familiar with Alexander Romanov's game, so I let him take the mic.
"Romanov went from a complete unknown in the 2018 draft to a top Habs prospect in about a year. The Habs invited him to their European combine and really loved his energy. So, they decided to pick him early second round (despite him being ranked much lower on most lists) as they didn't want another team to snatch him.
"He played only limited minutes in the KHL in the past two years (young players rarely play much in the KHL), but already showed a lot of maturity in his defensive game. He is an aggressive, hyper-mobile defenceman. He closes his gap with opponents quickly, lays massive hits at times, but is also smart in the way he approaches defence.
"He is constantly shoulder-checking for attackers to make sure one doesn't slip behind him and his overall positioning is sound.
"The two biggest question marks in his first NHL season are puck-moving and offensive game. Romanov tends to make simple plays on the breakouts. He can make passes through forechecking, use the middle of the ice, and can carry the puck out, but he is conservative by nature.
"His offensive game is mostly big-shots and not much else (although that improved over the past two years). It's likely that he is an every-night, good shutdown presence in his first year, but he has to continue improving his play with the puck.
Lastly, Montréal's management has high, high expectations for him. They pencilled him in the lineup before his arrival and already seemed confident he would play long minutes for them for years to come in 2019."

Nils Höglander to make highly-anticipated NHL debut
Cam Robinson, EliteProspects' Dir. of Film Scouting, is based just outside of Vancouver, and as such, has taken a keen interest in Nils Höglander's progression. Here's what he had to say of the Canucks' second-round pick in 2019.
"The 20-year-old is already well versed in professional hockey. He's spent the last three seasons with Rögle of the SHL where he's seen incremental improvements in both his counting stats and his two-way game.

"Blessed with some of the most creative and exciting individual puck skills you'll find, Nils Höglander will be tasked with providing an offensive spark in the Canucks' top-six to begin his NHL career. The 5-foot-9, 190-pound winger will never be confused with a shutdown player and will need to be forgiven for his defensive miscues in order to optimize his potential.

"Adding deception and strength to his shot as well as deferring to his mates more often will only make him a more threatening option. The 2019 second-round pick appears poised to step onto the team's top power-play unit to replace J.T. Miller. There are not many spots juicier than that to begin your NHL career."

Nils Hoglander fights off the check and grabs the pretty primary assist. pic.twitter.com/7OsLd4ryA0

— /Cam Robinson/ (@Hockey_Robinson) October 22, 2020
Olli Juolevi finally plays his first regular season game
Like Cam, Daniel Gee has set up shop in British Columbia, and that's given him an added level of interest in covering the home team's prospects. That includes Olli Juolevi. So, who better to call on for this bit of instant analysis?
"It has been a rocky road for the former 2016, fifth-overall pick. After a season-ending meniscus tear cut his 2018-19 season short, Olli Juolevi has had an extremely long road of rehabilitation that undoubtedly left him limited to some extent.
"Feeling the effects through his 2019-20 season with the Utica Comets, there are some who were skeptical if the heady defender could return to form.

"The now 22-year-old looks to be in much better shape, essentially earning the role of the Canucks' sixth defender. While Juolevi's mobility defending the transition will still be an area of concern, his injured knee appears to be faring better with time.

"With the height of that hurdle considerably shortened, Juolevi will look to lean on his great decision-making, vision, passing prowess, and his ability to identify secondary and tertiary threats, while paired up with veteran defender Tyler Myers.

"Physical and calm under pressure, he can battle effectively along the boards with his deceptive 6-foot-2 frame. Juolevi could even see time on the penalty-kill, demonstrating an extreme willingness to not only occupy passing and shooting lanes but also sacrificing the body to limit opportunities at the AHL level."

Conor Timmins, technically, still a rookie for Colorado
Rachel Doerrie, a scout with NHL front office experience, mostly covers the OHL for EliteProspects. As such, she's better-prepared to comment on what Conor Timmins brings to the table than just about anyone. Here's what she had to say of Timmins, who isn't necessarily making his NHL debut, but... close enough.
"Timmins was a top junior guy, a Corsi god if you will.
"He has never been a beautiful skater, but he's efficient with his skating. He gets where he needs to go and is able to make the plays, which I would say is deceptive.

"He's an elite passer and zone exit player, who has always been able to make good plays under pressure. This is because he sees the ice exceedingly well and is patient. He doesn't force plays, rather uses his deception and head to open up plays.

"He's good in transition, both ways, maintains a good gap and defends top players well. He's not the strongest and may get pushed around at NHL level until he figures it out, but he's an all situations players that will never hurt if he's on the ice. With the skilled defence in Colorado, he may never get the chance to play top-four but has the potential to do so at the NHL level.

"He's definitely not flashy but brings an element to the game that teams need to be successful - the perfect complimentary defenceman. I think he's similar to Rasmus Sandin, in some senses."

You may also be interested in: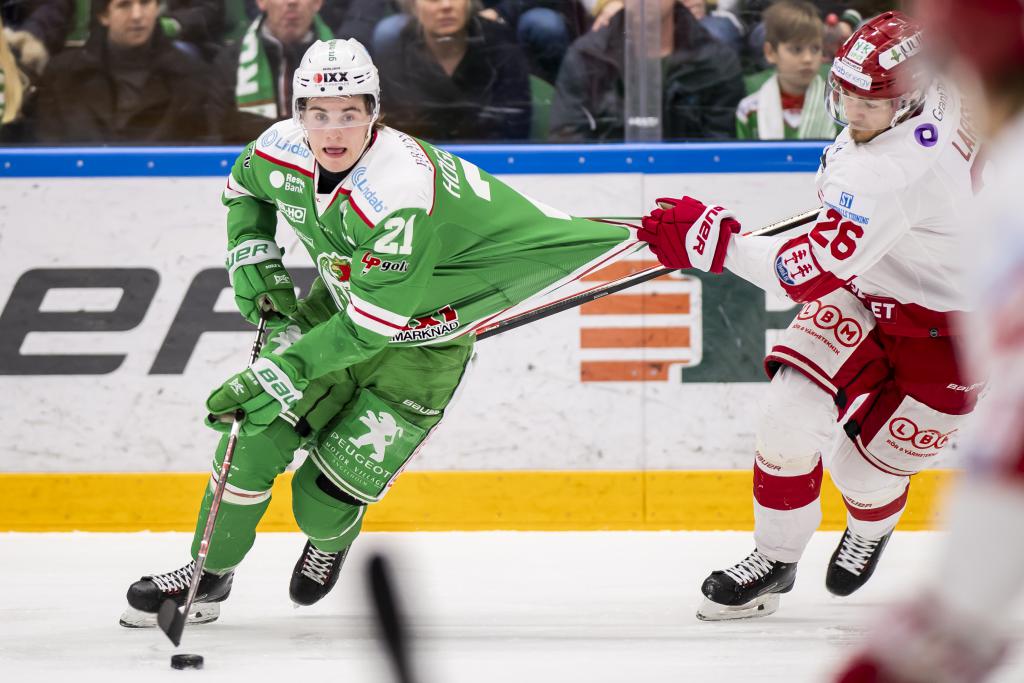 Post-Draft Prospect Profiles: Nils Höglander No. 40 to the Vancouver Canucks
This article is about: