2020-21 Trade Deadline
Chicago Blackhawks, Florida Panthers swing substantial 6-piece trade
If you're furiously scrolling through the EliteProspects database to determine if
Brett Connolly
,
Henrik Borgström
, or
Riley Stillman
ever played for the Chicago Blackhawks before this season -- it's a sensible impulse!
Full trade:

Brett Connolly, Riley Stillman and Henrik Borgstrom plus a 7th Rd pick in exchange for Lucas Carlsson and Lucas Wallmark.

Connolly has 2 more yrs at $3.5M AAV. Florida freeing up cap space as part of this. Hawks using their cap space to net 2 young players

— Pierre LeBrun (@PierreVLeBrun) April 8, 2021
TSN's Pierre LeBrun reported first thing this morning that Chicago had acquired Connolly, and Stillman from the Florida Panthers. Then, in a follow-up tweet, LeBrun brought to light the full scope of this deal, adding that, in total, Chicago was going to collect Stillman, Borgrström, Connelly, and a seventh-round pick, in exchange for Lucas Wallmark and Lucas Carlsson, who were bound for South Beach.
It's one of those rare transactions where one might be able to countenance either side of the trade should they squint and look at it from just the right angle with just the right amount of lighting.
Let's start with Chicago taking on Connolly since that's probably the centrepiece of this six-piece swing in at least one capacity.
Whatever one thinks of Connolly's game viewed through a holistic prism, there is no denying his capacity to finish at an exceptional rate, particularly relative to the chances he's generated over the length of his career. He's a one-shot finisher, the 20th most prolific goal-scorer at 5-on-5 in the three seasons that preceded this one -- there is very little daylight between Connolly and, for example, Vladimir Tarasenko and Nathan MacKinnon, just to place that in the appropriate context.
Brett Connolly, acquired by CHI, is a zero-calorie scorer who hasn't been scoring this year. #Blackhawks pic.twitter.com/JAKEUFlCSj

— JFresh (@JFreshHockey) April 8, 2021
As colleague JFresh puts it, he's a dollar store version of Kyle Palmieri, who went yesterday for a king's ransom to the Island.
The other side of that coin is that, well, Connolly's form at 5-on-5 is, in a word, pretty uninspiring. The Evolving-Hockey RAPM (Regularized Adjusted Plus-Minus) model shows Connolly as a bit of an albatross around his team's neck at evens.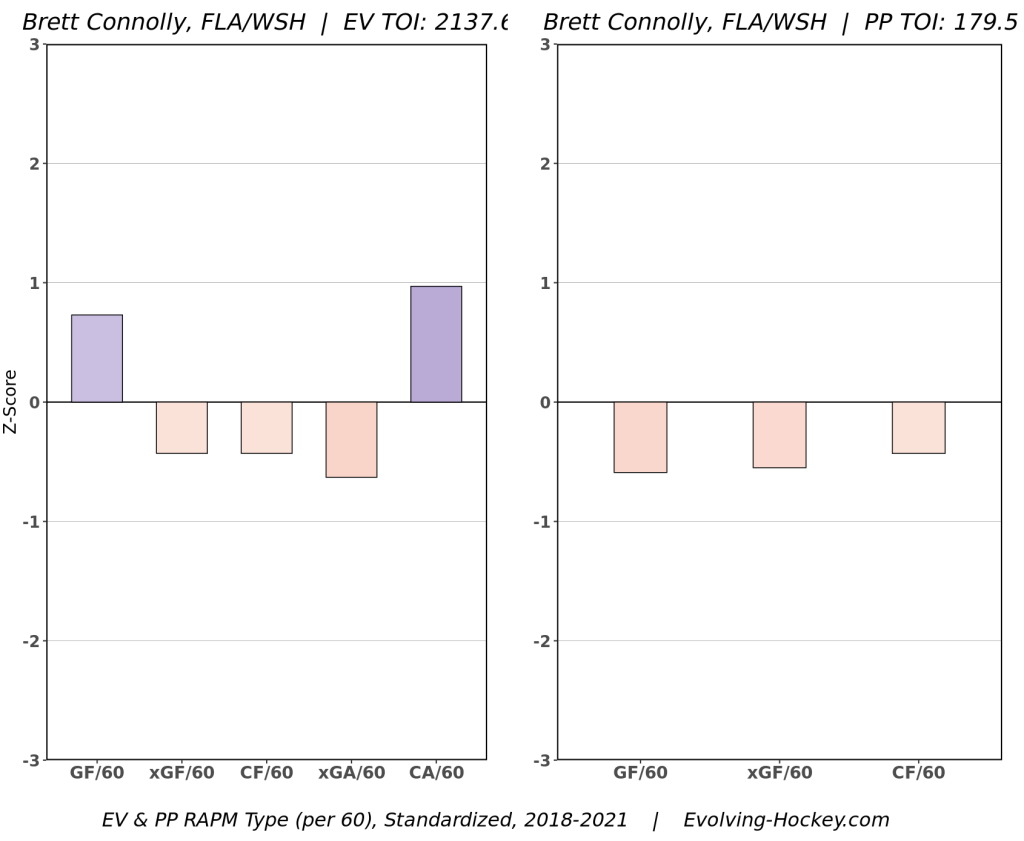 The thing about being a one-dimensional scorer, though, is that the one dimension in question is the most valuable in the sport: Scoring goals. When a player like Connolly isn't scoring, though, it's not unfair to ask what, if anything, he brings to the table, and for a credible contender like Florida, clearing his $3.5-million annually for the rest of this season and the two that follows is an unambiguous win.
For the Blackhawks, the hope is that a change of scenery coaxes a return to form that sees him bounce back from the paltry two goals to his credit this season, at which point, they just might have an asset to flip for assets with which to line their war chest.
Realistically, though, Chicago is paying for the privilege to try and capture some of the magic that Borgström regularly flashed at the University of Denver when his stock ascended to the upper-echelon of the prospect world all those many years ago.
Since leaving Denver in 2018, Borgström has only stuck with the Panthers for 58 fairly ineffectual games, contributing 19 points in those games, and carrying a net-neutral impact at 5-on-5. It's not like Borgström has shown especially well in the minors either, contributing only 45 points in 73 games for the AHL's Springfield Thunderbirds.
Borgström, 23, has plied his trade overseas in Finland this season, playing for HIFK in the Liiga, scoring at a decent if unremarkable 19 points in 27 games clip. Which, frankly, doesn't augur especially well for his NHL prospects. Make no mistake: This is a low probability bet by Chicago, but one that they're, clearly, prepared to stomach.
As for Stillman, let's call a spade a spade -- AHL depth, and that's fine if that's what was necessary to make this move happen. It's fine.
The pair of players going Florida's way -- that's Carlsson and Wallmark -- represent organizational depth, which is a worthwhile endeavour for a team as prepared to make a run as this one. Best of all, they got to clear some cap space for their trouble. Fancy that!
There's going to be some familiarity shared between Wallmark and the Panthers, who got to know each other over a seven-game sample after last year's deadline blockbuster Vincent Trocheck trade. Ultimately, it's as simple as this: Wallmark won't harm his team in a prescribed depth role.
Carlsson, on the other hand, carries a little bit of upside. He really came into his own last season, playing a top-pair role with the Rockford IceHogs and acquitting himself well in that role to boot. Here's what I had to say on Carlsson's account for our write-up on Chicago's system in November.
"There aren't any high-end NHL quality tools at Carlsson's disposal, but his composure with the puck as a top-pairing defender for Rockford really stood out in my viewings last season. To the point where I wouldn't rule out the possibility of Carlsson eventually developing into a capable seventh-defender for the Blackhawks in the not-so-distant future."
This one is going to be an interesting one to track for the next little while. With so much relative upside trading hands -- in a few different capacities, really -- it's one of those trades where both sides can come out of this feeling more or less satisfied with the outcome.
You may also be interested in: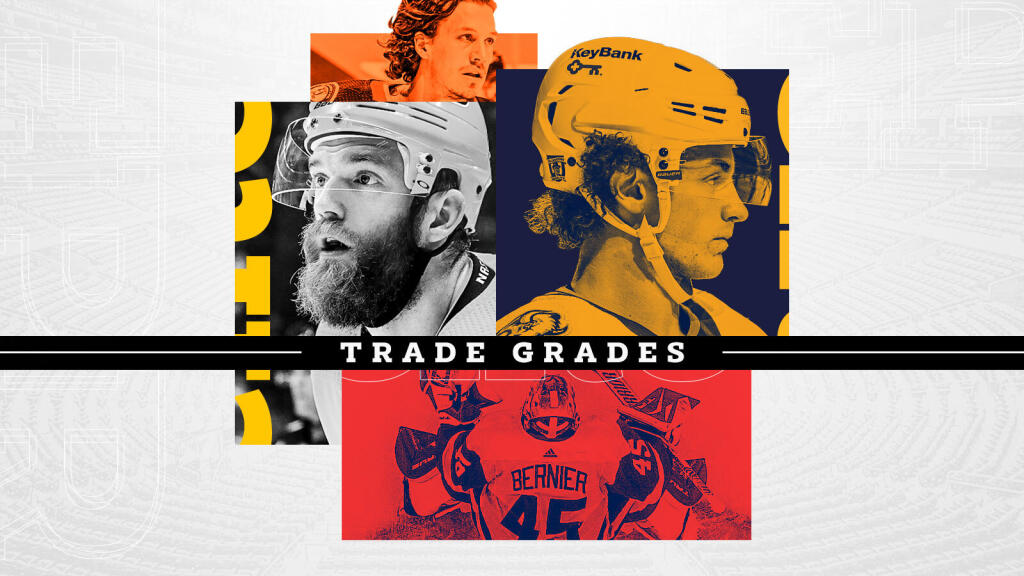 Trade Grades for the 2020-21 NHL Trade Deadline
This article is about: