2020-21 Trade Deadline
Florida Panthers acquire Brandon Montour from Buffalo Sabres for a 3rd-round pick
The Fourth Period's David Pagnotta, and Sportsnet 650 contributor Shane O'Brien have reported that the Buffalo Sabres have dealt pending unrestricted free agent right-shot defenceman Brandon Montour to the Florida Panthers.
Hearing Florida is acquiring D Brandon Montour from Buffalo

— David Pagnotta (@TheFourthPeriod) April 10, 2021
Building on their report, The NHL Network's
Kevin Weekes
has added that the yield for Montour was a Panthers third-round pick. No word on what year, though.
As per what I'm told the @BuffaloSabres are trading Montour to the @FlaPanthers for a 3rd Rd pick.@NHL @NHLNetwork #HockeyTwitter

— Kevin Weekes (@KevinWeekes) April 10, 2021
The Sabres first acquired Montour in a blockbuster trade by then-general manager Jason Botterill, in which he surrendered a first-round pick to the Anaheim Ducks alongside Brendan Guhle, a player many considered to be about a B-Grade prospect at the time.
To say that it hasn't, uh, gone according to plan for Montour or the Sabres would be fair.
In 112 games with the Sabres, Montour produced 42 points (that's about a 31-point pace in an 82-game season) which isn't necessarily poor unto itself, but coupled with his abominable two-way form, nowhere near enough to break even. To wit, the Sabres have suffered a minus-21 goal differential at evens with Montour on the ice.
Brandon Montour, reportedly acquired by FLA, has been one of the league's worst defencemen in the past three seasons. His production has been decent but his underlying numbers have been brutal at both ends since before the Sabres traded for him. #FlaPanthers pic.twitter.com/hZRGNOHWbY

— JFresh (@JFreshHockey) April 10, 2021
Nonetheless, there are some worthwhile elements of Montour's game that have served to inflate his trade value to the point where the Panthers parted with a mid-round pick for the privilege to see if Buffalo Effects are responsible for his atrophying quality.
Montour skates well, is a right-shot, and has shown in Anaheim that he can perform ably when insulated in a depth role, as far away from anything resembling high-leverage minutes as possible.
At the very least, the three-year sample of transitional data that Corey Sznajder has dutifully tracked on Montour's account suggests that he still brings significant utility in transition to the table.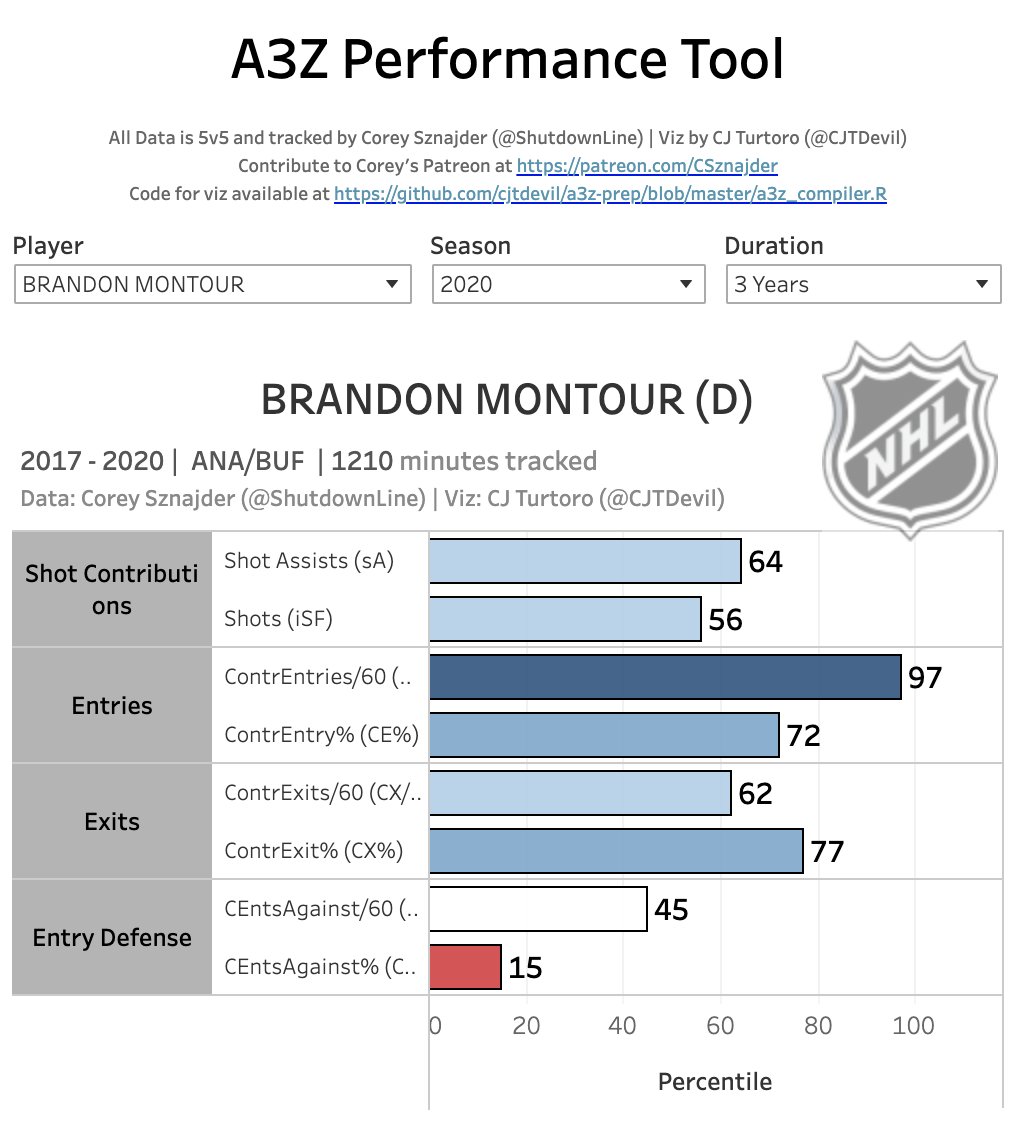 (data charted by CJ Turtoro)
There is considerable risk with this acquisition, and the potential for downside abounds, but for a team like the Panthers, with credible intentions of taking a run at the Stanley Cup, it's a worthwhile gamble to place nonetheless. This is especially true when one considers the grim injury that Aaron Ekblad suffered in late March, one which has him out for the remainder of the season.
This, frankly, is a pithy investment (that's a good thing -- paying less is always good!) that reflects the fraught nature of trying to stabilize one's blue line after losing a legitimate Norris Trophy candidate. Certainly, I suspect this will go over better in the room than, well, doing nothing.
Better still, that Panthers general manager Bill Zito only had to move on from Brett Connolly's bloated deal (clearing about $3.5-million in salary commitments annually for this year and the two seasons that follow) as a precursor to this deal is just tidy business.
For the Buffalo Sabres: I mean, what can one even say at this point? Going from a first-round pick and a prospect of greater stature than whatever the third-round selection going their way is likely to yield this summer is a pretty awful return on one's investments.
You know what, though? It's a step up from the alternative! They didn't succumb to the sunk-cost fallacy and stomp their feet. They didn't re-sign a player who, most generously, has been an awful fit with their franchise. And they acquired precious ammunition for the draft.
You may also be interested in: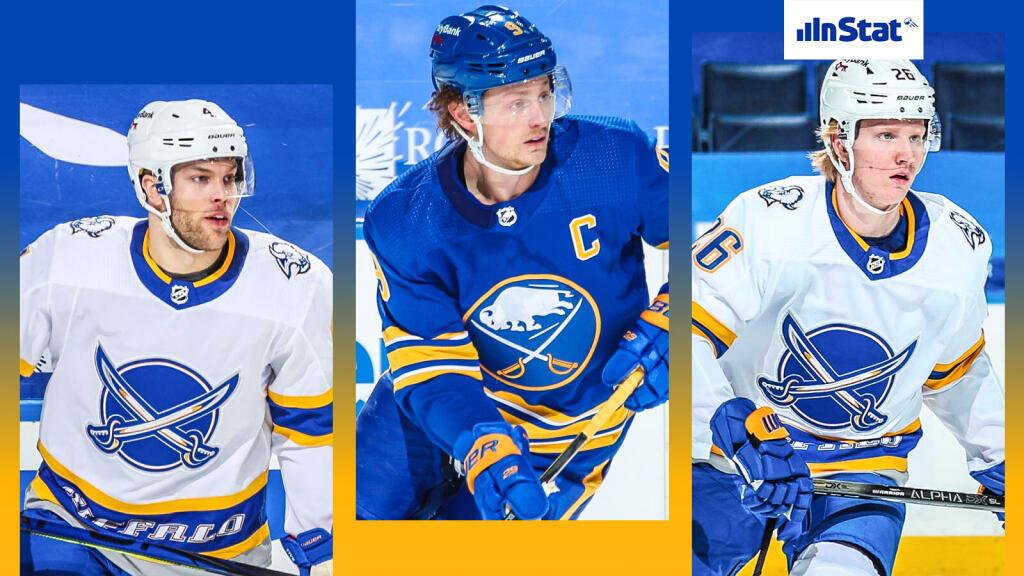 Systems Analysis: How a lack of puck-support helped sink Ralph Krueger's Buffalo Sabres
This article is about: