2020-21 Trade Deadline
Vancouver Canucks, Chicago Blackhawks swap forwards
The Chicago Blackhawks have sent Matthew Highmore to the Vancouver Canucks for Adam Gaudette. As TSN's Bob McKenzie might say: The trade is one-for-one.
🚨We have a trade to announce🚨

The #Blackhawks acquire forward Adam Gaudette from the Canucks in exchange for forward Matthew Highmore.

Gaudette is signed through this season (salary cap hit of $950,000) and will be assigned to the #Blackhawks active roster. #NHLTradeDeadline pic.twitter.com/KFawYoVbZH

— Chicago Blackhawks (@NHLBlackhawks) April 12, 2021
Both players are relatively young; Gaudette is 24, and Highmore is 25. They both struggled to retain their position in the lineup or ascend to any prominence. Neither of them has a particularly haughty pedigree; Gaudette a former fifth-round pick and Highmore an undrafted CHL free agent.
And, evidently, they both needed a change of scenery, and their teams were all too happy to facilitate as much.
Let's start with Gaudette. At first glance, he's clearly the superior asset, even in a percentage depressed scoring season which has him clicking to the tune of seven points (four goals, three assists) in 33 games.
Adam Gaudette, acquired by CHI, is a 24 year old fourth liner who has been caved in at both ends his entire career and has not shown very much aside from a bit of goal scoring last season. #Blackhawks pic.twitter.com/B4eF09GFlE

— JFresh (@JFreshHockey) April 12, 2021
He's a significant two-way liability but an individual shot and scoring chance-generating machine at 5-on-5. That may not reflect in Gaudette's counting stats, which have atrophied from a 46 points per 82 games pace last season to a much more dour 17 points per 82 games pace in this one. Then again, Gaudette is shooting 6.8 percent in all situations this season, down from 10.6 percent on his career average. He's a prime candidate to bounce back.
Opposite Gaudette, Highmore represents a drastically different type of player. He hasn't proved to be a particularly lethal scorer at any non-QMJHL level (even then, advanced age, etc.) save for a nice little run in the bubble last season for Chicago, and he counts his strengths mostly in the defensive zone.
Matthew Highmore, acquired by VAN, is a 25 year old fourth-liner who's played very small minutes without bringing any offence or scoring to the table. #Canucks pic.twitter.com/BVu1NUNRBo

— JFresh (@JFreshHockey) April 12, 2021
If Gaudette's shooting percentage has cratered, then Highmore's is running towards the earth's core. Highmore has but two assists in his 24 games with Chicago this season, to wit.
By that same token, Evolving-Hockey has Highmore down for a pithy two expected goals on the season, and only an xFSH (expected Fenwick shooting percentage) of 6.37 percent -- so he shouldn't be converting on a particularly high number of his opportunities anyway.
Of note: Gaudette was the first Canucks player in a 25-person outbreak to suffer a positive COVID-19 test, but he has since cleared protocol, as of yesterday. He's good to go.
Gaudette is signed through this season for $950,000, at which point he'll be an RFA; Highmore is signed through to the end of this season as well, for $725,000, and he will be an RFA when this deal expires.
You may also be interested in: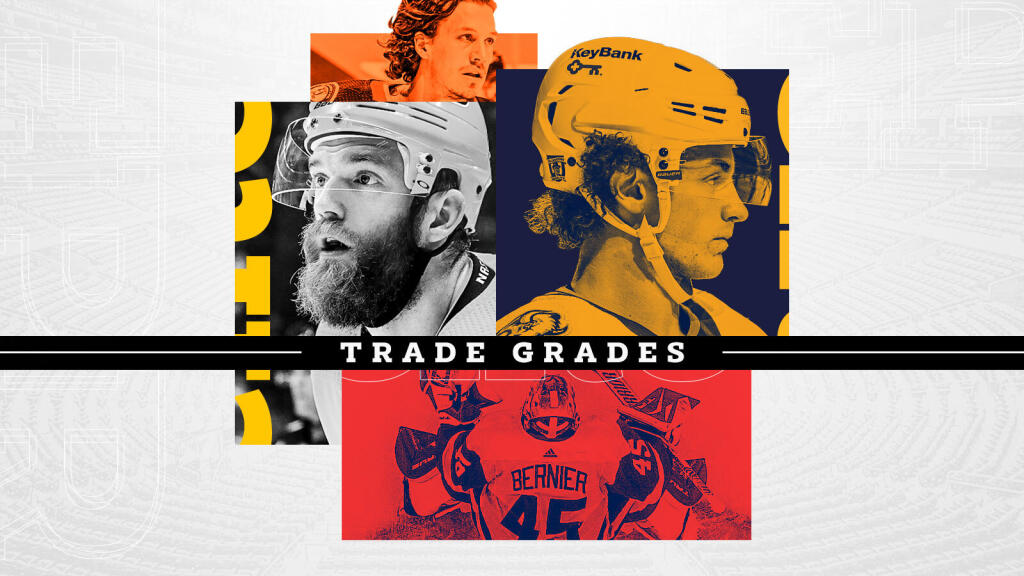 Trade Grades for the 2020-21 NHL Trade Deadline
This article is about: