NHL Entry Draft 2021
2021 NHL Entry Draft Day 2: Cale Makar inks extension, plus other trades and transactions
Welcome to day two of the 2021 NHL Entry Draft!
We had a ton of action Friday on the first day of the draft, between Seth Jones being traded to the Chicago Blackhawks, the disastrous Vancouver Canucks-Arizona Coyotes deal, the Buffalo Sabres trading Rasmus Ristolainen and Sam Reinhart and the New York Rangers making a head-scratching deal to send Pavel Buchnevich to the St. Louis Blues for Sammy Blais and a second-round pick next year.
Saturday morning, the Colorado Avalanche kicked things off by signing Cale Makar to a six-year contract extension.
Keep checking back all day as EP Rinkside will have all of the news and analysis from the second day of the draft.
Avs lock up Makar
The 2020 Calder Trophy winner and a 2021 Norris Trophy was signed to a six-year, $56-million contract. The 22-year-old UMass product was the only defenceman to average a point per game last season, putting up 44 (eight goals, 36 assists) in 44 games for the Avs. Makar was the first defenceman in Colorado history to put up back-to-back seasons with 40 points.
A 5-foot-11 Calgary native, Makar's 94 points (20g/74a) in 101 career regular-season games is the sixth-highest total by a defenseman through 101 contests in NHL history.
"In just over two seasons, Cale has already established himself as one of the premier defensemen in the National Hockey League," Avalanche general manager Joe Sakic said in a statement. "His ability to play in all situations and at both ends of the ice makes him truly unique and we are excited to have him anchor our blueline for years to come."
One of the most impactful defensemen in the league, Makar is a relative bargain at $9-million a year. This move solidifies him as the face of the franchise at a time when the status of the captain, Gabriel Landeskog is in doubt. Landeskog will become an unrestricted free agent on July 28 and was left exposed in the expansion draft.
The Avs would no doubt be better with Landeskog, but with Makar, forwards Nathan MacKinnon and Mikko Rantanen, and defenceman Erik Johnson, Colorado is set up to be a force in the Western Conference for the next few years at least.
The Trade is 1-for-1
The Blue Jackets and Flyers did a 1-for-1 swap of Cam Atkinson for Jakub Voracek. This is a pretty even trade in terms of skill. Voracek is probably a more offensive player and he's a few months younger than Atkinson at age 31, but he carries a higher salary cap hit at $8.25-million with three years left on his contract.
Atkinson, a solid two-way forward, is owed $23.5-million over the next four years, which works out to be a savings of just under $2.375-million for the Flyers.
"This is a significant trade for our club and we are very excited to welcome Jake Voracek back to the Blue Jackets family. He is a powerful, dynamic offensive player that will be a significant contributor to our club," Columbus general manager Jarmo Kekäläinen said in a statement. "Adding a player like that comes at a cost and I want to thank Cam Atkinson for his many contributions to the Blue Jackets and Columbus community over the past 10 years. He has made a lasting impact on our club and I wish he, Natalie and their family all the best."

Rangers buy out Tony DeAngelo
The Rangers have bought out the remaining two years on Tony DeAngelo's contract after he passed through waivers, saving about $3.5-million on the remaining $5.3-million he is owed. The club is still on the hook for dead cap charges of $383,000 and $833,000 over the next two seasons.
DeAngelo is a talented defenceman but has been plagued by on-ice disciplinary issues throughout his career and off-ice issues related to his social media. He was benched at the start of the season after taking an unsportsmanlike conduct penalty in first game, exhibiting childish behavior by yelling at the officials and slamming the door to the penalty box shut.
The situation with DeAngelo escalated to the point where he got into a physical altercation with teammate Alexandar Georgiev following a loss on Jan. 30. He was waived the next day and the Rangers tried to trade him, but there were no takers.
Tony DeAngelo, bought out by NYR, is/was a very effective and productive one-way top four right-handed offensive defenceman. It says something about how much of a prick he is that he got bought out despite that. #NYR pic.twitter.com/GhciB76pcd

— JFresh (@JFreshHockey) July 23, 2021
Details emerge in the Sam Reinhart trade
Following the conclusion of the first round, the Sabres and Florida Panthers worked out the framework for a trade involving Reinhart. The trade was finalized Saturday, with Reinhart going to the Panthers in exchange for goalie prospect Devon Levi and a first-round pick in 2022.
The second overall pick in 2014, the centre is part of a group of players that were once touted as the future of the Sabres but now want out of Buffalo. Ristolainen was the first domino to fall and Reinhart is the second. The club is still trying to move star center Jack Eichel.
The 25-year-old out of West Vancouver, British Columbia, is a high-scoring, playmaking center. Reinhart has scored 22 or more goals in five of six NHL seasons and 42 or more points in all six seasons. His 25 goals led the Sabres last season.
Levi is a 19-year-old playing for Northeastern. He's a bit undersized at 6-foot-0, but he was considered one of Florida's best prospects.
"Sam has established himself as one of the best playmaking scorers in the league, and we are thrilled to be able to add him to our Panthers lineup," general manager Bill Zito said in a statement. "His competitiveness and hunger to succeed will fit seamlessly with the culture we are building here in South Florida."
You may also be interested in: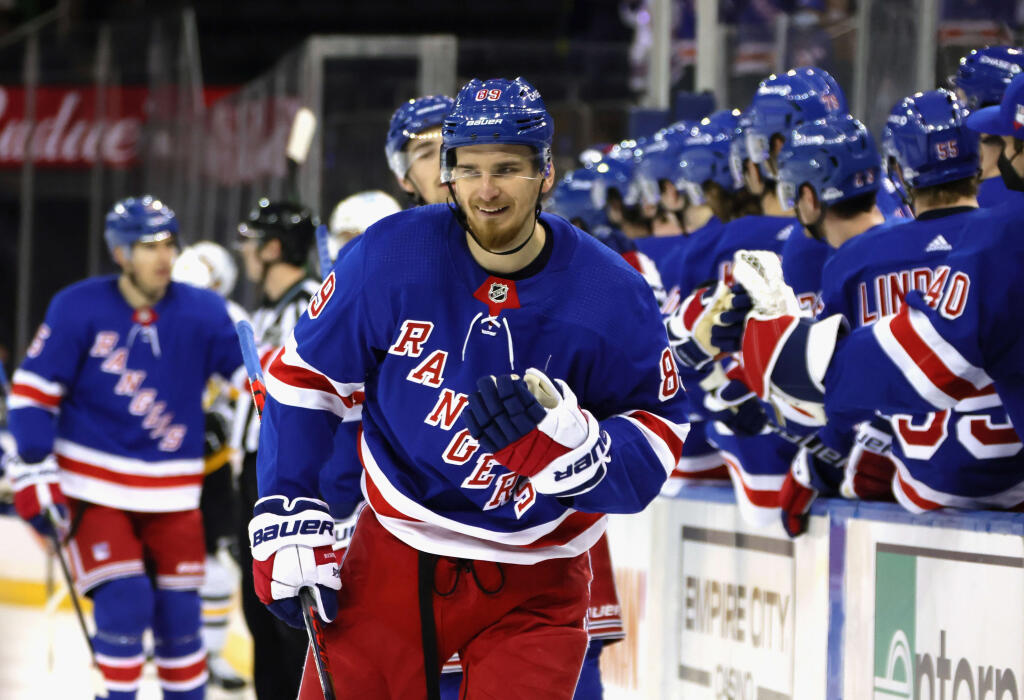 St. Louis Blues acquire Pavel Buchnevich from New York Rangers for Sammy Blais, draft pick
This article is about: