NHL
Key takeaways from Gary Bettman's Blackhawks press conference: A mess gets messier
NHL commissioner Gary Bettman held a press conference to discuss the fallout from the sexual assault allegations of the Chicago Blackhawks on Monday afternoon. He staunchly defended his positions and actions from the last week and offered apologies to Kyle Beach, the former Blackhawks player who alleged he was raped by former Chicago video coach Brad Aldrich.
But they were hollow platitudes at best.
The press conference went off the rails quickly. Bettman showed little empathy for Beach or John Doe 2, a former high school hockey player in Michigan who was allegedly raped by Aldrich after the 'Hawks let Aldrich walk away from the mess he created without any sort of repercussion.
Bettman did little other than make an ugly situation even uglier. It's been a depressing week for hockey. Last Tuesday, the Blackhawks made the findings of an independent investigation by Chicago-based law firm Jenner & Block public. The damning report showed that a senior management group knew of the complaints against Aldrich during May of 2010, during the team's Stanley Cup Playoff run, and chose not to inform HR or law enforcement of his actions against Beach until after the postseason had been completed.
The group consisted of former team president John McDonough, former executive vice president Jay Blunk, former general manager Stan Bowman, former vice president of hockey operations Al MacIsaac, former assistant general manager Kevin Cheveldayoff, now the general manager of the Winnipeg Jets, and coach Joel Quenneville.
They all knew. And they chose to do nothing. Aldrich was allowed to leave on his own accord and faced no real punishment. He was allowed to work with young hockey players at Miami University (Ohio), USA Hockey and his hometown high school in Michigan. As a result, he abused John Doe 2.
Beach and John Doe 2 are suing the Blackhawks, though the club has tried to get the suit dismissed. Every member of that management group has been dismissed from their posts with the exception of Cheveldayoff. Bettman's refusal to ask for Cheveldayoff to tender his resignation was met with some intense scrutiny and was a key subject during this press conference, as was his refusal to suspend Quenneville last week prior to their meeting in New York at league headquarters. The amount he fined the club, $2 million, was hotly debated as well.
This is quite possibly the darkest time in hockey's history and the league's feckless inaction has fans calling for Bettman and deputy commissioner Bill Daly to resign. There is a lot to unpack here and none of it is good, but here are the key takeaways from this press conference.
What did the league know and when?
Bettman and Daly were informed of the lawsuit last December. They were given a courtesy "heads-up" of sorts by the team's legal counsel, with Daly saying the club had looked into the civil suit and found it had no merit. Bettman and Daly claim they learned of the specifics of the investigation when the suit was filed in May of 2021. There was no communication between Beach and the league directly.
The NHL also claims to have had no knowledge of Aldrich's 2013 arrest and 2014 sentencing for criminal sexual conduct charges. Daly said they were made aware after the suit was filed.
Why was Quenneville allowed to coach the Oct. 27 game?
Quenneville emphatically denied any knowledge of the incident in July, but according to the Jenner & Block report, the coach was informed from the beginning, being part of the meeting that occurred on May 23, 2010.
Among many disturbing parts of the investigation, this one was particularly egregious: Quenneville was said to have been concerned with the team's playoff performance and deemed the incident as a potential "distraction" that was to be avoided.
He was allowed to coach the Panthers against the Boston Bruins the day after the report was released. It was an embarrassing image for the league as Quenneville was behind the bench for Florida's seventh-straight win, and fans saw it as a message from the league that winning matters more than accountability. A meeting was already scheduled with Bettman in New York for the following day, and Quenneville eventually tendered his resignation at the meeting, but the club or the league could have chosen to place him on some sort of administrative leave and declined to do so, further exacerbating the public relations mess.
Bettman said he did not want to "prejudge" the three-time Stanley Cup-winning coach.
"Should he have coached Wednesday night? I suppose people differ on that point. He had already coached 867 games since 2010, and I wanted to make sure that no one, including coach Quenneville, could say that I had prejudged him."
When pressed for more information behind the decision to let him coach, Bettman was deferential to the coach and combative with the media. The incident in question happened 10 years ago, so what's one more game, right?
It was terrible optics for the league but Bettman seemed to care more about Quenneville's feelings than holding the coach accountable for helping cover up a horrific act.
Why was Cheveldayoff not disciplined?
It seems that all involved in this situation are passing the buck. Bowman blamed McDonough for not reporting the incident in question in a timely manner. Cheveldayoff appears to have blamed everyone else, and somehow Bettman thinks that's just fine.
"Kevin, again, believed the matter had been taken care of because he wasn't aware—as Bill indicated—of what the exact nature of the allegations at the time, relative to what it ultimately came out to be. Kevin was in a position where he didn't have access to information, and he had no reason to believe that what he had seen or known had been dealt with any other way than appropriately."
In a statement released after his meeting with Bettman the day after Quenneville's, the league said Cheveldayoff was "not responsible for the improper handling" of the allegations. Apparently, Bettman was not troubled by the fact that Cheveldayoff did not press for more information about the incident or question whether or not Aldrich had been disciplined.
"Kevin was such a minor player in this," Bettman said. "We discussed this with Reid Schar, who did the investigation for Jenner & Block, the only person who placed Kevin in that room for the May 13 meeting was Kevin. Everybody else either forgot or didn't acknowledge that he was there. He had been with the Blackhawks for nine months, he was an assistant general manager with fairly limited responsibilities. This was something he had no responsibility for based on what was available to him in his minor — relatively — position at the time."
Bettman could not be more wrong in this assertion. It's the responsibility of every member of the organization to keep the players and employees safe. Cheveldayoff was complicit in the failure to keep Beach safe and the enabling of Aldrich.
How does the league plan to prevent this from happening again?
Bettman and Daly say there are numerous policies and procedures in place to prevent sexual harassment and assault, though they did not detail any specifics, with the exception of an anonymous hotline. Bettman said he plans to consult with experts in the field to ensure that the programs are sufficient.
But as many have pointed out, victims will only speak out if they feel empowered to do so. Beach told mental skills coach Jim Gary, who only blamed Beach for the assault. He told skating coach Paul Vincent and Vincent asked that the Blackhawks contact the authorities. Yet the handling of the allegations by the club was still wrong.
"First of all, from ownership on down, all of our personnel or all of our organizations now, and have for some period of time, understand what we believe is acceptable and not acceptable and that an organization that is suppressing information of improper activity understands that ultimately there's going to be a consequence to that," Bettman said. "The hotline, which can be administered, or a report can be made anonymously. It doesn't have to be the person who's affected. If you see something that you think is wrong, you can call anonymously, and everything gets followed up on.
"I think what we've tried to effectuate, and you're seeing it again, you're seeing it in the players' comments, and to the extent, the hotline is being utilized, people understand that there is a remedy to deal with improper acts, whether or not they witnessed them or they're subject to them."
There were other inflammatory, insensitive statements made by Bettman and Daly as well, though to a lesser extent. Bettman defended the fine of $2-million, there was some troubling consternation about consent, he was deferential to the players who knew but never spoke up.
While the league has offered counselling to Beach and his family, Bettman said he needs "more information" before offering the same services and resources to John Doe 2. We know that Aldrich is a convicted sex offender, so how much more "information" is needed?
Bettman talked a lot about facing consequences for actions. But Cheveldayoff is not facing any consequences and the bad actors from Chicago were mostly all allowed to resign on their own terms, much like Aldrich himself was allowed to.
Ultimately, it seems as though the commissioner is still putting the onus on the teams to do the right things. But if no one did the right thing 11 years ago, then why would anyone do the right thing today? While he might claim that the culture is better than it was a decade ago, there is little to indicate that. If anything, this debacle of a press conference shows that it might be worse.
You may also be interested in: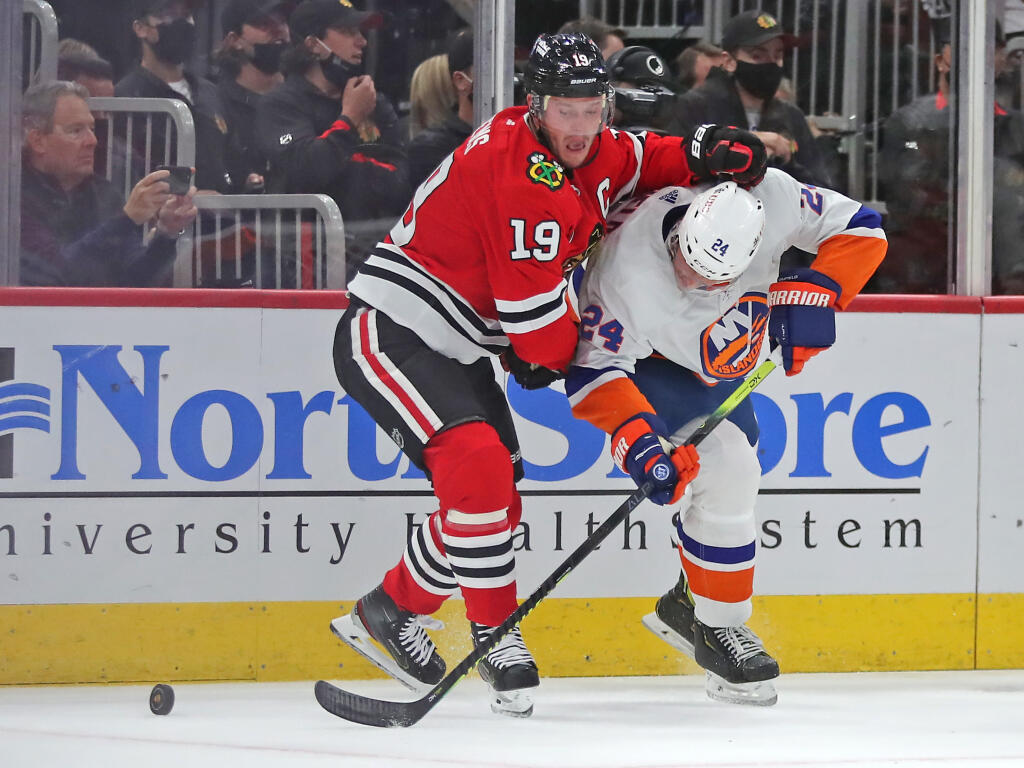 Take Town: The elephant in the Chicago Blackhawks' room
This article is about: