NCAA
Frozen Four Game 2: Minnesota State sticks to the blueprint en route to national title game
BOSTON — There is rarely any pregame mystery surrounding the kind of night you're going to have against Minnesota State.
They are going to get the puck, they are going to keep the puck for a long time, and then when you get the puck, you're probably not going to be able to do much with it. The thing you have to do if you hope to beat them — which only five teams did in the regular season, and zero have since Jan. 14 — is make the most of the small handful of chances you get.
"You need all five guys playing offense and all five guys playing defense," said Minnesota State coach Mike Hastings. "Hopefully our players feel confident enough that if somebody gets below the goal line and they happen to be a defenseman that one of the high forwards is able to cover for him."

In the second of today's national semifinals, the Mavericks' in-state rival Minnesota Golden Gophers learned all of this the hard way. Minnesota State held them to just 17 shots en route to a 5-1 win that might as well have been 50-1.
If you want to be generous, the Gophers had about four shot attempts around the crease. In the entire game. And if you don't want to be generous, it's more like three. All Minnesota forwards in the game tonight combined for seven shots on goal. Mankato's Reggie Lutz, who scored the game-winner, had six by himself.
"For big chunks of the game they kicked our butt," said Gophers coach Bob Motzko. "We made a couple of mistakes in the second period and they scored exactly how we knew, and we had to defend, and then we were chasing the game."
The problem for almost all of MSU's opponents this season? Even if you can get past the layers of defence that start in your own zone on every breakout, continue through the neutral zone, and redouble as you get closer to the Minnesota State goal, there's still the matter of putting the puck in the net. Which is next to impossible. Because Dryden McKay (16 saves) is one of the most accomplished goaltenders in the history of NCAA hockey. He holds the all-time career and single-season records for wins, as well as the career shutout mark. He's been a Mike Richter Award finalist three years in a row, and is a perennial .930 goalie.
Moreover, McKay's teammates have long exhibited a talent for making his job extremely easy; you don't set all those team-centric records without a fair bit of help, and the fact that he's only faced about 2,800 shots in his 138 career games is telling. He rises to nearly every challenge, but those challenges are, when compared to those of his peers, few and far between.
"(McKay) was giving up a lot of rebounds and we were just letting them clear the puck out," Brodzinski said. "If we had a couple of more opportunities in front of the goalie's eyes, maybe we could have gotten the shot off or gotten there on the rebounds."
Only twice in the Mavericks' long, long winning streak — now at a stunning 18 games — has McKay surrendered more than two goals. Both times, the opponents scored extra-attacker goals to make the games seem more interesting than they actually were.
Meanwhile, at the other end of the ice, McKay's counterpart Justen Close (27 saves) stood in total contrast to the Hobey Hat Trick finalist. Where McKay has been arguably the most successful college goalie ever, Close wasn't even the starter for his team until midseason, and that was a decision made entirely out of necessity at the time, rather than merit. He had played just six games in his two-and-a-half-year NCAA career before he was pressed into the No. 1 job by the surprise departure of the reigning Richter award winner, Jack LaFontaine, in mid-December.
Despite the lack of résumé, he sparkled throughout the second half of the season and ended with a save percentage this season just .005 below his much more decorated opponent.
Not that it mattered much tonight, but at least it didn't start that way. First, Minnesota's Bryce Brodzinski took advantage of a miscue on a zone exit and forced a neutral zone turnover, stripping the puck from Benton Maass. That created a 2-on-0 for himself and Matthew Knies. It will not shock you to learn that despite a smidge of overpassing, Knies effortlessly buried it to stake Minnesota to a 1-0 lead on the Gophers' first shot of the game.
Who else? Matthew Knies (#LeafsForever) scores the opening goal for @GopherHockey in their #FrozenFour semifinals match.

The lone assist on the play goes to Bryce Brodzinski (#BringItToBroad) pic.twitter.com/I034oOV5uO

— EP Rinkside (@EPRinkside) April 8, 2022
If those circumstances make that goal sound like something of a fluke, it certainly ended up looking that way. It was completely against the run of play, and MSU controlled the puck for most of the first period. Shots through 20 minutes were 11-4 and that latter number frankly felt a little generous.
But hey, the idea is to limit chances and the Mavericks did just that; you don't want one of those chances to be a 2-on-0 with one of the most dynamic forwards in the country, but that's how it goes sometimes. Generally speaking, if you can hold your opponent to single-digit shots on goal in most periods, you're gonna sail through any given game.
"Not exactly the start we wanted, giving up a 2-on-0," said Minnesota State coach Mike Hastings. "I thought we played a good first period, even though we were down. I told the guys we have to stick with it. We did a good job possessing the puck. I'm lucky to have a lot of leaders in the locker room that do a lot of coaching."
That type of play mostly continued in the second, though Minnesota did a bit more to establish itself even if sustained zone time remained elusive. But, it turned out, not enough.
A little less than halfway through the second period, Maass made up for his previous mistake, tucking a wraparound attempt all the way around Close, to even the score. Then about five minutes after that Maass goal, Lutz scored on another wraparound, this time from the other side of the net, banked in off Close, who was nominally tied up with his own defenceman at the time. This was the benefit of simply having the puck in the attacking zone. Shot from up high, chaos around the net, one guy gets loose and makes a difference. And that, of course, is the way Mankato does things. You lean on the opponent and, even if they don't buckle initially, they do so eventually. It's been this way for years. Why should it be any different now? Shots through two periods: 22-11. Again, it didn't feel that close.
"I think when you look at our defense, it's not just the six guys that are labeled as it on the scoresheet, it's a team defense," Maass said. "I thought our forwards did a really good job of coming back on the backcheck and picking up lane guys, that allowed us to stay up on our gaps."
Not even two minutes into the third period, another Mavericks goal. This one, at least, wasn't a wraparound, as Ondřej Pavel won a four-man net-front battle and tipped in a Jack McNeely point shot. That one made the game feel all fait accompli. David Silye's shot through a screen inside seven minutes to play, after another bout of extended zone time, was an emphatic hat on a hat. The empty netter Brendan Furry scored was like the guy from the children's book "Caps For Sale."

The Mavericks will go on to Saturday's final against Denver, another team that smothered its draft pick-laden opponent territorially today. This final should be fascinating, not least because where today's games featured something of a clash of styles — surprise, surprise, the two teams that make "controlling the neutral zone and scoring at 5-on-5" their whole thing (and also didn't take a single penalty tonight, somehow) won out — now the championship will be decided between two teams that might just do the Spider-Man meme at each other until there's a winner.
Motzko saw the game, and the execution of the opponent's game plan, for what it was: "It was not a fun game for us to chase. They're exactly how we saw them play on our film, breaking it down this week. And that will be exactly how they play on Saturday."
You may also be interested in: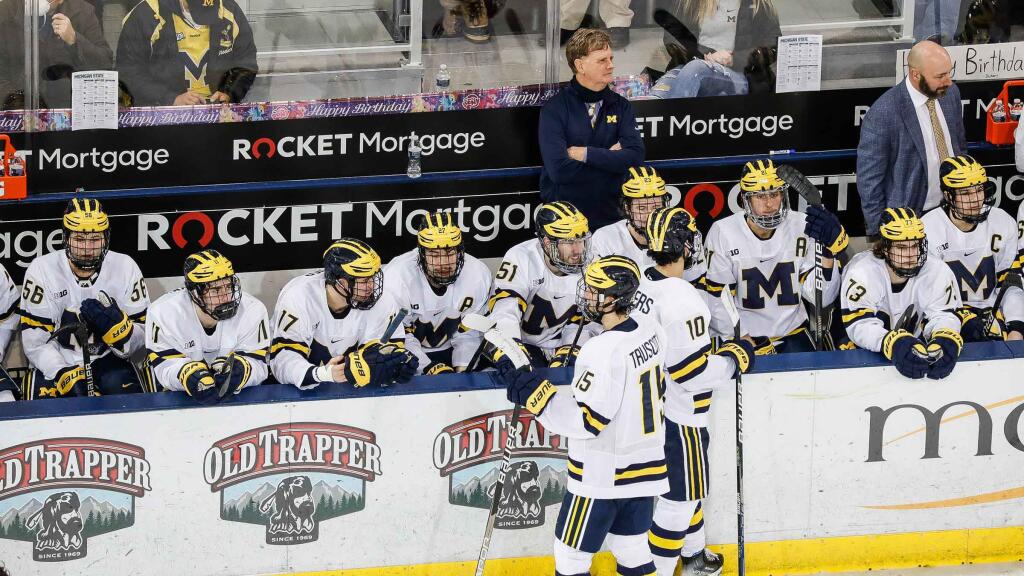 NCAA Tournament Takes Day 4: Minnesota rolls, Michigan squeaks by en route to Frozen Four
This article is about: