2022 U18 World Hockey Championship
Each team's X-Factor at the 2022 U18 World Hockey Championships
The men's U18 World Hockey Championship starts this Saturday, with eight countries descending on the German towns of Landshut and Kaufbeuren for a week-plus of high stakes hockey with national pride and draft position on the line. It doesn't get much better than that.
Only adding to the intrigue is the fact that this isn't really what you'd call a best-on-best tournament. The timing is such that many European and Canadian junior leagues are either starting or well into their respective playoffs, barring many players that would take on sizeable roles from participating period. Teams had to get more creative with their roster construction than usual.
The downstream effect of those roster limitations is that some players are going to be asked to take on far more substantial roles than they would otherwise. Players that would feature in a depth role will now operate as critical components of their roster, on which their success depends more than your average player. X-Factors, if you will.
I've identified one such player for each team, looking at what they bring to the table, and why they're going to play such a uniquely large role in determining their respective countries' success.
Team Canada
Owen Pickering, D, Swift Current Broncos (WHL)
We know this Canadian team will score in bunches. They've brought back Connor Bedard and even managed to add Adam Fantilli to their ranks courtesy of the Chicago Steel's good graces. They're all set there, even if their depth isn't especially imposing.
Can they lock things down defensively though? That's another question entirely.
Their success in that regard is going to hinge largely on the play of Pickering, Canada's de facto No. 1 defenceman. He certainly has the build for the role, towering over opponents with his 6-foot-5 frame, but he's mostly profiled as a rangy, risk-prone, offensively-calibrated defender for the Swift Current Broncos this season.
As my colleague Mitch Brown noted in his article on Canada's roster, Pickering's defensive game has come a long way this season, so there's hope yet. This tournament will give us a good sense of just how far he's come... or hasn't.
[Read more: Owen Pickering -- growing pains and growing expectations]
Team Sweden
The Swedes boast as well-rounded and deep a roster as you'll find at this tournament, second to only the Americans on paper. The key difference there? The Americans have a handful of game-breaking offensive talents, and the Swedes will rely on an offence by committee approach.
Lekkerimäki can change that equation though. He's one of the draft's most gifted shooters, a credible finisher from range, drawing comparisons to Alexander Holtz from our Swedish regional scout Jimmy Hamrin. His off-the-puck game has really rounded into form in the back-half of the season too, making him a more reliable, complete player offensively.
The only real question is whether Lekkerimäki is going to be healthy enough to let those skills shine. He hasn't played since early March after coming down with glandular fever, and it could take him a game or two to get his timing back and feel comfortable again. That's obviously less than ideal in a setting where time and reps are going to be in short supply.
Team USA
For all the USNTDP's immense riches upfront and on the blue line, you have to go all the way back to Drew Commesso in the 2019-20 season to find their last high-end goaltending prospect. And how does the old saying go? Goaltending is 50 percent of the game, unless you don't have it. Then it's 100 percent of the game.
That idiom held for the Americans at last year's event, as the Swedes easily dispatched them to the tune of a 5-2 final (with one empty-net goal, granted) on 28 shots. You can't win with that kind of goaltending in big games -- most of the time, anyway.
On paper, this is the team to beat. Their skater ranks boast five (!) first-rounders according to the most recent Elite Prospects draft ranking, and at least two surefire bets for the first round of next year's draft, too.
Do they have what it takes in goal, though? That's where this gets interesting. Muszelick has played decently for the Program, with an .899 save percentage and a 22-5-3 record on the season coming into this tournament, but those numbers don't exactly inspire confidence. This team needs about average goaltending to win it all, and that's hardly a given here.
Team Finland
There are three '06-born players set to play in this tournament, and Kiviharju is the best of the lot. My colleague Lassi Alanen summed this one up nicely, noting that "only Patrik Laine has scored more points during his U16 season in the U20 league history, and we are talking about a defenceman. Still physically raw, but commands the game at an elite level due to his superior smarts and skill level. A first overall calibre talent for the 2024 draft."
So, why's he an X-Factor for this tournament? Well, it's not often that a draft-minus-two skater wears their country's colours in this setting. Matvei Michkov and Bedard had the honour of doing so last season, but those are exceptional cases -- in one case, literally. Kiviharju hasn't built quite the reputation to this point in his career that Michkov or Bedard had by this time last year, so there's really no telling how he'll perform.
There's also no telling what kind of role the Finnish coaching staff will feel comfortable assigning Kiviharju. The Finns have a relatively strong blue line, and it wouldn't come as much of a surprise to see them limit his minutes as a result. But if they unleash Kiviharju, well, that could pay massive dividends for this group.
Team Czechia
With David Jiříček no longer eligible for this tournament because of his '03 birth year, this Czech blue line is paper-thin. Nothing new there. The Czechs have struggled to assemble a quality blue line internationally at the junior level for some time now, and you can see it in their results -- just one medal to show for the last 10 years of World Juniors and U18 hockey.
The pressure on Hamara is immense. He's pretty much the guy on that Czech backend. One of only two players on that blue line even recognized by NHL Central Scouting's mid-season ranking of prospects for the 2022 NHL Draft.
There are worse players to have in that No. 1 defenceman's spot. Hamara has played relatively strong hockey for Tappara this season, splitting time fairly evenly between their men's league and U20 team. He was an honourable mention on our last board, largely because of his above-average ability as a skater and chops as a distributor from the offensive blue line. With a strong tournament, Hamara could remove that "HM" tag and earn a ranking all his own.
Team Switzerland
The absence of defenceman Lian Bichsel means that the Swiss don't have many big-name skaters to rely on. In fact, they only have three players total on this roster ranked by NHL Central Scouting, each of them in the final four spots on their mid-season international board. It doesn't get much more lean than that.
The task in front of Beglieri couldn't be any more daunting. As he goes, so too will Switzerland go. It's really that simple. The good news is, Beglieri looks up to the task. He was electric in Switzerland's pre-tournament match against Canada on Thursday. Let's hope that he keeps things up for when the games matter, because things could get ugly for the Swiss if he doesn't.
Team Germany
Julian Lutz, W, Red Bull Munich (DEL)
The host Germans have assembled a pretty strong roster for this year's tournament. They may not have a high-end star like Tim Stützle or John-Jason Peterka or Lukas Reichel or Moritz Seider available to them, but they've got more depth in their forward and defensive ranks than we're accustomed to seeing from them at this level.
That does mean, though, that the onus is on Lutz to be their game-breaker. Because if he can't find the back of the net, well, there aren't many players who the Germans can rely on to do so in his stead.
The question here, as with Lekkerimäki, is whether Lutz is healthy enough to play to the best of his ability. He's been fairly limited this season with a series of injuries only allowing him to play in 18 contests total across league and international play. This tournament represents a huge opportunity to rehabilitate his draft stock. Hopefully for his and Germany's sake, he can make the most of it.
Team Latvia
We don't really need to linger on this one. The Latvians are a pesky, unrelenting group in international hockey, but there's no getting past the clear talent deficit that they'll face in every game at this tournament. That means that Rolovs is going to have to be the star of the U18s for this group to make much hay.
You may also be interested in: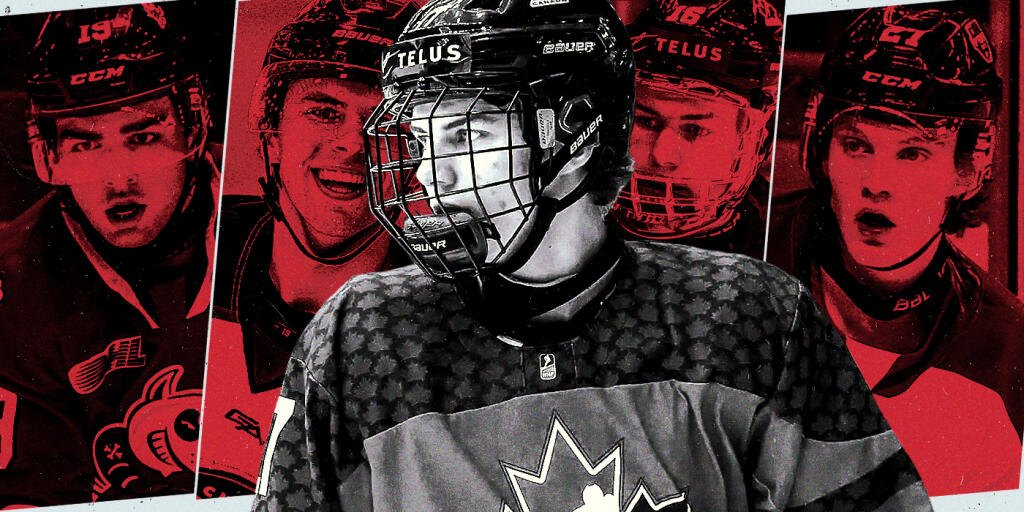 Meet the Team: Canada's roster for the 2022 U18 World Hockey Championship
This article is about: