2022 NHL Entry Draft
Isaac Howard's "hunger to score goals" sets him apart at the 2022 NHL Draft
You won't find many more talented wingers in this year's draft than Isaac Howard out of the USNTDP U18 squad. Yet questions abound about the University of Minnesota-Duluth committed forward's future and what it might hold. He's a more difficult case than a lot of similarly talented prospects.
One NHL scout said this about him: "Probably the best pure goal scorer from the USA this year. Should be a productive NHL winger. Undersized but he's really skilled and confident near the net."
The first thing that stands out with Howard is his skating stride. He's not an elite mover, but he creates chances when he's carrying the puck up ice because of his elusiveness. The opposition has to account for him any time he's got the puck on his stick and a little runway, especially with a shot that can beat a goalie just about anywhere.
The main thing is when Howard has a small area to shoot at to score, he's able to hit it. Does he miss some shots? Yes, but that's more with his one-timer but that's pro-calibre, too. He's never afraid to shoot the puck.
Howard has terrific zone entries and then when he goes deep sometimes, he has a studder step and circles back to shake that defender. This is part of what makes him hard to cover on the ice and there's no reason this skill can't carry over as he moves up the ladder.
"I have to read the play. When I'm coming down the ice, I have to see what the defense is giving me. What the zone entry is 3-on-2 or 2-on-1. I think I'm a creative player," Howard stated. "I'm always looking to make that play or score the goal."
I did talk to him about getting to the net at the next level, and Howard didn't even hesitate to suggest it won't be a problem for him moving forward.
"For sure. It's my hunger to score goals. You have to get to those hard areas where some players don't want to go. I think that's where I excel and I will continue to excel there," Howard said with confidence.
Like a lot of players. There was one he watches in the NHL that he modeled his game after.
"I like Jake Guentzel. He can score, he can pass. He's a super creative player," said Howard.
Howards stickwork along the wall is good. You couple that with dexterity and the ability to stop and start on a dime just about anywhere on the ice, and it's clear that he'll be able to play either side at the next level. When he's setting up his teammates with very smart passes it's because he's created room on the ice. How much of that room will be available as he moves up the ladder is the question? On the power play he'll find it. When it's 5-on-5 is when the rubber is going to meet the road for him.
Howard has a high hockey I.Q. A lot of teams want a player like this it's just a matter of where he might slot in.
"I spoke to 26 teams," Howards said also noting that, "Winnipeg and Toronto were two that went very well."
He could go mid to late first or slip into the second round. I think he's a top nine player. It will be interesting to see.
This will be another big draft for the NTDP. But on a personal side, this group having to get through COVID together and miss some tournament play has really bonded them.
"It's super special. Those guys are basically my brothers after those two years," Howard preached. "It's such a talented group and we're all going to see each other at the draft in Montréal. When I start seeing guys get drafted left and right that will be super special as well."
He opened up a bit more about the tournaments that never happened.
"It kinda stinks because you get to travel the world a bit too," Howard noted. "You see all those different countries. I think we would have won a handful of those for sure. But again, that's kind of the theme for our group. We are resilient. We probably had the toughest two years with COVID. Nothing was certain. I think that made our group special."
Howard spoke to where he feels he may be undervalued by teams. So, he's aware of the narrative that's out there.
"I think it's my offensive ability in general. My playmaking ability. My vision. My vision has always been there. When you move up to different levels you have to keep developing that. I think I am able to see plays a lot of other players can't see. My IQ Being able to read plays and putting myself in good areas," Howard reiterated.
Like most young players. He has a list of what he needs to work on.
"I think I need to work on my two-way game. I love offence and scoring goals and sometimes I get caught up in that. I want to keep developing my two-way game," Howard admitted.
As far as a teammate. He has the qualities teams are looking for.
"I think I'm an energetic guy in the locker room. I love the aspect of going to the rink every day. You have to love what you do. I'm competitive and I can bring everybody's spirits up," said Howard.
When I asked him who was faster, him or his teammate Frank Nazar, I got a good answer out of Howard.
"I think I'm quicker, but Nazar is faster. In a full race for the puck, he probably gets it over me."
Howard is a free spirit. He loves the game and the team that selects him will get a player that will do anything to play in the NHL.
You may also be interested in: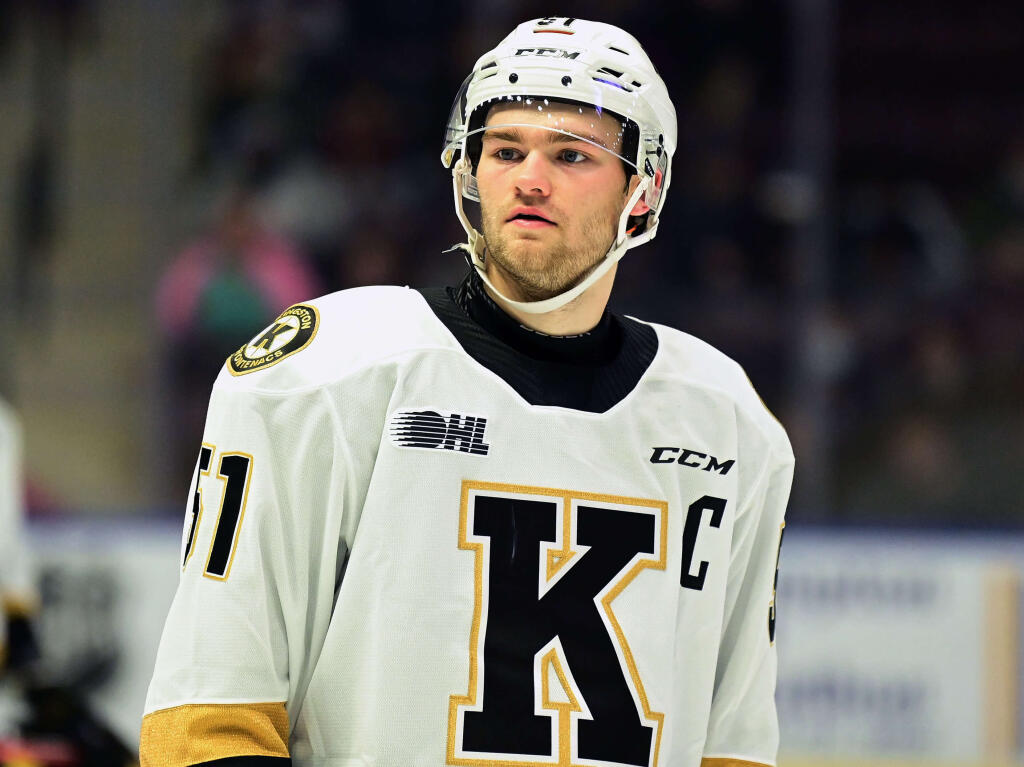 "That's where I see myself:" Shane Wright, 2022 top prospects take lessons from the Stanley Cup Final
This article is about: