NHL Prospects
One prospect to watch for each NHL team ahead of the 2022-23 NHL season
The NHL preseason is always an exciting time, full of possibilities. We get to see many top prospects compete against NHL talent, sometimes for the first time, which is always a good barometer for their progression and overall talents.
Below, you will find a list of prospects who have a lot to prove over the next few weeks. Their team could rely on them to push for a playoff spot, maybe they are on the verge of a breakthrough, or this is their last chance to prove that they are indeed NHL material. Most of them were drafted quite high at the draft; this is their chance to reward their team's confidence by giving the fans a good showing.
No matter the circumstances, these players will have to perform when it counts.
Mason McTavish, C Anaheim Ducks (Third Overall, 2021)
The Ducks don't have to worry about McTavish's long-term upside. He seems destined for a top-six role at some point. Such a role could be offered to him sooner than later, too, if he manages to put up a great training camp. He has the physical skills, the passing ability, and the attention to detail to make the jump to the NHL this season, but McTavish's low pace of play in his last OHL season won't cut it in the top league. An increase in his speed of execution is a must if he wants to prove he belongs in the short term.
Victor Södestrom, RD Arizona Coyotes (11th Overall, 2019)
Our team expected Söderstrom to prove his worth in the NHL much sooner, but his adaption to North American Hockey has been challenging. This preseason the defenceman has to prove that he can hold his own better in the defensive zone, on the walls, and on breakouts in the NHL. If he can go back to being the puck-mover that he was for Brynäs a couple of seasons ago, he could help the Coyotes generate more on the attack next season.
Jack Studnicka, C Boston Bruins (53rd overall, 2017)
This feels like a make-or-break year for Studnicka. The Bruins have mostly viewed him as a replacement-level player for the past few seasons, a call-up, but his physical and passing abilities, and his supporting game are NHL caliber. At 23 years old, it's time for the centerman to prove it.
Jack Quinn, RW Buffalo Sabres (8th overall, 2022)
After a middling first professional season, one could have reasonably questioned Quinn's potential, but the forward made sure to crush any doubts about his ability to score at the professional level with one of the best AHL campaigns for a 20-year-old in recent memory. Quinn's all-around high-level skills, his rapidly improving playmaking game and his instinct for finding quiet areas in the offensive zone should shine next to the Sabres' top playmakers in the preseason.
Jack Drury, C Carolina Hurricanes (42nd overall, 2018)
The Canes have scoring depth, but there could be spots open in their lineup. If Drury plays his card right, if he manages to show his talent for facilitating offence, shutting down the opposition and applying constant pressure to it, he could finally earn himself a long try-out for a role that he probably already deserved last season, based on his strong AHL play.
David Jiricek, RD Columbus Blue Jackets (6th overall, 2022)
Could Jiricek make the Columbus Blue Jackets this season? It certainly feels possible. The team has a track record now of giving spots to rookies who deserve it, even if they're considered very young by the league's standards. Just ask Cole Sillinger. Jiricek's game is far from mature at this point, but it's hard not to fall in love with his tools, his NHL-caliber skating, constant physicality, and his ability to beat entire forechecks with his passes.
Jakob Pelletier, LW Calgary Flames (26th overall, 2019)
While it could be hard for a skill-first player like Matthew Philips to steal a spot from someone on the Calgary Flames squad, Pelletier feels like the perfect player to furnish the team's depth, with his north-south, pressure-heavy playstyle. Such a spot won't be given to him during training camp, but if he shows he has added that extra bit of speed, and if continues to manage the puck just as well as he did in the AHL last season, we could see Pelletier get rewarded with a roster position on the opening night's lineup.
Lukas Reichel, LW Chicago Blackhawks (17th overall, 2020)
The spot on Patrick Kane's wing feels like Reichel's to lose at this point. A few players will be competing for that spot, many of who will be more mature and refined than him, but none of them have his speed, pace, handling skills, and talent for pressuring opponents into mistakes. What Reichel has to prove over the next few games is that he can modulate his pace and adapt to the more cerebral nature of the NHL's top-six game.
Martin Kaut, RW Colorado Avalanche (16th overall, 2018)
Kaut has to separate himself from the pack at the upcoming training camp. He was drafted at 16th overall for his all-around game and skills, the mature play he showed even as an 18-year-old, but the Avalanche probably expected him to develop more special elements over the course of the next years. Last season, Kaut didn't manage to show he could bring enough to the contending team. This could be his chance.
Thomas Harley, LD Dallas Stars (18th overall, 2019)
Harley wasn't a favourite of the coaching staff last season, due to his particularly bold playstyle that creates unexpected scoring chances, but also memorable mistakes. The good news for Harley is that John Klingberg, after paving a way for such a playstyle in Dallas' formation, has now left the team, opening a spot for the young defenceman. If he can show enough defensive and game management improvements over the next few weeks, he could cement his NHL spot and maybe even earn one in the top four.
Simon Edvinsson, LD Detroit Red Wings (6th overall)
Edvinsson should earn a spot with the Red Wings, but his subpar play at the World Juniors Under-20, following a food poisoning, could have raised some doubts about his readiness for Detroit's management. Edvinsson has to line up strong performances to reaffirm his status as not just the team's top prospect, but one of the very best in the NHL.
Dylan Holloway, LW/C Edmonton Oilers (14th overall, 2020)
Holloway's production in the AHL didn't reflect his talent or NHL readiness last season. The winger was a cut above the competition in many of his games, especially at the end of the season. His game should translate seamlessly to the NHL. It's more likely than not that he will be used in a supportive role over the next few weeks, but he could earn a promotion if he can show the coaching staff just how often he can turn wall battles into scoring chances.
Grigori Denisenko, LW Florida Panthers (15th overall, 2018)
This training camp feels like Denisenko's last chance to prove that he can translate his high-end tools into dangerous NHL offence, but his game needs is really just a better supporting cast to take off. If he can do that, he could earn himself a top-six role. But earning such a role also means conforming to the team's system in the preseason games. Otherwise, he will get lapped by less talented, but more responsible players and sent back to the AHL.
Jordan Spence, RD Los Angeles Kings (95th overall, 2019)
Despite a great AHL season in which he unexpectedly scored 42 points in 46 games, a role on the Kings' blue-line shouldn't feel like a given to Spence. He remains an undersized defenceman with the agility to evade opponents, but not necessarily the dominant quickness and speed that we associate with players of his size in the top league. Spence will have to battle and show every game that he can distribute the puck smartly and creatively, beat the forecheck, and hold his own on the defensive end.
Calen Addison, RD Minnesota Wild (53rd overall, 2018)
All eyes will likely be on Marco Rossi at training camp, and he should make the team based on his AHL play last season, but the case of Addison is more curious. The defenceman has an NHL game, but he has yet to manage to fully earn a spot. At 22 years old, this feels like the season where he should leverage his puck-moving ability, shot, and mobility to cement his position on the team's bottom-pairing. He has to show that his defensive habits, like his positioning, gap management and scanning have all improved over the past couple of seasons.
Mattias Norlinder, LD Montreal Canadiens (64th overall, 2019)
Norlinder's 2020-21 season was a significant hit to his development. The best way he can make up for the loss time is to prove that he at least deserves to be in consideration for a replacement spot on the Canadiens' blue-line this season. There isn't any defenceman on the team's blue-line who boasts his playmaking abilities and confidence when he's at his best. Norlinder has to remind the team's brass of that.
Alexander Holtz, RW New Jersey Devils (7th overall, 2020)
Due to his finisher playstyle, Holtz is the kind of player who increases in effectiveness as his supporting cast improves. His real potential value to the team might only reveal itself fully if he gets the opportunity to play next to the team's best playmakers, on a top-six line and on the power play. Such a role has to be earned. His improving defensive game should make him a better candidate for it than in years past.
Eelie Tolvanen, LW Nashville Predators (30th overall, 2017)
Tolvanen might be more of a regular NHLer than a prospect at this point, but even at 23 years old, there is still a lot of potential to be unlocked in his game. Tolvanen can do two things better than the average NHLer: release the puck and find space to use that release. In training camp, he needs to show improved all-around skills, more speed, and defensive attention, to earn the roles, the top-six spot and the one on the powerplay half-wall, that will allow him to showcase those two main abilities.
Simon Hölmstrom, LW New York Islanders (23rd overall, 2019)
Hölmstrom's progression has more than impressed our team. He built a strong AHL game last season on three pillars: his playmaking, defence and wall play. Those three qualities should shine in training camp and maybe allow him to conserve a spot in the team's bottom six. Hölmstrom fits the Islanders' system very well, at least the one they established over the past years.
Zac Jones, LD New York Rangers (68th overall, 2019)
Jones is only 5-10, but his puck-moving abilities are high-end. Few players can pass the puck through a forecheck as well as he can. He was one of the best-performing prospects in last year's training camp and it's a safe bet that he will impress even more this season with one extra year of AHL play under his belt. If he can continue to show the physical side of his defence, the left-side spot on the third pair should be his.
Jake Sanderson, LD Ottawa Senators (5th overall, 2020)
The Ottawa Senators are counting on Jake Sanderson to come in and bolster their defence. That's a lot of pressure on the rookie, but he should be able to deliver. His evolution into a true quarterback at the University of North Dakota has been amazing to witness, but Sanderson doesn't have to push the Senators' offence from the start. As long as he is able to play his strong shutdown and puck-moving game, he will have a great impact on the team.
Cam York, LD Philadelphia Flyers (14th overall, 2019)
York has all the tools needed to become a top-four, two-way defenceman for the Flyers, but to fulfill his potential, he needs to start using them more. The defenceman has been a little too passive in his play since his draft year. Adding an extra dose of aggressiveness and creativity to his play in training camp would go a long way to show the coaching staff that he is ready for the next step, for more minutes and that bigger role on the team's blue-line.
Pierre-Olivier Joseph, LD Pittsburg Penguins (23rd overall, 2017)
When we organized our sheets before our prospect pool rankings, we were surprised to see that Joseph was still an NHL rookie. This is the season where he has to shake that title. He could do it by just lining up a few games to start the season, but we have bigger hopes for him. The Penguins' defence seems set to start the season, but a strong showing in training camp could force the coaching staff to consider him. Joseph has NHL-caliber tools. His rush defence, especially, could be an asset to the team.
Shane Wright, C Seattle Kraken (4th overall, 2022)
There may not be a player with a bigger chip on their shoulder entering training camp. After slipping to No. 4 overall and staring down the hometown Habs' draft table at Bell Centre once finally selected, Wright will want to make an impression, not just on his own coaching staff (although that's what matters the most) but on the entire NHL. This could be the start of his revenge tour, where he proves to the teams that didn't have him first on their list wrong. The centreman is another one of those players whose game scales up with the talent around him. He's young, but he seemed like the most NHL-ready player in his draft year.
William Eklund, RW San Jose Sharks (7th overall 2022)
Eklund only scored once over the last season. Once. Across all levels. There are many stats that we can explain with a thorough on-ice evaluation, but that is not one of them. No matter what happened, Eklund will want to build on his last successful training camp and show the Sharks that he's ready to fill one of their top-six roles. The work he put in on improving his shot and inside game should help him convince the team's deciders.
Will Bitten, RW/C St. Louis Blues (70th overall, 2016)
Bitten has moved from organization to organization for the past few years, looking for his first NHL chance. It could come this season and right at training camp with a good enough performance, as for the first time in his career, he has momentum. The industrious forward led the Springfield Thunderbirds in the playoffs with an incredible production of 21 points in 18 games, a summit in his career. This strong performance will have the coaching staff look at his playmaking, skating, and defensive skills in a different light.
Alex Barré-Boulet, C Tampa Bay Lightning (Signed)
Is this the year of Barré-Boulet? It could be. While his star AHL performances would have probably earned him a spot in a few formations around the league, the forward has been stuck in Syracuse for the past few years, locked in by the depth of the Lightning. His skating remains a weakness at this stage, but his playmaking can more than make up for it. He could provide secondary NHL scoring.
Nick Robertson, LW Toronto Maple Leafs (53rd overall, 2019)
If Robertson proves his value in training camp, he could win a consistent top-nine spot on the Leafs for the first time. The forward is a true triple-threat forward, capable of dangling, shooting and passing through and around opponents. His scoring should translate to the top league with the right supporting cast and a change of playstyle. He has to show in training camp that he can modulate his pace to manipulate the opposition in open ice and avoid getting pushed to the walls, where he is at a disadvantage. Reports tell us that the forward has improved in his ability to do that over the past season.
Vasily Podkolzin, RW Vancouver Canucks (10th overall, 2019)
Podkolzin didn't exactly come as advertised last season. We saw his motor and physical skills on a regular basis and also flashes of his playmaking and scoring abilities, but it's fair to expect more of him in his sophomore season with the club, more points and a bigger role. He will have to fight for a spot on the top-six, but his game, on paper, has more to offer to the team than Andrey Kuzmenko or Ilya Mikheyev. Podkolzin has to take his chance to show he can be a constant offensive contributor right from the start of camp.
Pavel Dorofeyev, LW Vegas Golden Knights (79th overall, 2019)
If Dorofeyev doesn't clearly establish himself as an NHL talent in the minds of the coaching staff this season, he risks remaining only a dominant AHLer for in the long run. The best time to prove his talents is now, at training camp. The team wants to contend this year, but there are spots open for players like him, who can both score and initiate passing plays and who boast at least NHL-average tools all-around.
Hendrix Lapierre, C Washington Capitals (22nd overall, 2020)
For a couple of weeks at the last training camp, it seemed like Lapierre would stick with the Capitals for the season. He performed great in many preseason games, showing that his playmaking abilities could translate to the top league. Lapierre will have to recapture the same magic in this year's camp. Still, he won't be gifted an opportunity. He will need to show improvements in his puck management and defensive play, his two main weaknesses in his last QMJHL season.
Chaz Lucius, C Winnipeg Jets (18th overall, 2021)
Lucius's chances of making the big club in preseason are slim, especially considering the organization's historical tendency to take their time with their prospects. Still, the center has to make an impression at training camp. The last couple of seasons hasn't gone his way. Injuries piled up, and his play in his first college season has left us wanting more. He remains a top prospect, but a great showing against close-to NHL competition would reaffirm that status.
You may also be interested in: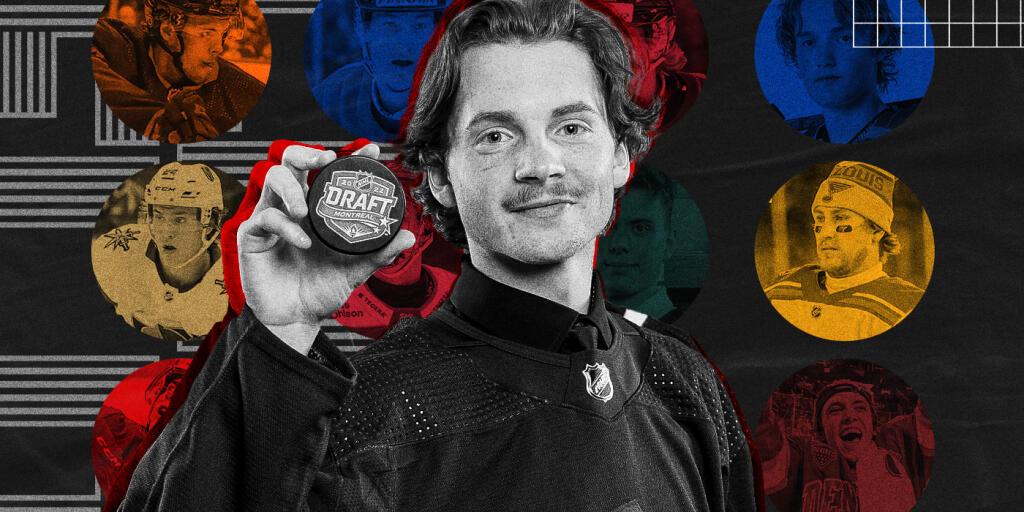 Ranking the NHL's top 100 affiliated prospects in 2022: Skaters 100-51
This article is about: