World Juniors 2023
Canada and Team USA announce 2023 World Juniors camp rosters
With the 2023 World Juniors only a few weeks off in the distance, it's getting down to crunch time as the competing nations put together the rosters they'll bring to Halifax and Moncton.
Today we got two massive announcements, with Hockey USA announcing their World Juniors camp roster early this morning and Hockey Canada following suit with a like announcement in the afternoon.
The American camp roster features 32 players, four first-time draft-eligible skaters among them, while the Canadians only brought 29 players to their camp with two first-time draft-eligible skaters.
Before we get into each team's roster, let's take a moment to remember that just because a player doesn't make a team's camp roster doesn't necessarily mean they won't make their country's World Juniors team. There's still plenty of hockey between now and puck drop on the tournament, and things can change.
And just because they're on the camp roster doesn't mean they've quite made the team yet. Difficult decisions are on the way, and cuts are coming. It's an unfortunate reality of the tournament.
Here's how it all shakes out:
Team USA
The Americans brought a characteristically heavy, skilled group upfront with more than its fair share of surprises and curious omissions. Meanwhile, their blue line has a contemporary feel to it, with skating and puck-moving ability standing out as clear priorities in the roster construction process.
It's in-goal where the Americans are most vulnerable, with an unheralded group of netminders comprised of two undrafted goaltenders, one first-time draft-eligible puck stopper, and a sixth-round pick in last year's draft. Certainly, there's not a lot of star power in this group. If there's a (relative) weak link on this roster, that's it.
This group will look to build on last year's disappointing outing, a 4-2 loss in the quarterfinals to Czechia. They have the talent to do it, with several top-five draft picks lining their roster. The seven returning members from that summer World Juniors team are sure to have a little extra motivation too, after their early exit from that tournament. Here's how the roster shakes out:
Forwards: Jackson Blake (Carolina Hurricanes), Tyler Boucher (Ottawa Senators), Gavin Brindley (2023 NHL Draft), Kenny Connors (Los Angeles Kings), Logan Cooley (Arizona Coyotes), Jack Devine (Florida Panthers), Dylan Duke (Tampa Bay Lightning), Cutter Gauthier (Philadelphia Flyers), Noah Laba (New York Rangers), Ryan Leonard (2023 NHL Draft), Samuel Lipkin (Arizona Coyotes), Chaz Lucius (Winnipeg Jets), Cameron Lund (San Jose Sharks), Rutger McGroarty (Winnipeg Jets), Redmond Savage (Detroit Red Wings), Will Smith (2023 NHL Draft), Jimmy Snuggerud (St. Louis Blues), Charlie Stramel (2023 NHL Draft)
Defence: Sean Behrens (Colorado Avalanche), Shai Buium (Detroit Red Wings), Seamus Casey (New Jersey Devils), Ryan Chesley (Washington Capitals), Luke Hughes (New Jersey Devils), Lane Hutson (Montréal Canadiens), Aidan Hreschuk (Columbus Blue Jackets), Luke Mittelstadt (2023 NHL Draft), Jack Peart (Minnesota Wild), Ryan Ufko (Nashville Predators)
Goalies: Trey Augustine (2023 NHL Draft), Kaidan Mbereko (2023 NHL Draft), Tyler Muszelik (Florida Panthers), Andrew Oke (2023 NHL Draft)
Instant Analysis from our American regional scout: This year's American squad is highlighted by its steady defensive core. A considerable workload will be placed on tournament veterans Behrens and Hughes, but look for strong showings from Peart and Casey, both of whom are having breakout seasons with their respective college squads.
The offensive group, while talented, isn't nearly as sexy on paper as the group they brought to Edmonton this summer, which included Matt Coronato, Thomas Bordeleau, and Mackie Samoskevich. Nevertheless, returnees Cooley and Stramel, in addition to talented newcomers McGroarty, Smith, Gauthier, and Brindley will look to catalyze a still very dangerous American offence.
The Americans are coming into this tournament with something to prove. The quarterfinal loss in last tournament to the Czechs was a heartbreaker for head coach Nate Lehman and co. so don't be surprised if this team goes further than people expect in what should be a grudge match for the Americans. – Joey Padmanabhan
Canada
The Canadians, meanwhile, have assembled a pretty fierce roster all their own, headlined at the top by the two players pegged to go first and second overall spots in this June's draft. They've insulated those two with a forward group that can best be characterized as hard as nails, equal parts skilled and tough, and a well-balanced blue line with puck-movers, shutdown defencemen, and offensive dynamos – some players possess all three qualities at once even!
There's no shortage of experience in this group, either. This camp roster features 10 players from the group that took home gold in the summer World Juniors, each of which is a virtual lock to make their tournament roster. They know how to win, and so on.
Like their American counterparts, the Canadians won't exactly have a star-studded cast in goal. They're going into camp with four goaltenders duking it out for three spots, only two of which have been drafted, and none of which have prior World Juniors experience. The Canadians are talented enough that they only need their goaltender to be about average to give them a chance at gold, but that may not be a foregone conclusion in this tournament.
Forwards: Caedan Bankier (Minnesota Wild), Owen Beck (Montréal Canadiens), Connor Bedard (2023 NHL Draft), Zachary Bolduc (St. Louis Blues), Colton Dach (Chicago Blackhawks), Zach Dean (Vegas Golden Knights), Jordan Dumais (Columbus Blue Jackets), Adam Fantilli (2023 NHL Draft), Nathan Gaucher (Anaheim Ducks), Ryan Greene (Chicago Blackhawks), Riley Kidney (Montréal Canadiens), Zack Ostapchuk (Ottawa Senators), Brennan Othmann (New York Rangers), Joshua Roy (Montréal Canadiens), Reid Schaefer (Edmonton Oilers), Logan Stankoven (Dallas Stars)
Defence: Nolan Allan (Chicago Blackhawks), Ethan Del Mastro (Chicago Blackhawks), Tyson Hinds (Anaheim Ducks), Kevin Korchinski (Chicago Blackhawks), Carson Lambos (Minnesota Wild), Jack Matier (Nashville Predators), Evan Nause (Florida Panthers), Ethan Samson (Philadelphia Flyers), Olen Zellweger (Anaheim Ducks)
Goalies: Tyler Brennan (New Jersey Devils), Benjamin Gaudreau (San Jose Sharks), Thomas Milic (2023 NHL Draft), William Rousseau (2023 NHL Draft)
Instant Analysis from our Dir. of North American Scouting: Canada went heavy on the 2003-born age group, leaving behind several more skilled, superior players in return for experience. Not too surprising. The defence is headlined by returnees Zellweger, Del Mastro, and Lambos. Korchinski appears to have a real chance of making this team, especially given how little 5-on-5 impact many other blueliners on the squad have. With no returnees and no clear-cut top talent, how the crease shapes will be interesting to follow, too.
Bedard, Fantilli, Stankoven, and Othmann will star upfront; this team will go as far as they take them. The team's deep on hard skill, players who win battles, get pucks to the middle, and drive the net. But there's a real chance that Canada struggles with secondary scoring. If they do, it will make the omissions of Jagger Firkus and Matthew Savoie stand out even more.
All of that might not matter depending on who gets loaned to the tournament. Hopefully, Shane Wright will play. At this point, Mason McTavish, Dylan Guenther, and Wyatt Johnston seem unlikely, given their importance to the NHL clubs. – Mitch Brown
You may also be interested in: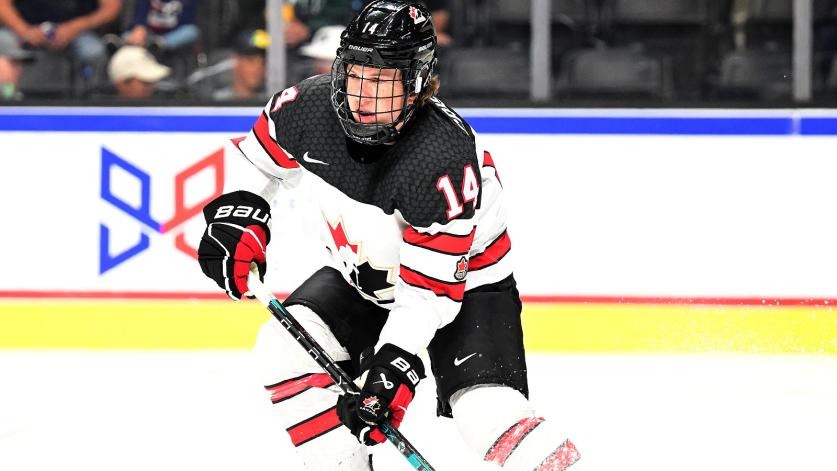 WHL Stock Watch: Welcome to the Andrew Cristall show
This article is about: