NHL Prospect Report
USHL Stock Watch: Will Smith emerging as the USNTDP's best in this year's draft
Scouts are increasingly coming to view the USHL as one of the more reliable sources for high-end talent at the NHL Draft. That trend is going to continue with this year's class, with five USHL skaters rocking an A-grade as first-round talents in NHL Central Scouting's preliminary list.
You're also starting to see more drafted prospects play out their draft-plus-one (and sometimes even their draft-plus-two) years in the USHL. It's all part of the league's evolution over the years into one of the sport's premier scouting destinations.
In this Stock Watch, we will take a look at a couple of players in the USHL who have already been drafted as well as a few who are eligible for this upcoming draft to see where they stand as we near the halfway point of the season.
Stock Rising
Will Smith, F, USNTDP U18 (2023 NHL Draft)
Will Smith came into the year as an important piece on an exceptionally strong USNTDP roster. This year, he's taken the next step as the team's star player. Centring a line with Ryan Leonard and Gabe Perreault,
Smith is the ultimate setup man, using elite vision and spatial awareness to create opportunities for his linemates. His rush game is mature for his age; he uses delays where appropriate and hits his support in stride.
With Smith, there isn't a singular skill that stands out necessarily. He's not a particularly quick skater nor does he have exceptional shooting ability, but he knows how to manipulate defenders with his upper body, he's agile enough to create separation at this level with a punch, and his awareness of when to use his tools allows him to be a great facilitator. If he continues to produce the way he has so far this season, it is possible he sneaks into the top 10 of this year's draft.
Jayden Perron, F, Chicago Steel (2023 NHL Draft)
Jayden Perron has been on a mission this year, breaking out as one of the Steel's primary offensive weapons and looking like the team's best player in many of his appearances. There's so much to love about Perron's game from the way he builds up speed and attacks defenders to his puckhandling ability and knack for finding teammates in space to create rush chances. He's got so much skill and can create offence in so many ways. Perron's feet are constantly in motion so even when he doesn't have the puck, he's supporting the play – he's always available as a give-and-go option or as an outlet valve, ready to furnish a one-touch pass to a wide-open teammate.
There's a lot to love about his game in the defensive zone, too. Perron works hard to tag his man in transition, reads plays nicely on the backcheck, cuts off lanes, and ties up his man. He's a complete player who with each game looks more like a first-round pick.
Sam Rinzel, D, Waterloo Blackhawks (Chicago Blackhawks)
We slotted Sam Rinzel at No. 32 in our 2022 NHL Draft ranking because of his unique blend of size, skating, and shooting ability. The Blackhawks first-rounder has continued to live up to the hype, returning to Waterloo for one final season before he heads to the University of Minnesota next year.
Rinzel's biggest upside is his offensive ability. Standing at 6-foot-4, he's learned to leverage his long stride and the linear crossover (in conjunction with his reach) to beat forecheckers and set up shop in the offensive zone. He's a strong, versatile shooter who can release pucks hard from his hip pocket or with his full weight behind him. He's got an element of deception to his shot, as well, employing stops and starts, pump fakes, and other toolsy moves from the point to find a lane, a skill that serves him especially well on Waterloo's first unit powerplay.
Rinzel's reach is a huge asset in his defensive game. He does his best to maintain a tight gap in transition and uses his reach to try to disrupt passes and kill rushes early with a poke check. Rinzel still needs to do a bit of work in the weight room as he's not nearly as physical as he should be given his size. Overall, Rinzel looks like he's taken a positive step forward in his game and could be a future top-four defender in a Chicago system desperate for talented young D.
Stock Steady
Will Whitelaw, F, Youngstown Phantoms (2023 NHL Draft)
Will Whitelaw is clearly one of the more skilled players out of North America in this year's draft. He's a deceptive shooter and puck handler who manipulates defenders with his hands to create scoring chances. Whitelaw is truly a one-man show; many of his best chances stem from building up speed through the neutral zone before attacking defensive triangles head-on or changing the shooting angle while using defenders as screens.
There's certainly a number of ways Whitelaw can generate offence himself but with all the skill he has, one wonders why he's not more of a playmaker. He mostly uses his teammates as decoys than actually distributing the puck to them, but he's so gifted that it still works out. On talent alone, he might be a late first or early second-round pick. He's shown enough flashes to keep his draft stock steady for now.
Stock Falling
Michael LaStarza, F, Sioux Falls Stampede (2023 NHL Draft)
Michael La Starza was one of my favourite prospects in last year's draft and I was shocked to see him get passed up. As one of the bigger names in this year's re-entry class, it has been surprising to see him struggle to find the scoresheet early.
Much of the two-way game is still there: his pace, effort on the forecheck, nastiness, and physicality. The offence has taken a step back though. La Starza had one of the best offensive delay games in his draft class and he's gotten away from it this year. There's less change of pace and more one-and-done rush plays toward the net. I'm hoping he can get his game back on track and earn a draft spot this summer.
Chris Delaney, F, Chicago Steel (2023 NHL Draft)
Chris Delaney really impressed me with his playmaking ability and skill at the USHL Fall Classic. As an undersized forward, Delaney is at his best when he's using his hands and lateral agility to create pockets of space for himself to maneuver and make passes. Recently, however, he's struggled to make an impact. Delaney has not leveraged his skating ability nearly as well as he can offensively, moving in straight lines far too often which allows him to get angled out early. His size also becomes an issue low in the offensive zone, where he struggles to get off the wall and usually gets hit or pinned. The skill is there, it's just about using it smarter against older competition.
You may also be interested in: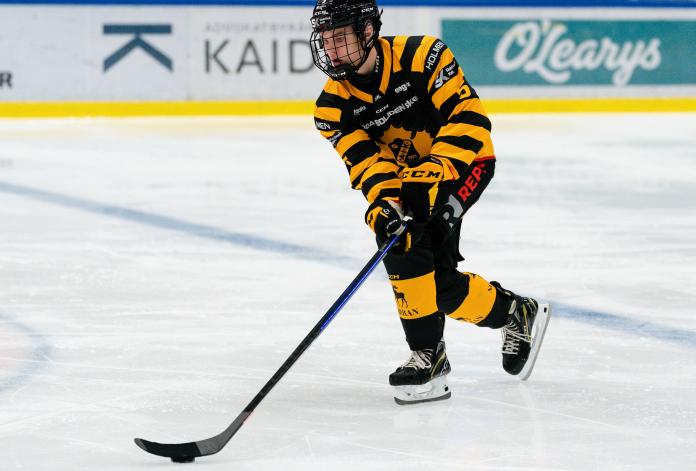 Sweden Stock Watch: Axel Sandin Pellikka's draft stock is soaring
This article is about: