NHL Prospect Report
Central European Stock Watch: Ondrej Molnár's been full value in Slovakia's men's league
It's shaping up to be a strong year for Czechia and Slovakia at the 2023 NHL Draft, with both countries set to play a huge role in the first round of this year's draft. Eduard Šalé is leading the charge, emerging as one of the year's top offensive threats. Ondrej Molnár, meanwhile, is establishing himself as a real difference-maker on a game-to-game basis. It's a good year for hockey in this part of the world.
As far as drafted players go, Maksymilian Szuber and Petr Hauser are honing their skills and playing well in their respective professional leagues. Adam Sýkora is continuing to establish himself as a pesky, hard-working forward in Slovakia. There are a lot of players in this neck of the woods taking that next step in their professional careers.
Let's take a look at who makes the cut in this month's Czechia/Slovakia Stock Watch.
Stock Rising
Ondřej Molnár, F, HK Nitra (2023 NHL Draft)
Molnár returned to his hometown HK Nitra for his draft year after suiting up for 30 games with them last season and chipping in with two points. He's a fun player to watch, solid in transition where he accelerates past defenders to produce end-to-end rushes. Molnár is already an above-average skater relative to his peers in Slovakia's top men's league – no mean feat.
If that weren't enough, Molnár's also an eager combatant in all three zones, using his speed to close on opponents and make their lives miserable, often stealing possession. He's no slouch with the puck either. He's a dynamic puck carrier, using his relentless motor to push the pace anytime he has possession of the puck. He handles pressure exceptionally well, too.
His decision-making with the puck and his overall vision as a passer leave a little bit to be desired, but there's plenty of runway yet.
Petr Hauser, F, HC Sparta Prague (New Jersey Devils)
A native of Plzen, he's since moved to Sparta Prague to ply his trade. It was there, in the capital city, where he played six games for the A-team in the top Czech competition but was also part of the local junior team. Now he is a part of the Baník Sokolov squad, a team playing in the second-highest Czech division.
Hauser played all the Extraliga games at an exceptionally strong level. He is a tall forward who has a good shot and moves well. Hauser seemed to manage the pace of the Extraliga well too, playing a physical brand of hockey and always keeping up with the play; he was a downright menace on puck retrievals.
With the puck on his stick, Hauser was calm, composed, and didn't make many mistakes. He brought energy every shift and coupled it with high-end hockey to form a pretty compelling package as an NHL prospect. Hell, you could even say he looks like a power forward.
His performance in the Extraliga was exactly why he was selected by an NHL team. Despite his skills needing to be sharpened though, there is a lot to work with.
Maksymilian Szuber, D, EHC München (Arizona Coyotes)
Szuber is getting no shortage of opportunities to prove himself in the DEL, playing on München's top pair. He's a big defenceman with decent range and four-way mobility, allowing him to close with force and take away space from opponents in the defensive zone.
Hardly a road-clearer, I thought Szuber moved the puck reasonably well in my viewings, too. He likes to push the pace and then activate into the play, often finding linemates with nice passes in the small area game. Still, the long-term projection of Szuber is that of a reliable defensive defenceman.
Stock Steady
Eduard Šalé, F, HC Kometa Brno (2023 NHL Draft)
Šalé made an incredible jump into the Extraliga to start his draft year, and that's where he's played ever since. It was a well-earned promotion too after Šalé put together a ridiculously productive draft-minus-one year last season with 89 points in just 39 contests in Czechia's top junior league. That 2.02 points per game clip is the highest such mark among anyone to ever play in the league for 30 or more games in a season.
Šalé has incredible offensive instincts and his first touch with the puck is so, so smooth. He can handle bouncing pucks in the toughest situations with great ease, playing with an awareness that allows him to create dangerous offensive plays. He uses crossovers to gain speed, moves smoothly and is always a standout skater in the Extraliga. His stride is smooth, and if he gets a breakaway, he's very hard to defend. He's also demonstrated his playmaking skills, but not as much as I expected him to. Šalé is exactly the type of player who can take advantage of situations and react quickly. He is a special talent.
Adam Sýkora, F, HK Nitra (New York Rangers)
Sýkora started the new season where he left off in the last one with HK Nitra in Slovakia's top league. He missed the start of the season with the team because of the New York Rangers camp and has been struggling as a goal scorer. Since his return from overseas, he has been spending time on the ice between the first and second line. He is also part of the power play unit.
Otherwise, he's still playing his style of game, pushing play with his unrelenting motor, forechecking with enthusiasm and a knack for playing the body. Sýkora's game is still defined by his two-way diligence as a dangerous, sharp player who works his tail off in all three zones. He can disrupt passing lanes, be physical and block shots. He can absorb hits and still stay on his feet. Offensively, he was prominent in the cycle game and puts constant pressure. Sýkora continues to be the definition of hard work and dedication.
Stock Falling
Jakub Dvořák, D, Bílí Tygři Liberec (2023 NHL Draft)
Jakub Dvorak, a talented defender from the Liberec academy, has made it to the A-team, where he gets regular opportunities to play, and he hasn't missed a single game yet. In 23 games he's recorded two assists. He even played over 17 minutes in one game. Dvořák projects as a shutdown defenceman who moves well around the ice despite his size. He is an offensive-minded defenceman who is not afraid to play deep in the offensive zone. However, Dvořák has problems defensively, has poor positioning, and can't close gaps well enough as he backs off way too low with the opponent's attack without much effort to take the puck away from them. The big defender concentrates more on the puck, which he chases down the ice, but he doesn't scan the situation around him enough, which usually leads to big scoring chances for the opponents. He is currently dealing with a broken collarbone.
You may also be interested in: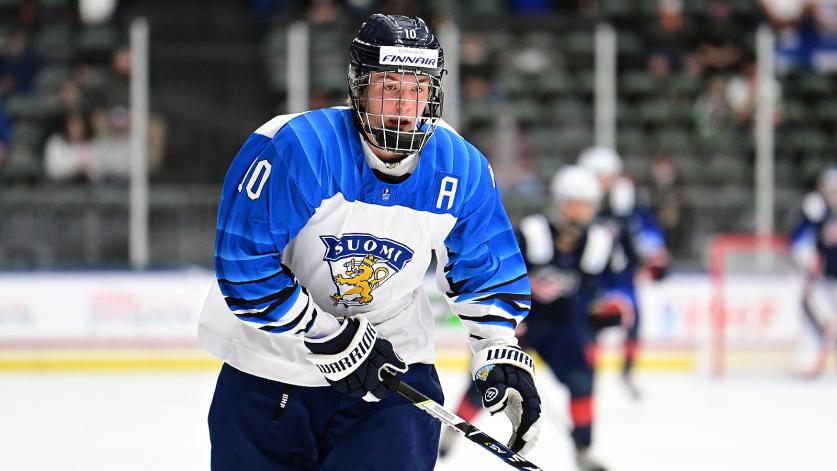 Finland Stock Watch: Topias Vilén exceeding expectations with the Pelicans
This article is about: