World Juniors 2023
EP Rinkside's 3 Stars from Day 6 of the 2023 World Juniors
HALIFAX, Nova Scotia – The World Junior Hockey Championships weren't supposed to happen in Halifax again.
The IIHF only gets to hold so many tournaments in Canada, and in the 20 years since the 2003 edition, the trend has been very clear: Big cities with big NHL-sized rinks that can sell out when Canada plays, college towns with outdated junior hockey barns are out. That's why it took a literal ground war in Europe to bring it back to the Maritimes.
Halifax isn't quite used to hosting major events, and when it does, bedlam can break loose. A series of major concerts on the Commons (the large public park in the middle of the city) like the Rolling Stones and Paul McCartney sparked a major corruption scandal; a Shania Twain show a few months ago had tickets re-selling for over a thousand dollars. The New Year's Eve game between Team Canada and Sweden, not exactly an instant classic but a cathartic 5-1 home win nonetheless, saw similar absurd prices as lines snaked around Scotiabank arena and Facebook groups saw seat that cost $15 at a Mooseheads game go for thirty times that.
The maniacal energy in the building was appreciated by all five Group A teams, even when they were on the wrong side of it. For Canada, the adoration was well-noted.
"Probably the loudest crowd I've ever played in front of, right from warm-ups," said Canadian goaltender Thomas Milic, whose steady 22-save performance assuaged any lingering concerns about the state of Canada's crease. Canadian head coach Dennis Williams agreed, calling the Scotiabank Centre "one of the loudest buildings I've been in."
Whether or not "Heave Away" was the first choice of the players, the clap-along Atlantic Canadian classic has caught on some quick (to use the local grammar) among the Scotiabank Centre crowd.
The fans also had plenty of vitriol ready for the referees, some of which was probably misplaced. Canada's team-building strategy prioritized roles for more utility-type players, but some of those guys (namely Zack Ostapchuk, Zach Dean, and Nathan Gaucher) have found themselves irate as they are called for plays that are fair game in the CHL but not so much under IIHF standards.
The team's penalty killing was stellar, but they are getting far too much practice. Now they take on a Slovak team which could have grabbed first place in their group if things had fallen their way today. The road to the semifinals will not be easy.
For Sweden, it was a second straight game in which they struggled to meaningfully drive play. Leo Carlsson (2023 NHL Draft) looked off, and Filip Bystedt (San Jose Sharks) and Fabian Lysell (Boston Bruins) weren't able to use their speed effectively. They've been out-shot and out-chanced in two straight games, and a matchup in Moncton with the Finns awaits. That's no easy matchup either, and a big improvement will be needed to get back to Halifax.
The Daily Scoreboard
Switzerland 4 - 3 Slovakia (SOW)
Czechia 8 - 1 Germany
Team USA 6 - 2 Finland
Canada 5 - 1 Sweden
1. Jimmy Snuggerud, RW, Team USA (St. Louis Blues)
Snuggerud was, by far, Team USA's best skater through the tournament's preliminary round. The Blues first-rounder put an exclamation mark on that run of play with a four-point performance to lead the Americans to a decisive 6-2 win over Finland to secure first place in Group B, scoring once and adding three helpers.
Snuggy on swivel 🚨#WorldJuniors | @JSnuggerud pic.twitter.com/whSC9XrPxj

— USA Hockey (@usahockey) December 31, 2022
It was a bit of an edifying performance for our staff. With JFresh stationed in Halifax, the rest of the EP Rinkside team has had to take in the Group B games on television or via stream, and we've got a real kick out of the way they talk about Snuggerud – to a broadcaster, they all seem enamoured with his shot and often describe him as a sniper. Meanwhile, we've long lauded Snuggerud for his playmaking.
In this play, you got a bit of both. Snuggerud goes flying down the wing on the rush play, and with the Finnish defender applying contact from the inside, he instead opts for a shot-pass right off of Aku Koskenvuo's (Vancouver Canucks) pad and directly to his Minnesota linemate Logan Cooley (Arizona Coyotes) for the tap-in goal.
🇺🇸 Team USA 🇺🇸 comes out swinging in the third period, jumping out to a commanding 5-2 lead with Logan Cooley's (#Yotes) goal.

Jimmy Snuggerud (#STLBlues) and Cutter Gauthier (#FueledByPhilly) the assists on the play.

🎥: @TSN_Sports pic.twitter.com/s2QyJDFHa4

— EP Rinkside (@EPRinkside) December 31, 2022
The other part of Snuggerud's game that impressed our scouts in his draft year? Offensive zone puck retrievals. He's an absolute force along the walls, cutting defencemen off at the hands, gaining inside positioning, and making second and third efforts to come away with the puck. His capacity to take those retrievals along the half-wall and push the puck inside for scoring chances is what makes him truly dangerous though. Just as he did on this play.
Luke Hughes (#NJDevils) steps into the point shot and hammers one past Aku Koskenvuo to give 🇺🇸 Team USA 🇺🇸 a 4-1 lead in the second.

Logan Cooley (#Yotes) and Jimmy Snuggerud (#STLBlues) the assists on the play.

🎥: @TSN_Sports pic.twitter.com/YPycwcyFJX

— EP Rinkside (@EPRinkside) December 31, 2022
There's just so much to like about Snuggerud's game, and if he keeps playing like this in the medal rounds, then he could be a real game-breaker for Team USA.
2. Brennan Othmann, LW, Canada (New York Rangers)
Othmann is an exceptionally talented hockey player, equal parts skill and meanness. He's got a really bright future ahead of him, so much so that we rated him as the 33rd-best affiliated skater prospect ahead of this season. But let's call a spade a spade: He was struggling through the first few games in this tournament.
Not tonight, though. Othmann got the proverbial monkey off of his back early, driving the net and finishing off the Shane Wright (Seattle Kraken) pass for his first goal of the tournament to give Canada a 2-0 lead in the first. It's the sort of play that the two have been making going back to their days with the Don Mills Flyers or on Canada's U18 team in 2021.
Brennan Othmann (#NYR) gets his first of the tournament, going to the net and finishing off the cross-ice passing play to give 🇨🇦 Canada 🇨🇦 an early 2-0 lead.

Shane Wright (#SeaKraken) and Connor Bedard (@WHLPats) the assists on the play.

🎥: @TSN_Sports pic.twitter.com/X48zYmuE8x

— EP Rinkside (@EPRinkside) December 31, 2022
"Many, many times," Othmann said of how often he and Wright have tried that play. "Shane just made a great pass; it's an easy backdoor tap-in for me. We've got to give credit to Shane on that pass. It was an outstanding play. He drives everyone to him, all eyes are on him, and he slides it backdoor. Great pass."
Othmann didn't stop there, though. The Rangers pick set up shop for another backdoor passing play and sent a one-touch finish on goal early in the third to give Canada a 4-1 lead and put this game out of reach for Sweden.
Brennan Othmann (#NYR) finishes off the passing play to pick up his second goal of the tournament.

Dylan Guenther (#Yotes) and Ethan Del Mastro (CHI) the assists on the play.

🎥: @TSN_Sports pic.twitter.com/NxWh4PUqg5

— EP Rinkside (@EPRinkside) January 1, 2023
"A hundred times better," Othmann said when asked about Canada's performance in this game. "I think we're playing more of a complete game," Othmann said of Canada's performance tonight. "We're back to that hard-nosed, grinding hockey, which we need to play, especially later on in a short competition. I thought we got away from that on Boxing Day, but now we're starting to get back to our game, and we're playing well. All four lines are contributing in their own way. Our backend is contributing. The goalie played great tonight."
"Yeah, it's special. I mean, we heard the crowd out there cheering, and it's just really special. We grow up watching the World Juniors as kids, whether it's the gold medal game, Boxing Day, New Year's – this was an important game for us against the Swedes, who played a hard game tonight – and so it was a special game to play tonight, for sure."
3. Jaroslav Chmelař, RW, Czechia (New York Rangers)
The Rangers have developed something of a type at the draft in recent years. They want hard skill, players who tower over their opponents, impose their will physically, and if they have a little bit of offensive punch, then all the better. The 6-foot-4 Chmelař probably had the Rangers scouts in attendance beaming with a performance like this one, scoring a pair of goals only a few feet out from the crease.
Jaroslav Chmelař (#NYR) finishes off the passing play to give 🇨🇿 Czechia 🇨🇿 a 3-0 lead over Germany in the second.

Jakub Brabenec (@IslandersHKY) and David Moravec (@HFXMooseheads) the assists on the play.

🎥: @TSN_Sports pic.twitter.com/kiNl1ZVocm

— EP Rinkside (@EPRinkside) December 31, 2022
"Yeah, I think with my size, it's really in my game, and I want to develop there in this tournament, and it's just started paying off a little bit," Chmelař said of his inside-driven, power game. "I'm so happy with our line, and we set it up for ourselves, and we just made good plays."
Jaroslav Chmelař (#NYR) finishes off the passing play to give 🇨🇿 Czechia 🇨🇿 a 3-0 lead over Germany in the second.

Jakub Brabenec (@IslandersHKY) and David Moravec (@HFXMooseheads) the assists on the play.

🎥: @TSN_Sports pic.twitter.com/kiNl1ZVocm

— EP Rinkside (@EPRinkside) December 31, 2022
"Yeah, I just gotta credit my teammates," Chmelař told EP Rinkside." They just set me up, and I finished it. It's just an unbelievable job from them."
The data doesn't quite align with Chmelař's assessment. According to Lassi Alanen and Mitch Brown's manually tracked data set, the Czech forward had eight shot contributions and finished third on the team in game score rating. Hardly passenger-type numbers.
Still, Chmelař remains humble, with his eyes on the prize, saying, "we played our game, but we made some mistakes at the end, which we don't want to do, and we just want to keep going."
"The important thing is we want to stay here, you know, we don't want to move. So we're going to watch it, but it's in their hands."
---
Let's give it up for Rodwin Dionicio:
Rodwin Dionicio should've been a pick in last year's draft, full stop. You already knew that if you read the Elite Prospects 2022 NHL Draft Guide, though. We ranked him No. 87 on our final board, citing his physicality, creativity with the puck, and offensive tools as the main draws to his game. You got to see at least one of them on full display on Tuesday when Dionicio launched a howitzer from the offensive blue line to send their game against Latvia to overtime – one they eventually won.
And we're going to overtime! Rodwin Dionicio (#2023NHLDraft re-entry) finds the back of the net with a howitzer from the point to make it a 2-2 hockey game for 🇨🇭 Switzerland 🇨🇭

Lian Bichsel (#TexasHockey) and Attilio Biasca the assists on the play.

🎥 : @TSN_Sports pic.twitter.com/DO3Aa6My9v

— EP Rinkside (@EPRinkside) December 27, 2022
Today, you got to see what a slick set of hands Dionicio's got. With Switzerland once again going to the shootout, this time against Slovakia, the Niagara IceDogs defender got the call in the 10th round. What followed was one of the cooler goals of the tournament and the undisputed best celebration of the World Juniors – you can lock that second part in, because nobody's topping this.
Rodwin Dioniocio (#2023NHLDraft re-entry) wins it for 🇨🇭 Switzerland 🇨🇭 in the 10th round of the shootout with a sick set of moves...

And then he hits 'em with the gritty for good measure!

🎥: @TSN_Sports pic.twitter.com/e8Vpn183Ql

— EP Rinkside (@EPRinkside) December 31, 2022
Turns out, Dionicioisn'tt just a really good defenceman. He's also cool as hell. Here's hoping some team takes notice and calls his name at next year's draft in Nashville.
Highlight of the day
I'll be honest with you. I just want to post Dionicio's griddy again. In its stead, I offer you this goal from Slovak forward Servác Petrovský (Minnesota Wild) – one of two in this game, a star-worthy performance in its own right, if only we had a fourth one to hand out.
Servác Petrovský (#MnWild) sneaks behind the Swiss defence and snaps one top corner to regain the one-goal lead for 🇸🇰 Slovakia 🇸🇰. They lead 2-1 in the second.

Filip Mešár (#GoHabsGo) and Libor Nemec the assists on the play.

🎥: @TSN_Sports pic.twitter.com/ubBAjaWLjl

— EP Rinkside (@EPRinkside) December 31, 2022
Let's also take a second to check out this wicked passing play that resulted in LaneHutson's (Montréal Canadiens) first goal of the tournament.
Lane Hutson (#GoHabsGo) gets in on the action with a goal of his own, giving 🇺🇸 Team USA 🇺🇸 a 6-2 lead.

Jimmy Snuggerud (#STLBlues) and Logan Cooley (#Yotes) the assists on the play.

🎥: @TSN_Sports pic.twitter.com/dPJN1WnbJh

— EP Rinkside (@EPRinkside) December 31, 2022
Preliminary Round Elite Prospects All-Star Team: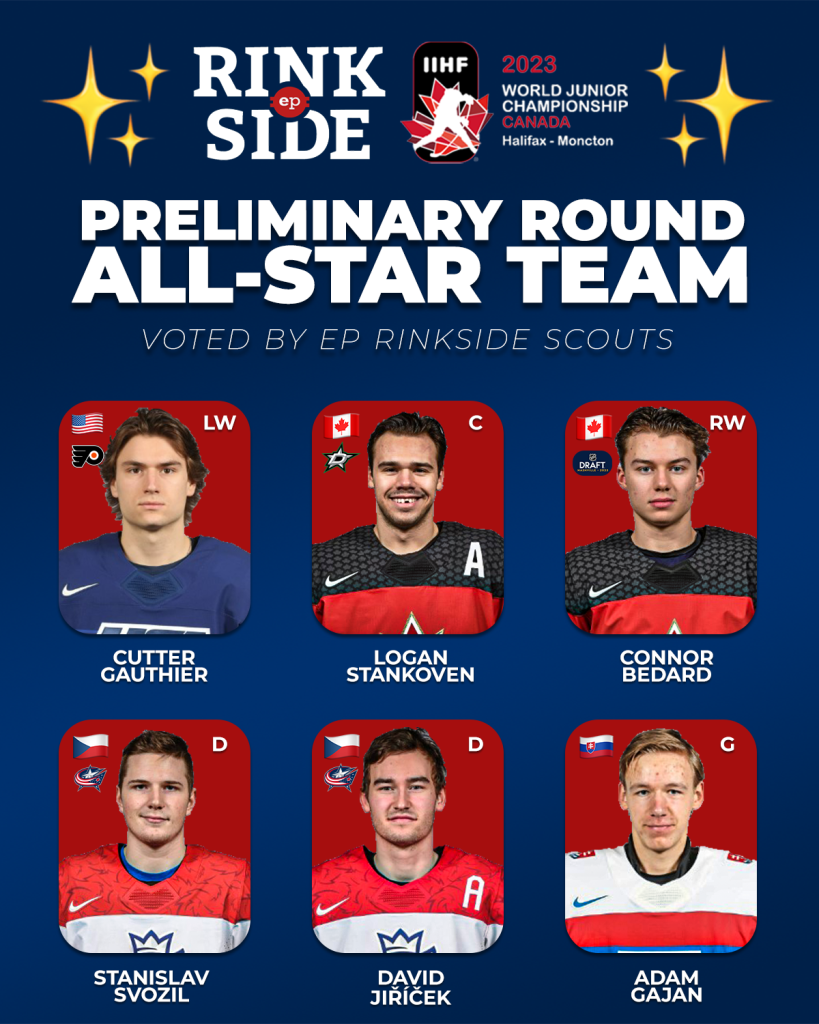 Your World Juniors stats for the day: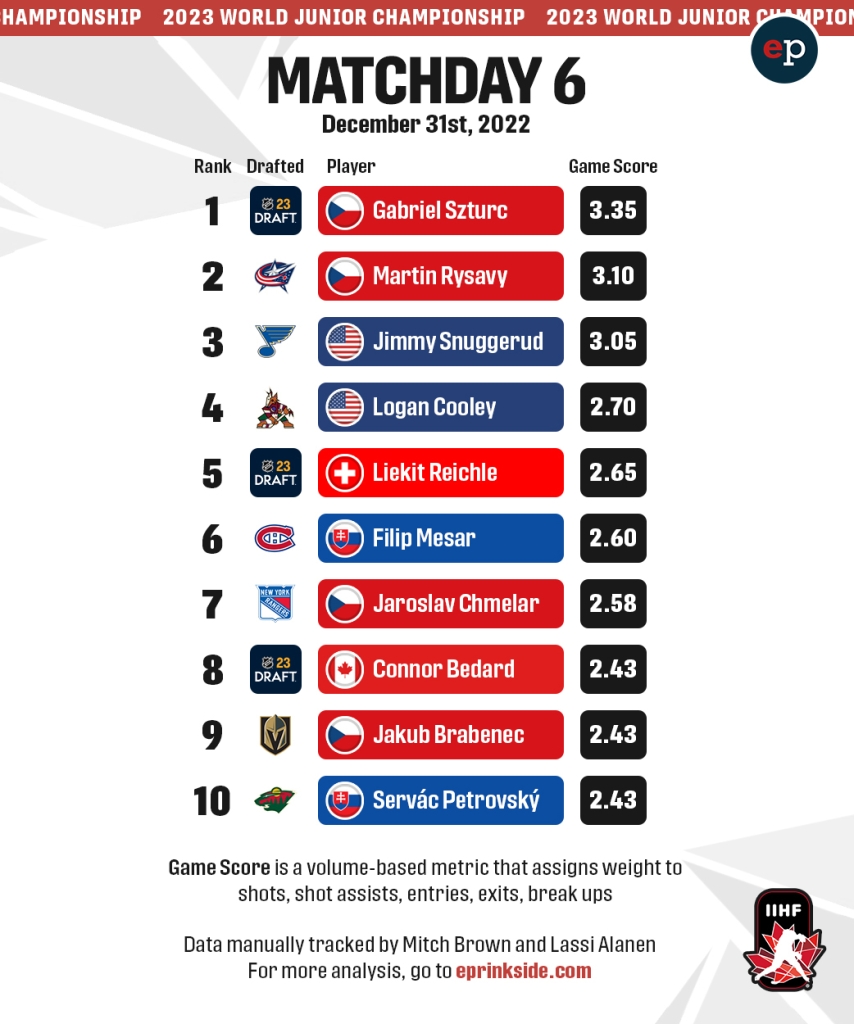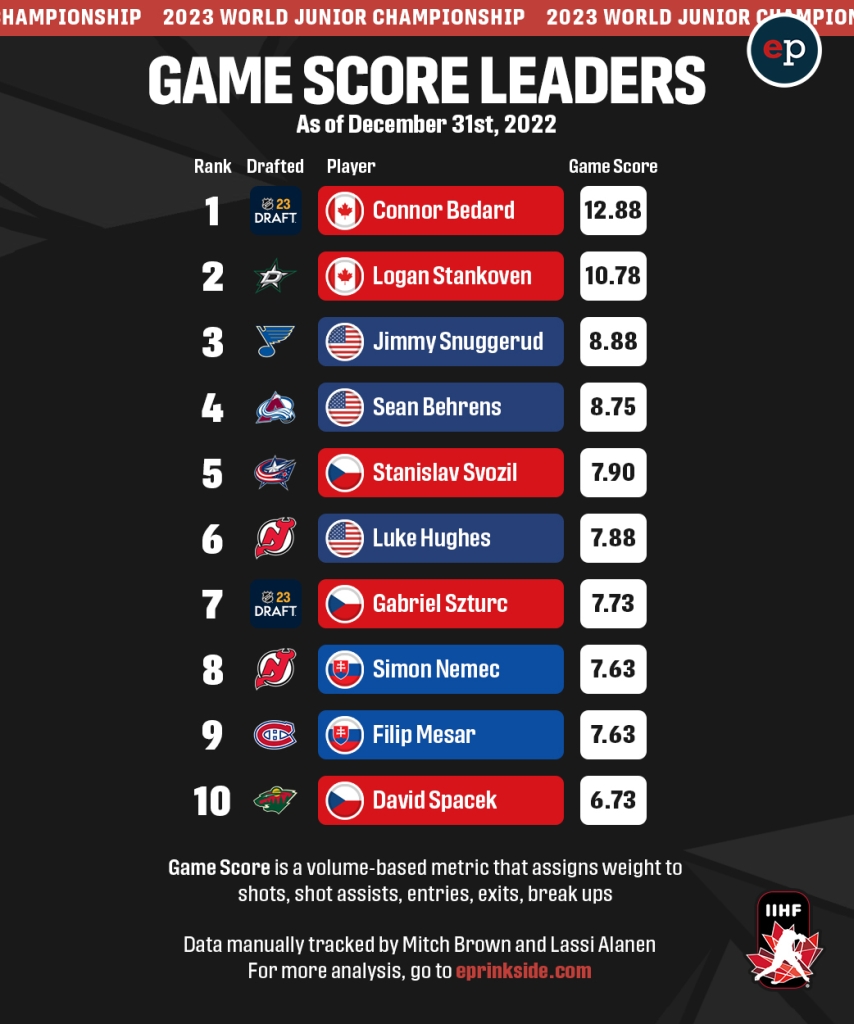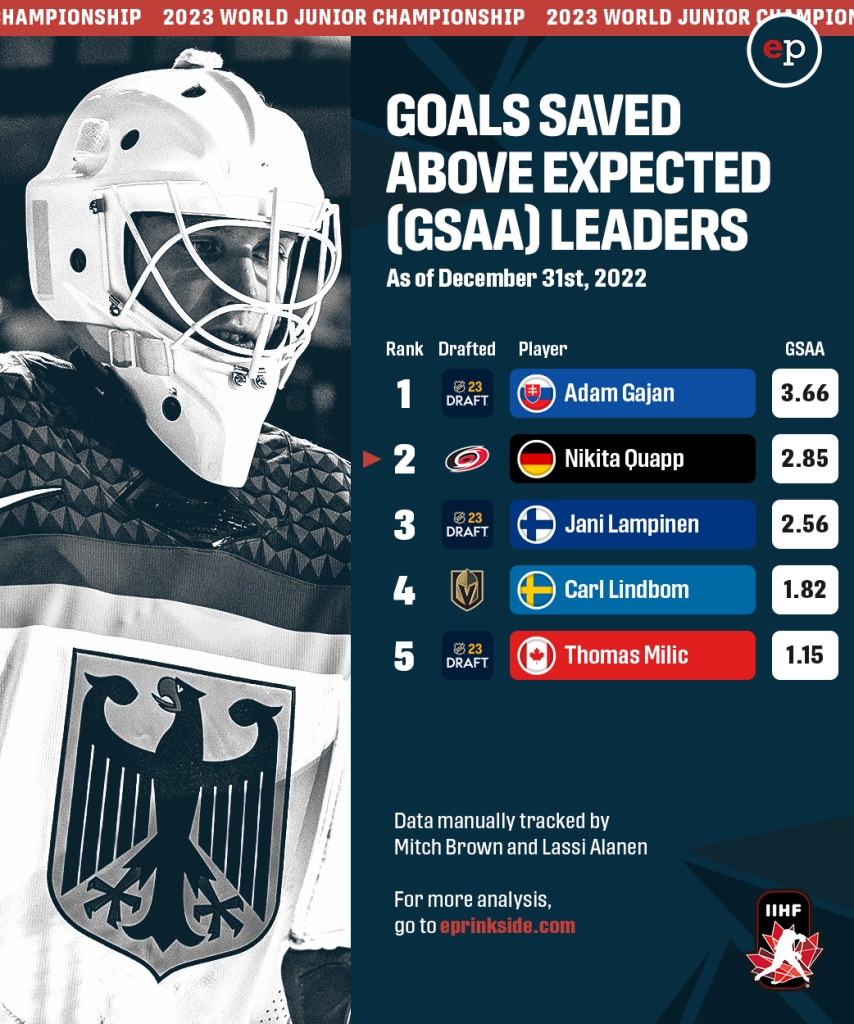 You may also be interested in: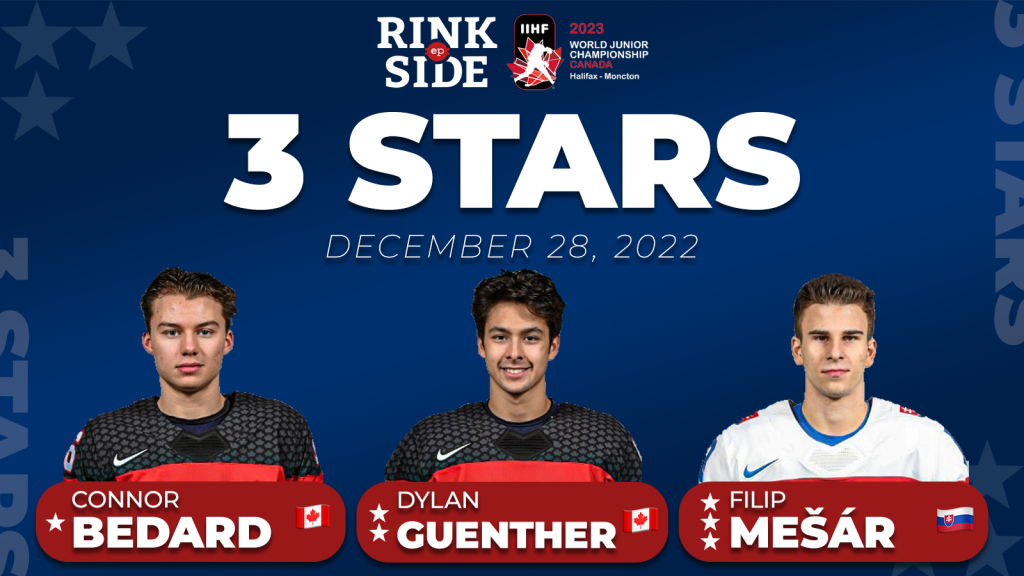 EP Rinkside's 3 Stars from Day 3 of the 2023 World Juniors
This article is about: