2023 U18 World Hockey Championships
EP Rinkside's 3 Stars from 2023 U18 World Hockey Championship quarterfinals
BASEL & PORRENTRUY, Switzerland – From the IIHF's second division to the U18 World Hockey Championships semifinals in the space of the year. With today's impressive 3-2 win over Finland, Slovakia made it happen.
All it took was total buy-in from everyone on the roster and a red-hot centre with aspirations of going in the first half of the first round of this year's draft to make it happen.
"It was a fast and tough game for us," Slovak head coach Tibor Tartal said. "We played great in the neutral zone and had a good forecheck."
You need your best players to lead the way in these tournaments, and that's what happened. The Finns came out shaky, and Dalibor Dvorský pounced, batting a puck in for the 1-0 goal barely 36 seconds into the game. A lead they never relinquished.
Patrik Masnica extended the Slovak lead to 2-0 at the beginning of the second period, redirecting a Dvorský shot past Finnish goaltender Eemil Vinni. Then Adam Cedzo threw another shovelful of dirt on their coffin, burying the Juraj Pekarcik feed on the counter-play.
"You always need a first line that can score goals, but we have two, three other lines that also did their job," Tartal said.
The Finns would mount a late effort to get back into this hockey game, eventually pulling to within one of the Slovaks, but the hole was too deep.
The Slovaks bent, but they didn't break. They were diving like wild to block shots and goaltender Samuel Urban made quick work of what got through, with only the two exceptions, against 56 shots. It was an unbelievable performance from the draft-eligible tender.
"We knew that Finland would produce more shots in the third period, but we stood alone together and we did it," Tartal said after the game.
Slovakia held on and advanced to the semifinal, their first in 23 years. "It's crazy, magical. We are thrilled to be there, but we're not done yet. We have a crazy team spirit; that's our strength," Dvorský said after the game.
Next up for Slovakia: An American team that entered the tournaments as heavy favourites and have been a veritable buzzsaw, amassing a 41-7 goal differential to this point in the proceedings.
"We have the mindset that we're going to win, and we'll play the same way we did today. We just gotta keep playing our game," Dvorský said.
1. Macklin Celebrini, C, Canada (2024 NHL Draft)
It was going to be hard for anyone to show up the Americans at St. Jakob's Arena in Basel, but the way Macklin Celebrini played today was a reminder that the Canadians have the horses to keep up with them in a back-and-forth when they're at the top of their game.
Because look, I've been watching Cole Eiserman put dents in the posts and drive holes through the boards with his shot for a week now, but I haven't seen anything like that first goal Celebrini scored in the first period of today's game. The precision. The power. That sweet, sweet sound of the puck on metal as it went bar down. That was an NHL-calibre shot.
Macklin Celebrini rips a shot on the powerplay to get Canada on the board first 🔥 #2024NHLDraft

🔗: https://t.co/YQIL2xaRI2pic.twitter.com/bvfzVRyTKZ

— Elite Prospects (@eliteprospects) April 27, 2023
Celebrini's second goal was pretty damn special, too – a one-touch release off the rush, set up by linemate Matthew Wood on the rush play.
"He's an exciting player, a dynamic player who does everything with speed," Canadian head coach Jeff Truitt said after the game. "He makes the right reads, has a great shot, and he's a tremendous talent. He's a driver on that line with two really good linemates that compliment him, and he complements the other two, so it's pretty good chemistry there."
Now, did Celebrini overhandle the puck? He sure did. Was his play selection a bit spotty at times? Yeah, I would say so. But you want your star players to have the freedom to take a game over, and eventually, that's what Celebrini did today.
His whole line was great, Wood and Calum Ritchie both putting in excellent work on the flanks, but it was Celebrini who drove the bus.
The Canadians face Sweden in the U18 semifinals on Saturday, at 7 PM local time, 1 PM eastern, and they'll do so with revenge on their mind after the Swedes embarrassed them 7-0 in the tournament's first game.
2. Dalibor Dvorský, C, Slovakia (2023 NHL Draft)
There's no doubt about who the MVP is for Slovakia at this tournament. Hell, maybe even for the tournament period. Because no one has had a more significant impact on their team's success than Dvorský at these U18s.
The Slovak centre is just a machine all over the ice. He's their best defensive player. He's their best, highest-scoring forward. He's their go-to guy in every situation. The Slovaks will go as far as Dvorský can take them.
Take this stat for example: Dvorský has been involved in eight of Slovakia's nine goals.
"It's fun, always nice to score goals. But I feel I haven't done anything on my own," Dvorský said after the game. "I get great passes from my linemates, but of course it's fun."
There's truth to this. His linemates Pekarcik and Cedzo also had a terrific game. Together they were behind every goal and almost every chance that Slovakia created.
"I think we have a good chemistry in our line," Dvorský said. "Peki and Cedzo are really good players, it's just fun to play with them."
The whole Slovak team seems to be having fun right now. They are hitting it on all cylinders and playing for each other. It's a formula for success, clearly.
DALIBOR DVORSKÝ OUT OF MIDAIR 😱🔥 Slovakia takes a 1-0 lead 36 seconds into the game! #2023NHLDraft

🔗: https://t.co/WyLUg11zg3

pic.twitter.com/JEExXzCu3X

— Elite Prospects (@eliteprospects) April 27, 2023
"We have always known that he's a leader. He played very well in the first game against Czech Republic. He needed to be calm and play our game. That's the way he's able to play at this level," Tartal says.
One goal, an amazing display of hand-eye coordination, and two slick assists later, Dvorský earned Best Player of the Game honours.
"He has a shooting instinct and he's very strong with the puck. He can find space on the ice where he's able to score," Tartal added.
Dvorský himself – and everyone in the stands, for that matter – agrees with that description.
"I think I'm a good offensive player with a good shot, strong on the puck and a good understanding of the game. I'm a two-way centre," Dvorský said. "I play like myself, but when scouts ask me [who I model my game after] I usually answer John Tavares or Anze Kopitar. I think I'm similar to them. Both are really strong on the puck and have a similar skill set as me."
3. Danny Nelson, C, USA (2023)
I'm not sure if Danny Nelson was really the best player of the game for the Americans. That was probably Ryan Leonard, again. But it was nice to see him get rewarded anyway. He's played about as thankless a role as possible for the Americans, centring their fourth line, taking on tough defensive assignments, and playing a bit on the penalty kill.
"I just try to take advantage of the opportunities that I do get, and when I'm on the ice, I try to make the most of it," Nelson said after the game.
You can't say that he didn't in this game. Only about 10 minutes of ice time, and Nelson scored perhaps the most critical goal in the game, the one that put this out of reach for Czechia and really sealed the American victory.
Team USA dominated Czechia territorially but only carried a 2-0 lead going into the third period. Czech forward Eduard Šalé sent a shot-pass off American goaltender Trey Augustine's pads and to his teammate (and long-time best friend) Dominik Petr, who sent it home to make it a 2-1 game late.
"I just liked how we stayed with it," Nelson said. "They came back and got one late in the game, and we were up 2-1 still and just kept playing the same way that we had the whole game, and that led to the win."
"My linemate [Beckett Hendrickson] was below the goal line, and he saw me in the slot. He gave it to me and I buried it. It was nice to bring the momentum back. It felt like it brought the energy back on the bench too, which was good."
Now the Americans are set for a semifinal match with the upstart Slovaks, scheduled for 3 PM local time, 9 AM Eastern.
You may also be interested in: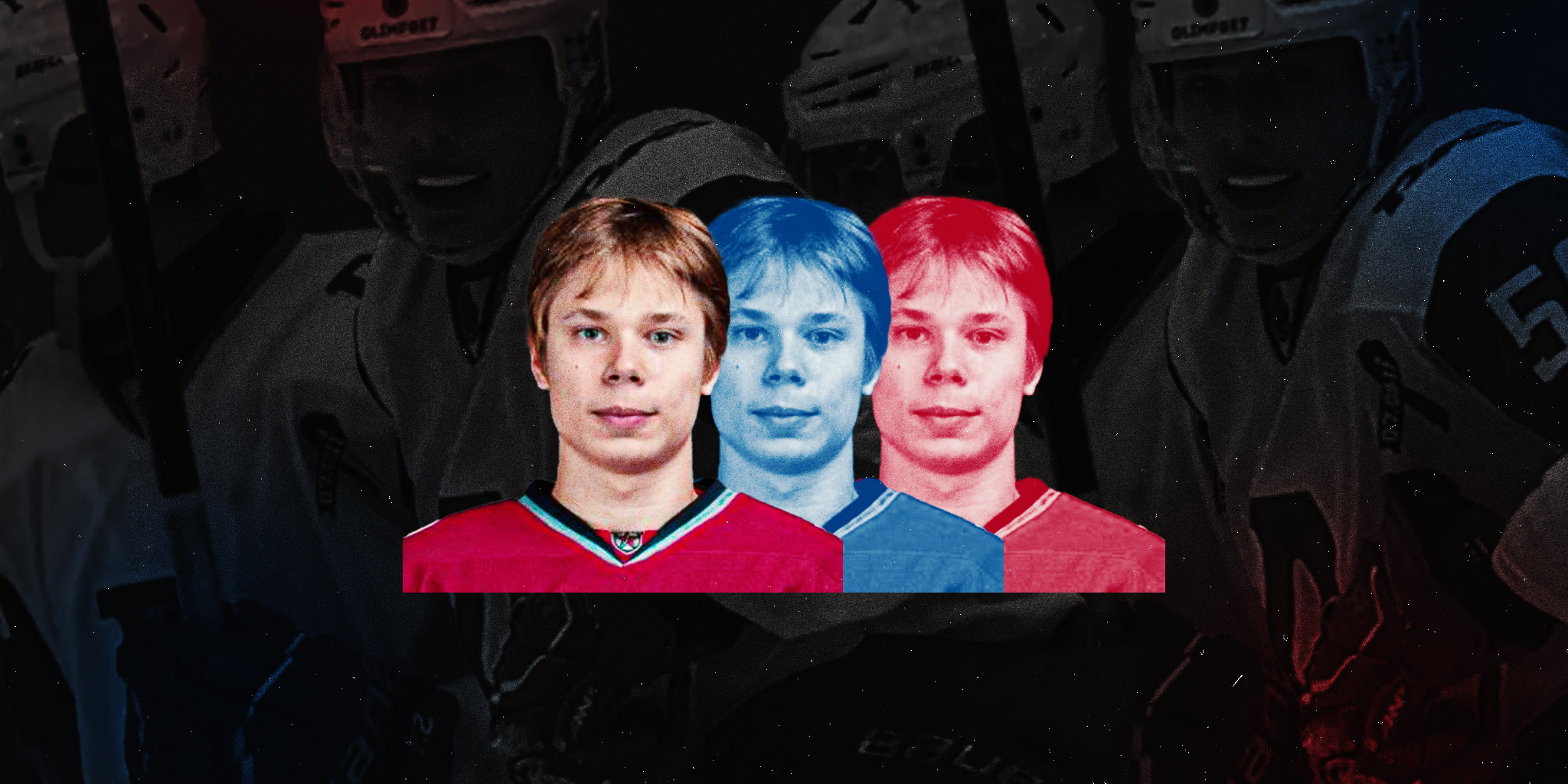 Daniil But is one of the mystery boxes in the 2023 NHL Draft Class
This article is about: