2023 NHL Entry Draft
Scout's Roundtable: Our hottest 2023 NHL Draft takes
Alright, now that the Stanley Cup has been awarded and all attention has shifted to the 2023 NHL Draft, it's time for another Scout's Roundtable. And we're coming out swingin' with this one.
We're going to borrow an idea from my favourite fantasy football podcast and do our own version of The Ringer Fantasy Football's Take Purge. This won't need much explaining if you've seen The Purge films, but I'll walk everyone through it for those who haven't – and you should watch them, because they're mostly pretty good!
Basically, in the movie, all laws are suspended for 12 hours, and people are allowed to run wild and do whatever they want in that time period. The same premise holds for The Take Purge. You can say whatever you want and put the most outlandish takes into the world without any fear of reprisal or any accountability.
Now that you get the basic premise, here's what the EP Rinkside scouts had to offer up as their wildest, most outlandish takes for this year's draft. And remember, you cannot hold us accountable for these takes.
CAM ROBINSON: Connor Bedard hears his name called first overall by the Chicago Blackhawks. But when he comes on stage, he's not wearing the sweater. He's not smiling. He's not going to Chicago. Thirty-two years after Eric Lindros set a new draft precedent, Bedard does the same and demands a trade before ever skating for the team. Chaos ensues, and the hockey world finally lands on the international sporting scope. You asked for fire, you got it.
MITCH BROWN: I have so many, but here's one: The best defenceman in the draft won't be David Reinbacher, Dmitri Simashev, or Axel Sandin Pellikka. It will be one of the toolsy/high-skill late-first and beyond players, like Tanner Molendyk or Beau Akey. I'll say Akey. Less explosive than Molendyk but just as exceptional defending the rush. One of the best 1-on-1 defenders in the CHL – he's suffocating out there with his mobility, stick work, and timing. And while we don't see a ton of offence from him, the flashes are exciting: Weak side activation for one-timers, give-and-goes where he draws opponents first, and manipulation from the point. With Brandt Clarke leaving next season, maybe he gets the green light to run wild. With that mobility and those flashes, he could go off.
Or, it could be Rodwin Dionicio, who scored 1.3 points per game with the Windsor Spitfires. One of the smartest offensive players in the draft, forwards included. No other blue-liner in the draft manipulates opponents like him – he gets defenders moving in 17 different directions at once. It's incredible stuff. He's an offensive powerhouse. And when he played forward late in the season, he outplayed Shane Wright in a couple of those games. It all depends on those feet.
DAVID ST-LOUIS: I have a good feeling about Daniil But. It's not based on anything really all that tangible, as when you look at all the variables, I think we have him in the right place on our board. But, he has this boom profile. If he can become just a bit more mobile, meaner and continue to develop the tactical side of his game, I think you could see him become a pretty unique top-line, playmaking, power forward.
Noah Dower Nilsson had one of the best performances of any prospect in this single J20 game. I rewatched that game recently and was still amazed at his potential. I don't think we got the right picture of him in his draft year. He's a B-level prospect who could quickly become an A over the next two years.
And I think people will become much more excited about Luke Coughlin's potential over the following years. I see top-four NHL elements in his game. He's a bit of a long shot, especially at his size, but he didn't get the chance to show his full talent this season.
DANIEL GEE: Koehn Ziemmer, despite possessing some of the poorest skating mechanics in the draft, perseveres and ends up being better a more valuable NHLer than Riley Heidt, Andrew Cristall, and maybe even Samuel Honzek. His small-area handling, shooting mechanics, physicality, off-puck activation, and rapidly developing playmaking flourish in the years to come. The team that drafts him will undoubtedly help him with his stride, but improving his edge work and power generation should pay instant dividends and unlock more opportunities to leverage his first-round quality tools. The flashes of brilliance become more pronounced, he plays even meaner and develops into a truculent scoring winger who brings a unique dimension to an NHL team's top six in the future.
Bradly Nadeau breaks the recent BCHL to NHL translation curse and becomes one of the top scorers out of this draft. His shot remains his biggest separating tool and he absolutely terrorizes goaltenders on his way to the NHL. Curl-and-drag inside foot angle-changing shots and blistering one-timed attempts help him rapidly ascend to the pro level where he makes an immediate impact on an NHL powerplay. His off-puck movement and pacey play only help him score more in the years to come. I think his playmaking develops into a plus skill as he adds more nuance to his game. There's little that is more dangerous than an elite scorer leveraging the threat of their shot to freeze defenders and find more open teammates.
ST-LOUIS: Not to jump on Daniel's bandwagon, but I wrote Nadeau's Film Room and, yeah, maybe he should have been higher on our board. It's hard to stop praising his skills and the upside is massive.
LASSI ALANEN: Felix Nilsson ends up being a top-20 player from this year's class. I still feel like he's being significantly undervalued by many, especially after he missed the U18s with an injury and many of his Swedish peers had good performances at the tournament.
For my money, Nilsson was the best draft-eligible forward at the J20 level, especially if you look at the entire body of work throughout the season. There's a lot to like: very good reads and overall intelligence, very good playmaking habits, good skill level, very inside-driven and competitive. Skating improved throughout the season and he started to look more and more dynamic off the rush and as a puck carrier in transition. Showed he can already hold his own in the SHL in limited minutes. Also relatively young for the draft.
The question is whether he's truly dynamic enough for this type of projection, but there were times when he looked like a borderline first-rounder. I think there's a very, very strong likelihood that he'll end up outperforming his draft spot (given he'll likely fall outside of the top-45).
Here's another one in a similar vein: Tuomas Uronen ends up as the best player from this year's class of Finns. Kasper Halttunen and Lenni Hämeenaho are the consensus top-two players at this moment, with outside consideration being given to names like Jesse Kiiskinen and even Rasmus Kumpulainen. But given how weak this class is for Finnish talent (we didn't end up including any in our top-55), Uronen could sneakily end up at the top when we look back in five years. He's more well-rounded than any of the others. He reads the game at a level close to Hämeenaho but has superior skating chops. He doesn't have Halttunen's release (not even close) or physical element, but he's smarter and a more consistent distributor. Much like Nilsson, he's not the most dynamic forward but does everything at a good level and remains an underrated prospect in my eyes.
SEAN SHAPIRO: I'm coming out of left field (or the goalie crease) on this one and calling that Hampton Slukynsky will be an NHL starting goalie in about seven years. The 17-year-old has made every development decision about playing time thus far, choosing not to spend time with the USNTDP full-time so he could start a full season at Warroad and wouldn't be blocked from playing time behind Trey Augustine at the program. He picked a non-traditional power, Northern Michigan, for college so he'll get that chance to play early and often in his college career. Long slow build for this one, but someone is drafting their goalie of the future in this guy even if it won't be heralded that way on draft day.
BROWN: Well, if we're going that deep... Philippe Blais-Savoie, who scored just 11 points in 61 games, becomes a "how did this guy go that late" guy as soon as next season. He returns to the USHL next year, scores a bunch, and piles up the highlights along the way. Readers of The Elite Prospects 2023 NHL Draft Guide already know, but the production doesn't do his game justice. He's such a crafty activator and has the passing and shooting skills to create opportunities once the puck arrives. If he can up the consistency and tighten the handling just a bit, points will come easy and often for him.
If I have one regret from the draft guide, it's not getting in enough Anthony Romani viewings before we finalized the board. One of the smartest transition passers in the draft class. Carves up the opposition with long-range, cross-ice bombs. Has a pretty diverse skill set, too: Shooting, passing, defence, physicality, off-puck instincts. If he builds off the deception he flashes in space, watch out. Another who could become a top prospect out of nowhere next season.
J.D. BURKE: Alright, my turn. And I'm going way off the board with this one. My take is that Charlie Stramel is going to play so damn well as a sophomore that he'll be a consensus top-10 pick by this time next year in 2023 redrafts. Every single part of his pre-draft profile right up to playing at Wisconsin as a true freshman is sterling. We're talking almost a point a game on the NTDP U18 squad as a draft-minus-one, almost a point a game at the U18s in that same year, about half-a-point-a-game in his draft year at the World Juniors — these are really damn good numbers, usually indicative of high-end talent.
Look, are we really going to hold it against Stramel that he couldn't find a way to produce on the 2022-23 Wisconsin Badgers as a true freshman? This was a team with virtually no structure and precious little scoring talent upfront. On top of it all, they threw Stramel right into the deep end, tasking him with a matchup role against the opposition's best night-in and night-out. Frankly, it's a miracle that he only looked like a bland, bottom-of-the-lineup projection rather than outright terrible.
With Mike Hastings showing up and installing a highly regimented system that's about puck support, structure, and playing as a five-man unit, Stramel is going to flourish. Especially with the influx of talent that followed the Hastings announcement.
You may also be interested in: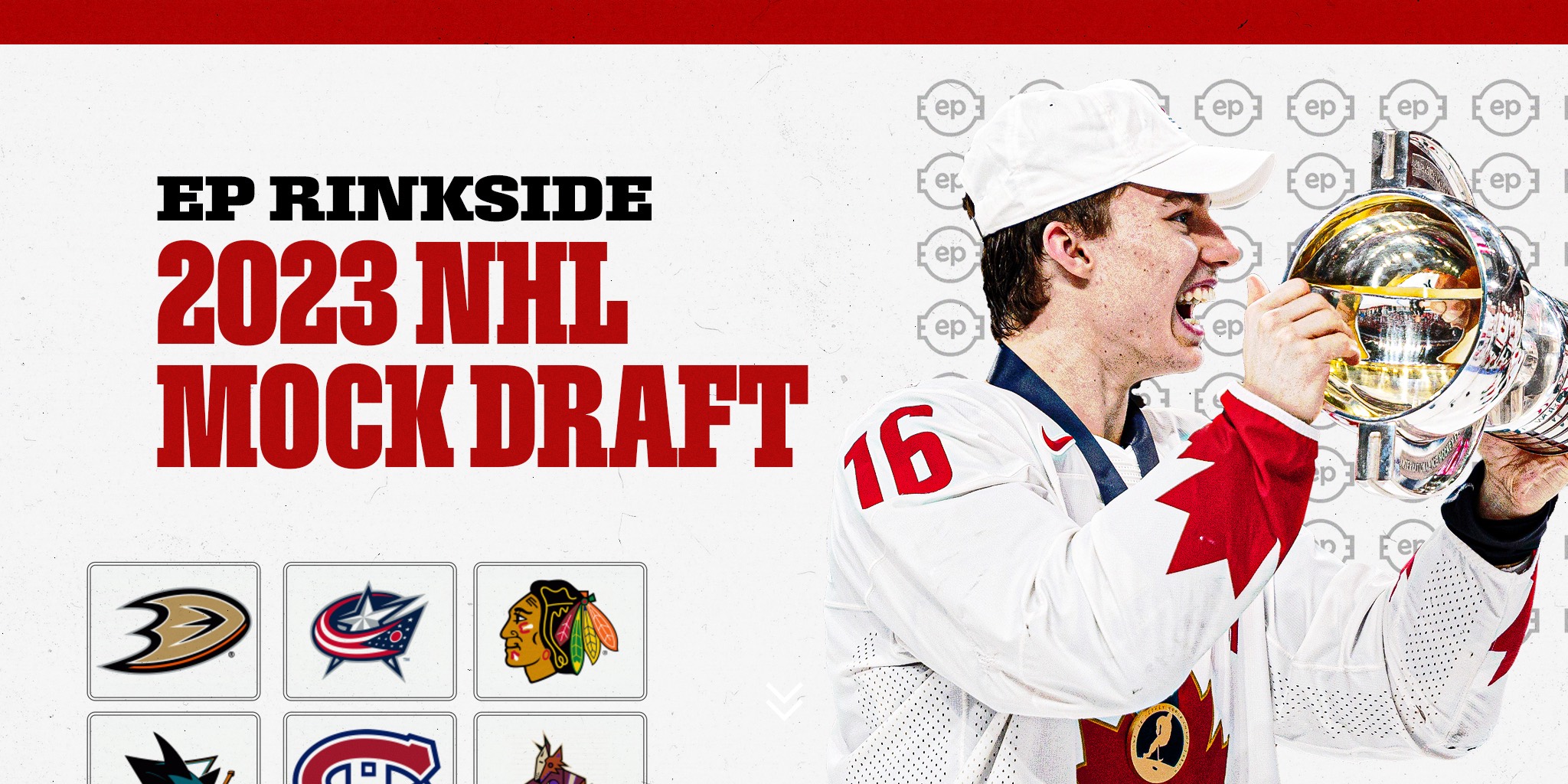 The EP Rinkside Post-U18 2023 NHL first-round mock draft
This article is about: