2020-21 Trade Deadline
Odds and Ends: The last salvo of deals from the 2020-21 NHL trade deadline
The 2020-21 NHL trade deadline proved to be a lot more fruitful than perhaps anyone anticipated. If we use
last week's
Kyle Palmieri
and
Travis Zajac
to the New York Islanders deal
as a stand-in for when it all started, that's about 30 trades, by my count, with 17 making it in today before the league's 31 teams crossed the 3 PM Eastern finish line.
It's a lot! And some of it, frankly, doesn't warrant an entire article unto itself. So, let's spare me the work, and spare you the tortured logic of each relatively inconsequential deal standing as its own piece.
Here are some of the odds and ends that round out the entirety of the 2020-21 trade deadline, bunched together to make them as accessible as possible.
---
Montréal Canadiens acquire Erik Gustafsson (50 percent salary retention) from the Philadelphia Flyers for a 2022 seventh-round pick
Gustafsson, 29, is playing on a one-year, $3-million ticket that he signed with the Flyers in the off-season. The Swedish defenceman has 10 points (one goal, nine assists) to his credit for the 24 games he's featured in the Flyers colours this season.
Erik Gustafsson, acquired by MTL, is a one-dimensional offensive defenceman and powerplay specialist who was trusted very little by Alain Vigneault this year (probably because he's terrible defensively). He has a great shot and produces efficiently. #GoHabsGo pic.twitter.com/bRJuSen9qJ

— JFresh (@JFreshHockey) April 12, 2021
As one might imagine, Gustafsson is strictly an offensive defenceman, best-suited to sheltered minutes at evens and a hearty serving of power play deployments. It's proven to be an effective formula for Gustafsson in his last few stops, his 60 points in 79 games for the Chicago Blackhawks in the 2018-19 season standing as proof of concept.
He will be an unrestricted free agent at season's end, and I suspect will have to suffer a pretty substantial haircut on his salary to stick somewhere.
Anaheim Ducks acquire defenceman Haydn Fleury from the Carolina Hurricanes for defenceman Jani Hakanpää and a 2022 sixth-round pick
You can just go ahead and call this the expansion draft trade of the day. Well, one of them, anyway. The Carolina Hurricanes were staring down the prospect of losing a prized, young defender for nothing to the Seattle Kraken in the incoming expansion draft, so they got in front of that and sent Fleury to Anaheim for a depth forward.
Fleury, 24, has struggled to meet the expectations that come with being a seventh overall pick, as he was for the Hurricanes back in 2014. He'd bounced between the AHL and the NHL for the most part before finally sticking in a depth role last season, playing 45 games with the Canes and looking fine if unspectacular in that role.
Hadyn Fleury, acquired by ANA, is a two-way bottom-pair defenceman who has received very little ice time on the stacked Hurricanes blue line. Worth a shot! #FlyTogether pic.twitter.com/fmohkAZJXh

— JFresh (@JFreshHockey) April 12, 2021
The Hurricanes blue line is pretty packed, and this is a trade that will offer Fleury a chance to really distinguish himself as an NHL defenceman of some quality.
Hakanpää, meanwhile, is your typical deadline acquisition, a rugged, physical, 6-foot-5 defensive defenceman who doesn't really offer much in the final two-thirds of the ice.
Jani Hakanpaa, acquired by CAR, is a defensive defenceman who I can only assume has unsustainably ridiculous defensive numbers lmao #LetsGoCanes pic.twitter.com/t7PHJZKyYU

— JFresh (@JFreshHockey) April 12, 2021
Fleury is signed for one season beyond this one at $1.3-million per; Hakanpää is only on the books for the remainder of the season at $750,000.
Vancouver Canucks acquire defenceman Madison Bowey and a 2021 fifth-round pick for a 2021 fourth-round pick
Speaking of the expansion draft, here's a trade that makes no sense outside of that context!
The Vancouver Canucks strongly considered signing Bowey in the off-season according to The Athletic Vancouver's Thomas Drance. Instead, they've moved back a couple of spots in the draft for the privilege to take him off of the Blackhawks hands in-season.
#Canucks considered signing Madison Bowey before training camp this January, and have now acquired him for a pick swap with CHI.

Of note: Bowey gives the club another defender that meets the D-man exposure requirements in expansion. Significantly enhances the club's flexibility.

— Thomas Drance (@ThomasDrance) April 12, 2021
Having Bowey available to them affords the Canucks the opportunity to protect -- you guessed it -- defenceman Tyler Myers and the final three years of his deal, each of which carries a cap charge of $6-million per season. Should the prospect of losing Myers to Seattle concern the Canucks? Absolutely not; it'd be a gift from the hockey gods. They don't see it that way, though, so here we are.
Madison Bowey, signed 2x$0.7M by CHI, has been one of the league's, uh, less good defencemen so far in his NHL career. #Blackhawks pic.twitter.com/NzvyyRAnyg

— JFresh (@JFreshHockey) January 28, 2021
Bowey, 25 (soon to be 26-years-old), once had some real cachet as a blue-chip defensive prospect, after the Washington Capitals drafted him 53rd overall, in the second-round of the 2013 NHL Draft. It's been all downhill since, though, and it looks like he's destined to suffer the distinction of a sub-replacement level player for as long as his NHL career remains a reality.
There's one deal on Bowey's contract beyond this one, and it carries a $725,000 cap charge.
Nashville Predators acquire defenceman Erik Gudbranson from the Ottawa Senators for Brandon Fortunato and a 2023 seventh-round pick
The Nashville Predators made a peculiar move right as the clock struck midnight (noon Pacific, actually) on the deadline, acquiring Gudbranson from the Ottawa Senators for Fortunato and a seventh-round pick in the 2023 NHL Entry Draft.
Gudbranson, 29, is in the home stretch of a three-year pact for $4-million a season, one that he signed ahead of the 2018 trade deadline with the Vancouver Canucks. The Predators mark his fourth NHL organization since signing that deal, a testament to how far his star has fallen.
Erik Gudbranson, acquired by NSH, is the same old Erik Gudbranson you know and love. #Preds pic.twitter.com/OejNANCsk1

— JFresh (@JFreshHockey) April 12, 2021
It's exceptionally difficult to make sense of the decision-making here on the Predators part. For one, they were thought to be rebuilding just a few short weeks ago, and now they're making pithy buyer-type moves, apparently?
On the one hand, they've gone on a nice little run of late, and they're firmly in the playoffs, four points ahead of the Chicago Blackhawks for the fourth and final spot in the Central Division. On the other, the three teams ahead of them are the Florida Panthers, Carolina Hurricanes, and Tampa Bay Lightning. Good luck!
To borrow a line from "No Country For Old Men's" Anton Chigurh, "you should admit your situation. There would be more dignity in it."
Winnipeg Jets acquire defenceman Jordie Benn from the Vancouver Canucks for a 2021 sixth-round pick
Jets general manager Kevin Cheveldayoff is going to take a lot of heat for not taking a bigger swing than this. The reality is that this Jets team probably isn't built for a run this season, and making a nice little depth acquisition like this one around the margins is just a tidy piece of work.
Benn, 33, is a rugged, stay-at-home defenceman, playing on the final year of a contract that pays him $2-million for this season. He's a great depth defenceman, insofar as he's proven himself playing up the lineup, can comfortably handle either side, and doesn't make many mistakes.
Jordie Benn, acquired by WPG, is a penalty kill specialist depth defenceman who I imagine did not have a very fun time in Vancouver. #GoJetsGo pic.twitter.com/a4UmZxlXab

— JFresh (@JFreshHockey) April 12, 2021
The Canucks have to be disappointed for the return, particularly when one considers what other depth defencemen with similar profiles were going for in the last week. Then again, it's better to take back a late-round pick than nothing at all,. and that's often been the case for Canucks general manager Jim Benning. It's not much of a win, but the Canucks didn't lose either.
Washington Capitals acquire winger Michael Raffl (25 percent salary retention) from the Philadelphia Flyers for a 2021 fifth-round pick
This lines up pretty nicely with their big acquisition of the day, as they had to ship out Jakub Vrána and Richard Pánik to the Detroit Red Wings to bring back Anthony Mantha. That left them with an opening in their forward ranks, and they went ahead and surrendered a fifth-round pick in this year's draft for Raffle at 75 percent of his salary to place him in that spot.
Michael Raffl, acquired by WSH, is a sub-replacement fourth liner. #AllCaps pic.twitter.com/CA5cSnxn1U

— JFresh (@JFreshHockey) April 12, 2021
Raffl, 32, is in the final months of a two-year, $3.2-million pact that he signed with the Flyers about this time two years ago; the cap charge is $1.6-million, but the Capitals are getting him at $1.2-million after retention. He's contributed eight points (three goals and five assists) in 34 games for the Flyers this season. He's likely going to settle into a fourth-line role with the Capitals.
You may also be interested in: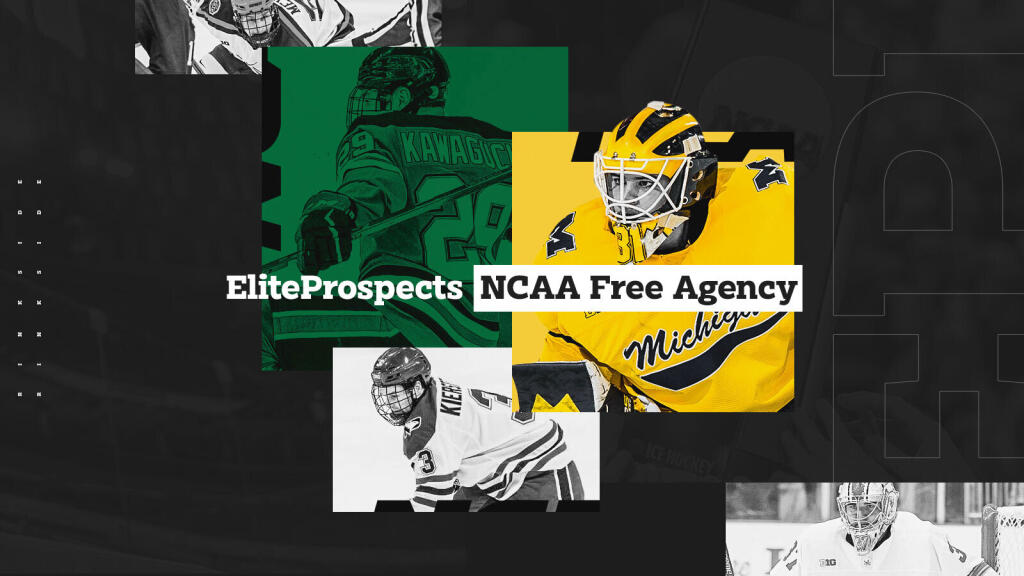 The EliteProspects Rinkside Guide to 2020-21 NCAA Free Agency in the NHL
This article is about: