World Juniors 2023
EP Rinkside's 3 Stars from Day 4 of the 2023 World Juniors
HALIFAX, Nova Scotia – In the NHL, it's pretty common to hear rookies talk about how they grew up idolizing their veteran teammate, watching him since he was a kid, and being dazzled by finally getting to play with him.
It's not quite as common in the World Juniors, where everybody is a teenager in roughly similar age groups. But Connor Bedard is apparently the exception.
Lots of British Columbians idolize Bedard, who registered another six points, giving him 13 in his past two games and tying him with Jordan Eberle for the most goals by a Canadian at the tournament. Yet, he's the star-struck teammate on this team.
The player that Bedard's looking up to? That would be Logan Stankoven (Dallas Stars), his linemate for the past two games, and the player of the game in tonight's 11-0 drubbing of Austria.
"I've been a huge fan since I was a little kid. He was always the man in BC if you know that age group, and I always kind of idolized him," Bedard told EP Rinkside. "He was always kind of the best player for his age, and you know, he's leading in points, and we had spring tournaments and stuff so you know I'd go trying to watch him and I think everyone kind of saw that he was going to be pretty special so now being friends with him and play with him was pretty cool."
Bedard may now tower over his elder Stankoven (5-foot-9 to his 5-foot-7), but the mutual respect has not diminished.
"Getting to be on his line, it's amazing. He works so hard, and you know he's got all that skill. So it's unbelievable."
The two first got the chance to play together at the U18s back in 2021, an experience Bedard says "made the game really easy for him." So he was pleased to be reunited with him when the lines got juggled following the opening night loss to the Czechs.
"Whenever you get to play with a guy like that you're pretty excited, you know? Like I said, he just makes the game so easy for [me], he's always buzzing out there and creating so many plays," Bedard said. "Obviously, it's been fun so far, and we're excited to build some more chemistry here."
The two executed a slick set play off the faceoff in the third period, giving Bedard his record-tying second goal. Stankoven won the draw, deked through the legs of the opposing centre, and sent the puck across the slot to a diving Bedard who tapped it in.
It sounds like the kind of play that Bedard would eagerly draw up, and he admits "I've tried that probably 50 times in the [WHL] and my coach kind of told me to stop because I've never got it." But it was Stankoven who let him know on the bench ahead of the offensive zone faceoff that it was going to happen, and indeed it did.
With such intra-provincial admiration, one could get the impression that their linemate Joshua Roy (Montréal Canadiens) might feel left out. After all, the team has teased former GTHL Don Mills Flyers teammates Brandt Clarke (Los Angeles Kings), Shane Wright (Seattle Kraken), and Brennan Othmann (New York Rangers) for "talking about it all the time." But Roy confirmed that the two aren't always chatting about the BC connection, saying "not really, we're a line."
Bedard, meanwhile, laughed and dismissed the idea right away, "no, no, those guys talk about it a lot."
The lighthearted part of the tournament is over for Team Canada. The marquee New Year's Eve game against undefeated Sweden will have major implications for the elimination round seeding, and as much fun as they have had racking up the score, the loss to Czechia is still a concern.
For Austria, a date with the Germans and presumably after that the relegation round awaits.
The Daily Scoreboard
Finland 3 - 0 Latvia
Sweden 3 - 2 Czechia (OT)
Team USA 5 - 1 Switzerland
Canada 11 - 0 Austria
1. Connor Bedard, C, Canada (2023 NHL Draft)
I mean, what else can you say about Bedard at this point? Two goals, four assists, and four shots, and if you're into the underlying data, he generated a 4.45 game score, second only to Stankoven's 4.825. He's unreal. A human highlight reel. The best player anyone at EP Rinkside has ever scouted. A generational prospect, certainly.
Connor Bedard (@WHLPats) snipes one from an impossible angle to give 🇨🇦 Canada 🇨🇦 a 5-0 lead in the second.

Logan Stankoven (#TexasHockey) the lone assist on the play.

🎥: @TSN_Sports pic.twitter.com/KspdAXQUFD

— EP Rinkside (@EPRinkside) December 30, 2022
Oh, and he also made history tonight, tying Jordan Eberle for the Canadian World Juniors record with 14 goals at the tournament. This, as a 17-year-old who hasn't even walked the draft's stage yet and would be eligible for another two kicks at the can after this one were it not for the fact that he'll immediately step into the NHL next season.
History in the making! Connor Bedard (@WHLPats) scores on the set play to tie Jordan Eberle's 14 goals as a Canadian World Juniors record.

Logan Stankoven (#TexasHockey) the lone assist on the play.

🎥: @TSN_Sports pic.twitter.com/DRxzxJbi0B

— EP Rinkside (@EPRinkside) December 30, 2022
"They counted the same, so I liked them both," Bedard said when asked to choose which of the two goals he preferred.
If there was ever any doubt that Bedard is the top prospect in this year's draft or that the gap was closing – not a chance. He's put that notion to bed, and then some. We can just take that narrative out to pasture.
"Yeah, it's pretty cool, having people wanting to watch you," Bedard said of fans showing up specifically to watch him play and being tagged a generational prospect. "I'm just another player on the team. We've got so many special guys here. For myself, I'm not thinking about that sort of stuff. I'm just trying to be one of the guys and contribute."
Well, even if Bedard wants to shy away from the generational prospect, it doesn't necessarily mean we have to. Because he's precisely that. The best we've seen since Connor McDavid.
2. David Jiříček, D, Czechia (Columbus Blue Jackets)
It's a performance like this one that reinforces why we were so high on Jiříček going into last year's draft – higher than anyone else on the Elite Prospects Draft Center page – placing him at No. 2 on our final board, first among defencemen. When he's at the top of his game, Jiříček is a game-breaking talent.
David Jiříček (#CBJ) opens the scoring for 🇨🇿 Czechia 🇨🇿 finishing off the 2-on-1 to make it a 1-0 hockey game.

Petr Hauser (#NJDevils) and Adam Měchura (@TCAmericans) the assists on the play.

🎥: @TSN_Sports pic.twitter.com/FKx0LBrQ83

— EP Rinkside (@EPRinkside) December 29, 2022
"He's a great player, and he showed it today," Czech goaltender Tomáš Suchánek said of Jiříček's play in this contest.
The Blue Jackets' first-rounder activated into the rush and finished the 2-on-1 play to get Czechia on the board in the first period. Then he just about sealed the win in overtime with an end-to-end rush that would've been the prohibitive favourite for goal of the tournament had things broken right. Hockey, it's often a game of bounces and luck and so on.
David Jiříček (#CBJ) comes *this* close to winning it for Czechia in OT, going coast-to-coast & nearly scoring on the wraparound... then again on the wrist shot!

But Carl Lindbom (#VegasBorn) shuts the door for 🇸🇪 Sweden 🇸🇪, allowing his team to eventually win

🎥: @TSN_Sports pic.twitter.com/8QCSsICRzv

— EP Rinkside (@EPRinkside) December 29, 2022
"The puck bounced out of the net, so that's a shame, but that's how it is, so be ready on the rebound," Jiříček said of his coast-to-coast play in overtime that nearly won the game for Czechia. "That's it."
There really aren't any holes to pick in Jiříček's game. He controlled play at evens, chipped in with a goal and an assist, made some great stops defensively, and flashed the creativity at the top of the offensive zone that drew us to his game in the first place. It was a masterclass performance; most days, it would be good enough for the first star.
"We didn't have trouble… like, the Swedish defence today was great, but I mean, we had a lot of chances today, and the Swedish goalie was unbelievable," Jiříček said of his team's ability to control play. "So yeah, some better puck release and then just be right on the rebound."
3. Ludvig Jansson, D, Sweden (Florida Panthers)
Sure, this tournament is known for its upsets, but it also produces its fair share of surprises on the scoresheet. Take, for example, Ludvig Jansson, who jumped into sole possession of the scoring lead on Sweden with his overtime goal to secure the 3-2 win over Czechia.
Ludvig Jansson (#TimeToHunt) makes a great move to beat Tomáš Suchánek and Sweden outlasts Czechia to win in overtime!

Assists to Jonathan Lekkerimäki (#Canucks) and Noah Ostlund (#LetsGoBuffalo).

🎥: @TSN_Sports pic.twitter.com/BD5BXjGXu6

— EP Rinkside (@EPRinkside) December 29, 2022
That was Jansson's second tally of the game, which is more than he's produced with Södertälje SK all season in the HockeyAllsvenskan. The first one was a seeing-eye wrist shot from the point that somehow snuck past Suchánek to give Sweden a 2-1 lead over Czechia in the second period.
Ludvig Jansson (#TimeToHunt) sneaks the point shot past the Czech goaltender to give 🇸🇪 Sweden 🇸🇪 their first lead of the hockey game, up 2-1 in the second.

Oskar Pettersson (#GoSensGo) the lone assist on the play.

🎥: @TSN_Sports pic.twitter.com/yw0YIspz5F

— EP Rinkside (@EPRinkside) December 29, 2022
"The first [goal], loose puck in the corner just tried to get it to me on the blue line, and then I saw their top guy a little bit short, so I was just trying to put it around him," Jansson told EP Rinkside after this contest.
To say that we're a little surprised by this sudden offensive outburst from Jansson would be something of an understatement. When Elite Prospects Sweden regional scout Jimmy Hamrin wrote about Jansson in our Meet the Team series, his transition game seemed to be the main draw there. Jansson doesn't quite share that assessment, though.
"It's been part of my identity since I was a kid, so I mean, I try to use my skating as much as I can and try to join the odd-man rushes and all that kind of stuff," a confident Jansson told us after Sweden's 3-2 win. "It feels pretty good."
---
On having takes:
(Editor's note: What follows is the commentary of J.D. Burke specifically.)
Look, I'm not usually one to let The Discourse work its way into my writing, but man, was it rough today. Enough so that even if I'm not especially wont to get in the trenches on Twitter that I feel compelled to scribble a note on it in our World Juniors 3 Stars in the section that I usually reserve for things that aren't necessarily star-worthy – like Suchánek's playmaking, or notes on Team USA's first-line struggling, or cheering on upsets – to offer my two cents.
So, here's the thing. People are allowed to have takes and they're allowed to air them on social media, and in turn, you're allowed to push back. As long as it's not personal or unduly mean or unfair, then I don't see any harm in that.
You just wouldn't guess that based on a certain segment of Twitter's response to any take that isn't deferential to the point of coddling the teams or the players they draft. They'll say you're not allowed to be hyperbolic, but only when your evaluation is "negative." If you tell them that their favourite team's third-round pick with a 15 percent chance of being a full-time NHLer is a future star, well, then you're one of the good ones.
Aside from being infantile and intellectually bankrupt, it's also a phenomenon that only exists in hockey. You watch NFL Draft coverage, and the commentators will tell you a first-round pick shouldn't have been drafted at all or leap out of their chair to express their horror if not outright disgust at a top-ten pick.
And you know what? It's fine. If anything, it's great entertainment. It reveals the stakes at play. It adds credibility when an analyst likes a selection. How seriously can you take someone who just tells you what you want to hear? Is that really what we're striving toward with draft and prospects coverage? God, count me out if that's the case.
I'm sure there's a sizeable portion of the audience that doesn't have a clue what I'm talking about, and unfortunately, they'll just have to deal with it. I'm not all that keen on drawing attention to what I'm broaching here specifically because of the hostility and insults being hurled at one of our contributors – someone who is an exceptionally sharp analyst and a hard worker, and perhaps most important of all, a great person – for what I would describe as a fairly anodyne tweet.
This, of course, says nothing of the offshoots from that conversation. Anyway, try to be nice to each other out there. We've got a lot of hockey in front of us. Let's try to enjoy it.
Highlight of the day:
You just know that I had to give Logan Cooley (Arizona Coyotes) some credit for this no-look, against the grain pass to set up the Jimmy Snuggerud (St. Louis Blues) goal. Especially after I called him out in yesterday's 3 Stars for not playing nearly well enough at this tournament.
Jimmy Snuggerud (#STLBlues) opens the scoring for 🇺🇸 Team USA 🇺🇸, finishing off the sick passing play by sniping it top corner for the 1-0 goal.

Logan Cooley (#Yotes) and Cutter Gauthier (#FueledByPhilly) the assists on the play.

🎥: @TSN_Sports pic.twitter.com/PgdIzuiNJQ

— EP Rinkside (@EPRinkside) December 29, 2022
Sure, Cooley started this game off a bit rough. His first few shifts had me worried that we were in for a repeat of the last two games. Then he picked up that unreal assist and added a goal not long after to help lead the Americans to a much-needed 5-1 win over Switzerland.
Logan Cooley (#Yotes) doubles the 🇺🇸 Team USA 🇺🇸 lead on the power play, burying the sick between the legs feed to make it a 2-0 game.

Rutger McGroarty (#GoJetsGo) and Cutter Gauthier (#FueledByPhilly) the assists on the play.

🎥: @TSN_Sports pic.twitter.com/SjQBOhL58Z

— EP Rinkside (@EPRinkside) December 29, 2022
Cooley was selected as Player of the Game for Team USA, and it's hard to argue with that selection. He was full value.
Your World Juniors stats for the day: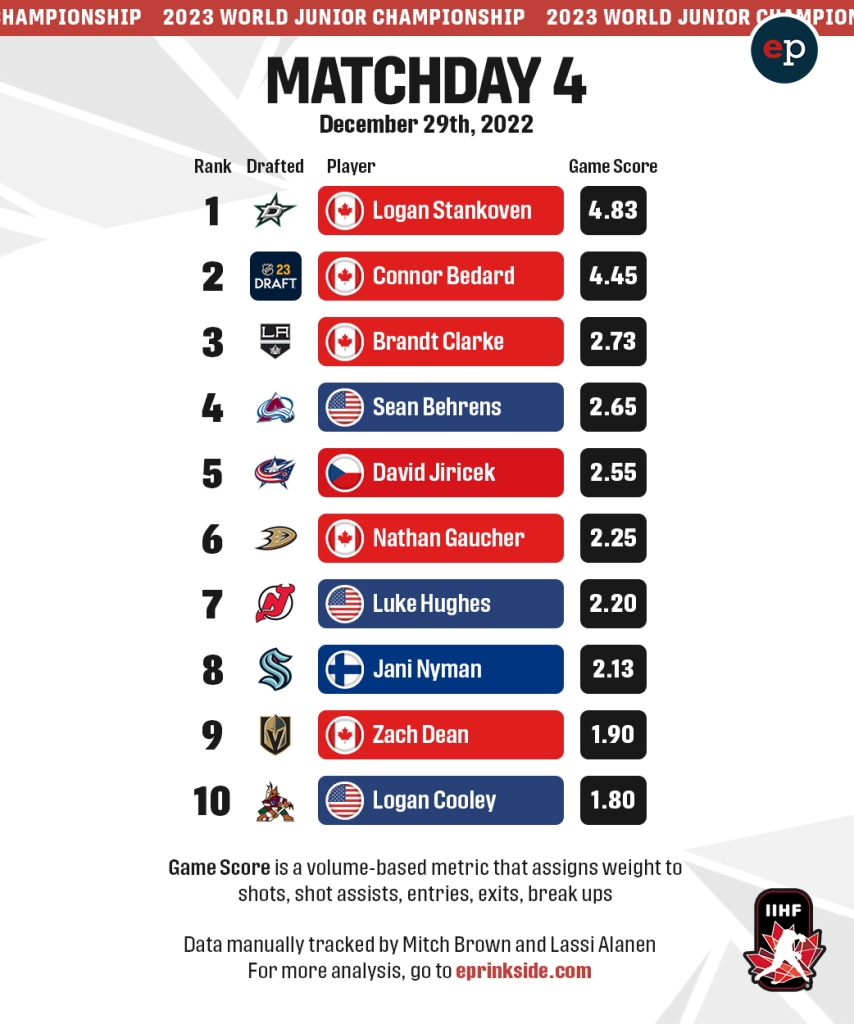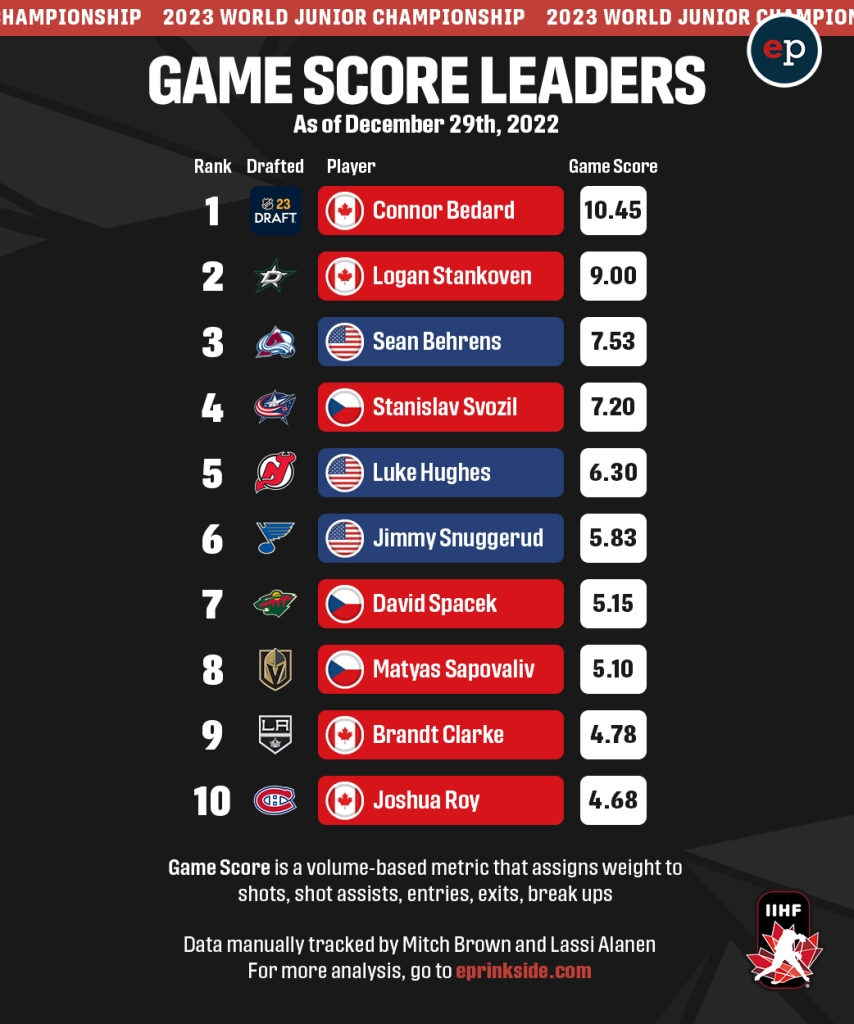 You may also be interested in: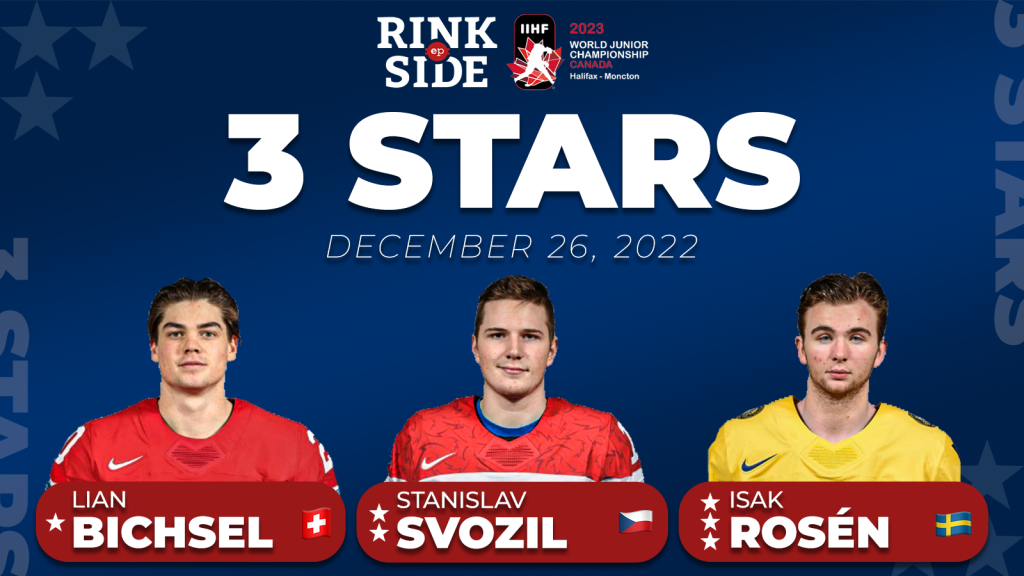 EP Rinkside's 3 Stars from Day 1 of the 2023 World Juniors
This article is about: