Fantasy Hockey
Fantasy Weekly: Igor Shestyorkin, Patrik Laine, and Auston Matthews
This is the first installment of many weekly fantasy articles that I'll be providing to EP Rinkside as part of my new deal to contribute exclusively to EliteProspects.
I'm overwhelmingly excited to share my content with you all on this platform - a platform that is rapidly hoarding all of the insanely talented and intelligent folks in the public sphere. If you're reading this, you're already on the bandwagon. Well done. Now it's time to let your mates know what they're missing out on.
Igor Shestyorkin is finding his way
I was all set to pour a fistful of glowing words onto Igor Shestyorkin before he gave up a couple of late ones to lose 2-0 to the Isles on Monday night. Even with that loss, the rookie netminder is finding his way.

After beginning the season with a sluggish 0-3 record and giving up 10 goals in the process, Shestyorkin's now running well. The 25-year-old has stopped 107 of the last 114 shots - good for a .939 save percentage over a four-game span. He's 3-1-0 during that run and looking much more like the brick wall that he's been since, well, forever.
I remain convinced that the combination of the New York Rangers' deadly young talent and his mastery of the position will equate to Shestyorkin ascending to the position of the No. 1 goaltending asset in the fantasy landscape.
Honeymoon is over in Columbus for Patrik Laine
Well, the honeymoon is officially over in Ohio. Columbus Blue Jackets head coach John Tortorella sat Patrik Laine for a prolonged stretch of play on Monday night, as they competed against the Carolina Hurricanes in a 2-2 game. Laine didn't see the ice from the 14-minute mark of the middle frame.
Really seems like the GM and the coach aren't on the same page in #CBJ.

Torts slowly but surely built up a defensive powerhouse. Jarmo targeted Domi and Laine, two pure offensive players.

Unsurprisingly, it's not going well so far.

— JFresh (@JFreshHockey) February 9, 2021
JFresh makes an excellent point. It appears as though there's a disconnect between what the general managers wants, and how the coach wants to play. We made all of the jokes before the deal was even consummated. Laine and Torts were not exactly a match made in heaven. We're only four games in and the shit has already hit the proverbial fan.
Your Laine stock just keeps on plummeting. I feel for you owners, because this kid's skill should already have him at the top of the world.
The Jack Roslovic Trade™️
Now, it's not all doom and gloom in Columbus. It turns out the 'throw-in' portion of that Laine-Pierre-Luc Dubois deal isn't such a throw-in. Jack Roslovic has been tremendous since heading home to Ohio. The 24-year-old has hit the scoresheet in each of his first five games with the Blue Jackets - in total, seven points.

None any prettier than the game-winner on Monday.
Jack Roslovic just did a thing. pic.twitter.com/U7GCuFMsiX

— /Cam Robinson/ (@Hockey_Robinson) February 9, 2021
It sure seems like this spell isn't a mirage. Sure, the 20 percent conversion rate is coming down, but we're talking about a top line, top power play centre - at least for the immediate future. Here's hoping you jumped on the wire and grabbed him early.
[Read more: Jack Roslovic -- more than a throw-in]
Auston Matthews is on a tear
Auston Matthews added to his league-leading goal total by snapping home the game-winner against Vancouver on Monday. It was also his 300th career point in game No. 294. The marker gives him 11 in 12 games or a 51-goal pace in 55 games this year. I put him down for a Richard-winning 36 in my pre-season projections. Methinks I went a bit light on that one.

The Leafs improve to 10-2-1 on the year to lead the division. The Canucks record their fifth-straight loss, being outscored 26-10 over that span. Things are not rosy in VanCity.
Mike Zibanejad coming back down to earth?
Let's talk about Mika Zibanejad. The Mika Zibanejad. The one who went off last season to the tune of a 59-goal, 108-point pace while playing away from Artemi Panarin. The one who made us all believe that we had a new superstar on the block.

Well, the early results in 2021 have been a far cry from those illustrious metrics we witnessed in the pre-Covid era. So, what the hell is going on here? Well, namely, the 27-year-old is tasting some of the worst luck you can imagine over a 10-game spell.
The Swedish pivot's luck-based metrics are disgusting. Last season, he ran at an Individual point percentage of 80.6 percent (IPP) in all-situations and 84.4 percent on the man-advantage (PPIPP).
Quick Note: IPP indicates the percentage of points a player accrues while on the ice when a goal for is recorded. Most offensive players live above the 60 percent zone.
His 10.7 even-strength shooting percentage was also a career-high, but not by a ton. Taking the four previous years (2015-16 to 2018-19) he was converting at an average of 8.46 percent at five-on-five. His IPP comes out at 66.8 and his PPIPP was 66.4.
Those years are pulling data from pre-breakout times, but display that his monster 2019-20 campaign was not a complete aberration. The writing was on the wall.
So, what do those numbers look like this season? Maybe you want to sit down first.
Zibanejad is sitting with a disgustingly low 30 IPP. It's somehow even worse on the man-advantage sitting at a paltry 16.7. His even-strength conversion rate has been slashed by two-thirds to sit at 3.7 percent overall. The guy who was scoring at a Rocket Richard pace last season is pushing just a 2.9 percent mark in all-situations.
It's insanity!
You know what this means, right? If you own Zibanejad, please do not move him for pennies on the dollar. As our newest Lead NHL Analyst, Dimitri Filipovich would say, he'll be regressing to the mean.
If you don't own Zibanejad, now is the time to attempt a pry job. Make some snakey offers that don't insult, but work an angle that he's a guy who ran hot last year and isn't really a star. As Warren Buffett is so famously misquoted as saying, "Buy the fuckin' dip."
Tom Wilson going on a luck bender
On the opposite end of the luck-based-metric spectrum is a big old boy in Tom Wilson. The 26-year-old is off to a screaming start to 2021. It's easy to look at what he's doing and think, "This is it. We've got ourselves a modern-day version of Cam Neely."

Just hold on a second there, tiger. The numbers suggest something much different.
Remember those IPP and PPIPP figures we were just speaking about? Well, Wilson is clicking at Cheech and Chong-level high metrics. An 80 percent 5v5 IPP after his previous best sat at 59. A PPIPP of 100. He has factored in on 100 percent of the power-play goals that Washington has scored with him on the ice. All of them!
Personally, he's been shooting out the lights as well. A pungent 26.3 shooting percentage in all-situations to go along with an 18.9 percent mark at evens. This simply will not sustain longer than a hot streak.
For those in multicategory leagues, the power winger brings more to the table than just points. His 4.2 hits per game sit top-five among all forwards. However, as he's transitioned into more of an offensive role, the penalty minutes have slowly been dropping.
Don't get me wrong, I like Wilson. I think he's a nice third-wheel type to run when he's hot. He's in his statistical prime playing all situations next to the Great Eight. But, we need to be realistic in our expectations. He's not a point-per-game player over a season.
Invest in Trevor Zegras stock
I'll end on this: Trevor Zegras has five points through two AHL contests and already looks like he'd be the Ducks' best skater. I get why he's down there. Zegras is ready for the show though.

It's time to get excited about him.

[Read more: What Trevor Zegras' hot start at the World Juniors means]
You may also be interested in: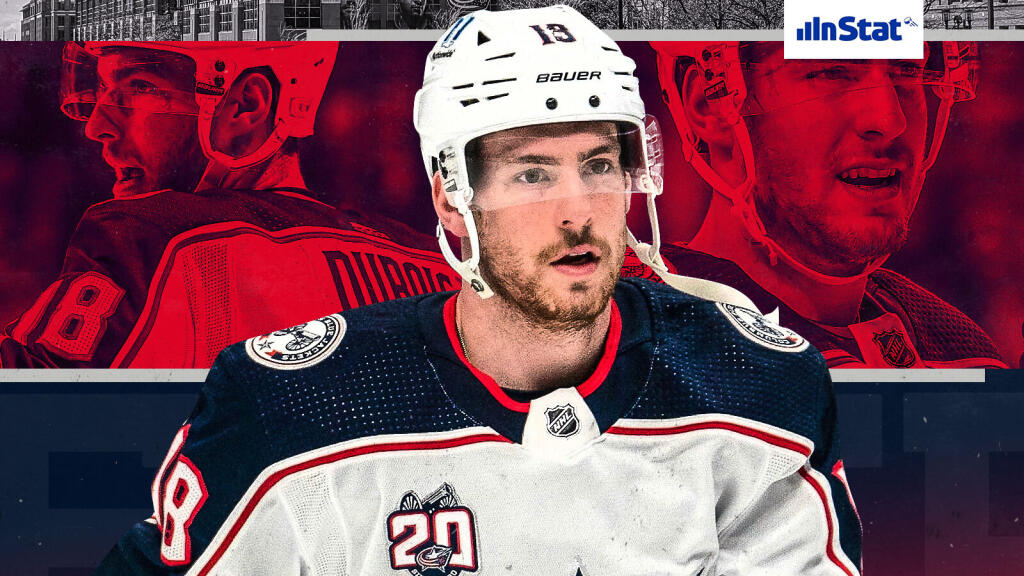 Every team should be interested in Pierre-Luc Dubois
This article is about: